Recipe:

This garlic soup is a perfect hot meal for when it's too hot to cook

Posted on Thu, Jul 28, 2011 : 8 a.m.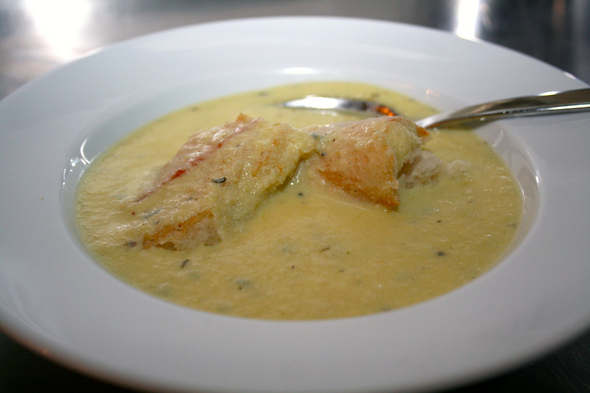 Jessica Webster | AnnArbor.com

You don't need me to tell you, I know, but this has been a hot summer. Hot enough that the idea of spending a whole lot of time in my kitchen — even with the air conditioning cranked — is fairly repellent to me.

I'm still in charge of feeding my family though, and there's only so many times I can successfully make the case for eating out. Grilling was an option for a while, until the temperatures got stuck in the upper 90s and refused to budge. I'm not a delicate flower, but I do have my limits.

We moved on to salads and sandwiches as it got hotter, but I found myself craving something that felt, I don't know, more like a meal. Chili came to mind but was immediately discarded. Too hot, too heavy. What I really wanted was a simple soup.

I ran though my list of favorite soups and settled on this one — a garlic soup from Richard Olney's 1970 "The French Menu Cookbook." Food writer Heidi Swanson resurfaced the recipe on her "101 Cookbooks" blog a couple of years ago, and I immediately added it to my repertoire.

While I would normally think of this as more of a fall or winter recipe, it actually works pretty well even in the heat of summer. It takes very little preparation or forethought. I already had most of the ingredients in my kitchen and my herb garden. The majority of the cooking is done unattended and at medium-low heat. I stayed nice and cool as I cooked.

What I love about this soup, other than how easy it is to make, is how deliciously creamy it is, despite the absence of milk or cream. I don't mean to imply that it's health food — the three egg yolks and parmesan cheese preclude it from that category. But it's simple and good and tasty. And it makes your house smell delicious.

The instructions warn you to slowly introduce the warm soup to the egg mixture. I can't emphasize that enough. Make sure, if you make this soup, that you slowly drizzle the ladle full of soup into the eggs, or you will cook them too fast and end up with a lovely bowl of garlicky scrambled eggs.

Classic Garlic Soup (adapted from Richard Olney's "The French Menu Cookbook," and Heidi Swanson's "101 Cookbooks" blog)
1 quart (4 cups) water
1 bay leaf
2 sage leaves
3/4 teaspoon fresh thyme
a dozen medium cloves of garlic, smashed peeled, and chopped
1 teaspoon fine grain sea salt
Binding pommade:
1 whole egg
2 egg yolks
1 1/2 ounces freshly grated Parmesan cheese
freshly ground black pepper
1/4 cup extra virgin olive oil
day-old crusty bread & more olive oil to drizzle
Bring the water to a boil in a medium saucepan and add the bay leaf, sage, thyme, garlic, and salt. Heat to a gentle boil and simmer for 40 minutes. Remove the bay and sage from the pot and turn off the heat. Taste and add more salt if needed. (You probably won't need to.)
With a fork, whisk the egg, egg yolks, cheese, and pepper together in a bowl until creamy. Slowly drizzle in the olive oil, beating all the time, then add (slowly! slowly!), continuing to whisk, a large ladleful of the broth. Slowly stir the contents of the bowl into the garlic broth and whisk it continuously over low-medium heat until it thickens slightly - just long enough to be no longer watery. Place a handful of torn bread chunks into the bottom of each bowl and pour the soup over the bread. Finish with a drizzle of olive oil, and serve immediately.
Makes about 4 cups of soup.