Posted on
Tue, Apr 9, 2013 : 8 a.m.
Garrett's Restaurant at Washtenaw Community College - culinary students aim to please lunch crowds
By Mary Bilyeu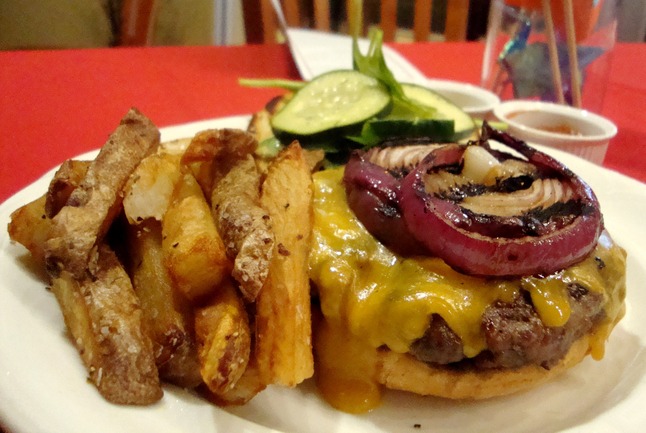 Mary Bilyeu | Contributor
Garrett's Restaurant
at
Washtenaw Community College
is a tremendous resource for the area, and not just for the students who work there for class credit, refining their cooking and baking skills and learning about the hospitality industry. It's also an excellent place to have lunch!
Yes, Garrett's is a student-run establishment which provides first-hand, real life experience, as those who are in the Culinary Arts program at WCC prepare the food, coordinate activities in the dining area, act as servers, and learn how to manage the facility; they work in every capacity to keep the restaurant running smoothly. But while you might think that you would settle for less in terms of quality — "Oh, they're still in training" — the students' abilities shine at every opportunity.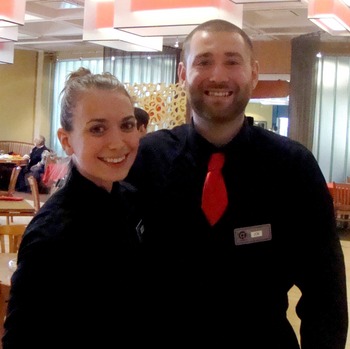 Mary Bilyeu | Contributor
Joseph Maino, the maitre d' on the day that Jeremy and I ate at Garrett's, greeted us with a bright smile and a very warm welcome. He told me that he and fellow student Alexandra Trevathan had coordinated the decor and the marketing for that day's theme of China, complete with music, vibrant red tablecloths, and elegant table toppers. It was bright and festive, yet simple and chic.
We looked over the menu as we enjoyed fresh, warm bread rolls served with honey butter. I gave considerable thought to making this one of my Frugal Friday posts; you could easily enjoy soup and a salad for $5 or less, or choose one of those options and then pair it with a dessert while still eating within that mandatory budget. But for just a few dollars more, I thought that this time I would simply splurge; my usual decision-making skills — or, rather, lack thereof — were making it very difficult to choose among the varied and tempting options.
Mary Bilyeu | Contributor
So I asked Deanna Delicato, our very gracious server, for her recommendation. She heartily endorsed the Sichuan Rice Noodles with Shrimp, so I took her advice and enjoyed a beautiful plate of perfectly cooked noodles with tender shrimp; the dish had just more than a hint of spice, which offered excellent flavor rather than merely heat. This cost only $7.95, and was a perfectly-sized portion: not skimpy and pretentious, as servings can be at many sophisticated places, but not so large as to induce overeating.
Jeremy had settled on The Signature Burger, for $6.95, almost immediately, and raved about it throughout the meal. He was thrilled to see lightly vinegared "quick pickles" rather than the same ol' familiar ones from a jar; and the grilled onion was a great complement to the whole, rather than having a raw slice overpower everything. The beef was cooked just as Jeremy had ordered it, and the fries were judiciously salted and perfectly tender throughout — the ideal, flaky consistency that we all love in a baked potato, but with the crisp exterior of fries. The burger was served with both stone ground brown mustard and Jim Beam ketchup, not the usual bottles of French's and Heinz ... a small detail, like so many others that the restaurant offers, but one that enhances the experience and the meal.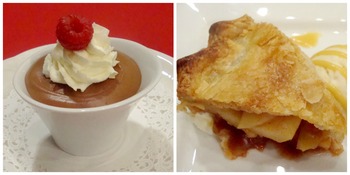 Mary Bilyeu | Contributor
Of course, we ordered dessert - how could we not, when presented with four luscious options: creme caramel, a cream puff, cappuccino mousse, and apple pie? Each costs only $2.50. Jeremy's mousse was sublime, rich but not overwhelming. When I let him taste my pie, Jeremy told me that the sweet-tartness of the fruit immediately brought him what we call "a
Ratatouille
moment" (much like the one critic
Anton Ego
has in the movie, when swept back to childhood memories by his first taste of a dish) and pulled him back to apple-picking ventures we used to make when he was little.
My only complaint about Garrett's is that it's only open during the school terms, and only for lunch; thus, the last day of service is going to be Thursday, April 25. This would be such a lovely place to go for dinner with the family, for coffee after work with friends, or for hanging out in the evenings, although I do understand that there are limits. Suffice it to say that Garrett's focuses very precisely on the lunch crowd, and it does this very well, making me wish for more.
Joe told me that he, his fellow students, and their instructors "share a collective goal to make the best possible dishes, please the guest in ways we would prefer to experience, and develop our hospitality to the finest quality. The learning never stops for a second; and our growing influence on our community isn't taken for granted. Garrett's has helped lift me up so much."
He continued: "As a student in the culinary program I think I speak for most of us when I say that every day has its unique challenges and opportunities which make us grow."
Garrett's is a destination, rather than merely a convenience for WCC's staff and students. Joe summed it up best: "We believe in each other. It is truly something to be proud of here."
Garrett's
Washtenaw Community College
4800 East Huron River Drive
Ann Arbor, MI 48105
734-973-3592
Monday - Thursday during Fall and Winter terms: 11:30 a.m. - 12:45 p.m.
on the first floor of the Student Center (see map) Follow Garrett's on Facebook: facebook.com/wccgarretts
Reservations requested for groups of 4 or more
Upcoming Themes for Winter Term
April 9: Caribbean
April 10-11: French
April 15-16: American Mid-West/Northeast
April 17-18: Off the Grill
April 22-23: American Pacific Northwest/South
April 24: Closed
April 25: Thai Cuisine

Mary Bilyeu writes for AnnArbor.com on Tuesdays, Wednesdays, and Fridays, telling about her adventures in the kitchen - making dinner, celebrating holidays, entering cooking contests, meeting new friends ... whatever strikes her fancy. She is also on a mission to find great deals for her Frugal Floozie Friday posts, seeking fabulous food at restaurants on the limited budget of only $5 per person. Feel free to email her with questions, comments, or suggestions: yentamary@gmail.com.

Go visit Mary's blog — Food Floozie — where she enthuses and effuses over all things food-related; and look for her monthly articles in the Washtenaw Jewish News. "Like" her on Facebook, or send a tweet on Twitter, too.

The phrase "You Should Only Be Happy" (written in Hebrew on the stone pictured in this post) comes from Deuteronomy 16:15 and is a wish for all her readers - when you come to visit here, may you always be happy.