Posted on
Wed, Nov 7, 2012 : 5 p.m.
Get Up and Go caffeinated baked goods dreamed up by local college students
By Mary Bilyeu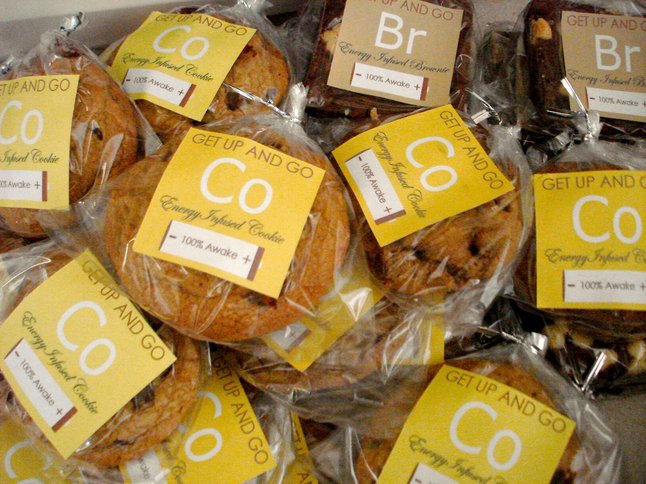 I met two very nice, and very industrious, young men awhile ago at
Entre-SLAM
— a storytelling and networking event for entrepreneurs. Chris Bogdan and Zach Rose are the geniuses behind
Get Up and Go
caffeinated baked goods.
They've been developing their business since July, after Chris had an epiphany during winter break last year: "I was spending tons of money on hot coffee and a muffin in the morning, and then when the coffee would get cold I would have to buy more. My mom was upset with me because I was buying so much coffee. Then it hit me, why not simply combine the two?"
Chris told me that the brownies are baked from "my Grandma's secret recipe, and are incredible. The others... are a combination of my mother's and hybrids of other recipes." Having enjoyed a sample of the brownies, I can personally attest to how good they are.
"The idea is simple, you don't have to heat up coffee, and the caffeine we used is extracted from coffee beans and natural, not synthetic like energy drinks. So therefore, not only are we giving people energy, we are also helping them fill their stomach with our incredible treats."
Since he has a background in organic chemistry, Chris' "first experiment was buying caffeine pills and recrystalizing caffeine (heating up the mixture and forming caffeine crystals)." He then proceeded to add that to the baked goods. "It was intensely bitter," but he and Zach "eventually figured out a process to mask it," so that the caffeine doesn't compromise the flavor of the goodies at all.
Get Up and Go offers the following products:
- caffeinated chocolate chip cookies
- double chocolate chip cookies
- espresso chip cookies
- chocolate chip fudgy brownies
- blondies
- cinnamon streusel coffee cake muffins
- double chocolate chip muffins
They also offer "'chill' cookies which have a natural extract from tea which helps you relax." They're working to develop a post-workout bar, as well as low-calorie cookies.
So, what experience do a couple of highly-motivated college students have in the fields of business or baking? Chris is "studying neuroscience because I love it. Zach has a major in philosophy, but a background in management... The key isn't the degree, it's all about making your idea happen, being persistent, and having a good idea in the first place, and creative ways to carry it out. The best part of owning your own business is that you control the outcome. If you want it to succeed, you better be ready to put in an extra 20 hours a week in addition to your homework. It's almost a full time job running it. Also, it's simply fun. We love baking and people love our product."
Chris and Zach also share their enthusiasm and their passion by putting "inspirational quotes in every product, to inspire people to do what they love. Happiness is key in our lives, and we want it to be key in everybody else's lives too."
You can order Get Up and Go's products online at the company's website or via email: getupandgocontact@gmail.com.

Mary Bilyeu writes for AnnArbor.com on Tuesdays, Wednesdays, and Fridays, telling about her adventures in the kitchen - making dinner, celebrating holidays, entering cooking contests, meeting new friends ... whatever strikes her fancy. She is also on a mission to find great deals for her Frugal Floozie Friday posts, seeking fabulous food at restaurants on the limited budget of only $5 per person. Feel free to email her with questions, comments, or suggestions: yentamary@gmail.com.

Go visit Mary's blog — Food Floozie — where she enthuses and effuses over all things food-related; and look for her monthly articles in the Washtenaw Jewish News. "Like" her on Facebook, or send a tweet on Twitter, too.

The phrase "You Should Only Be Happy" (written in Hebrew on the stone pictured in this post) comes from Deuteronomy 16:15 and is a wish for all her readers - when you come to visit here, may you always be happy.