Posted on
Mon, Jul 2, 2012 : 8 a.m.
Gingered blackberry sauce brings glamour to many simple summer dishes
By Mary Bilyeu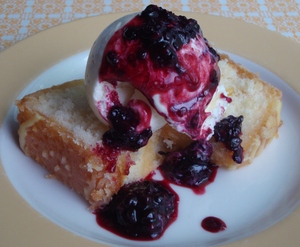 Mary Bilyeu | Contributor
When the weather is warm, you want to spend your time outside; even someone like me, who loves to cook and bake, wants to be in the sunshine. So you want to make quick meals, light meals, easy meals, but still delicious meals.
And you want to make use of the beautiful bounty of fruits and vegetables that are available, too. Fortunately, berries are so fabulous that if you're not just eating them out of hand, they can contribute their lusciousness to many dishes without a lot of work.
One way to showcase both the gorgeous color and the intense flavor of blackberries, in particular, is to make a simple sauce with them. Invest five minutes of your time, and get an amazing reward for it!
This sauce can make a plain ol' scoop of ice cream suddenly seem elegant and glamorous. Or it can add its bright, vibrant flavor to pancakes, making the morning seem more inviting. It would be perfect to serve at your 4th of July barbecue.
This is what summery dishes are all about!
Gingered Blackberry Sauce
1 cup blackberries
2 tablespoons sugar
2 tablespoons water
1 2x 3/4-inch strip candied ginger
Place all ingredients into a small saucepan, bring to a boil, then lower heat to medium-low. Cook, mashing the berries a bit and stirring frequently, for 5 minutes until some of the liquid has been reduced but it's still syrupy. Remove ginger strip and place into a jar; cover and refrigerate.
Serve over cake, ice cream, pancakes, waffles ... whatever strikes your fancy. I served the sauce with vanilla ice cream over lemon cake, which was a perfect complement!
Makes a scant 1/2 cup.

Mary Bilyeu
writes about her adventures in the kitchen - making dinner, celebrating holidays, entering cooking contests ... whatever strikes her fancy. She is also on a mission to find great deals for her Frugal Floozie Friday posts, seeking fabulous food at restaurants on the limited budget of only $5 per person. Feel free to email her with questions or comments or suggestions:
yentamary@gmail.com
.
You should visit Mary's blog — Food Floozie — on which she enthuses and effuses over all things food-related. And be sure to look for her monthly articles about holiday foods and traditions in the Washtenaw Jewish News.
The phrase "You Should Only Be Happy" (written in Hebrew on the stone pictured in this post) comes from Deuteronomy 16:15 and is a wish for all her readers - when you come to visit here, may you always be happy.