Posted on
Tue, Sep 4, 2012 : 8 a.m.
Girl Scout Cookie bake-off benefits low-income and at-risk girls
By Mary Bilyeu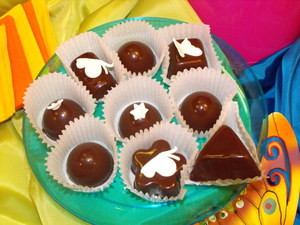 I've always thought that
Girl Scout cookies
were some of the best treats
ever
. That is, until I learned that area chefs will soon be engaged in a competition to make impressive gourmet desserts using the cookies as an ingredient... sigh.
Just the thought of this makes me smile. But you know what makes me even happier? I get to be one of the judges at this event, tasting everything! Verbose as I am, I can't adequately describe how giddy I am at the prospect!
You can join me in tasting samples of each dessert, too, if you come to the Girl Scout Cookie Bake-Off Benefit being held on Thursday, Sept. 20. There will be hors d'oeuvres (a little something to counter the sugar fest), live and silent auctions featuring fabulous items, and lots of fun; individual tickets cost $45, or you can reserve a table for eight at $325. The celebrity emcee for the evening will be Tyler Crawford, afternoon show host from W4 Country (102.9 FM). (Lori Rigato, who had previously been scheduled to attend, is now unable to do so.)
The Bake-Off supports Girl Scout outreach efforts to low-income and at-risk girls. I met recently with the wonderfully warm and friendly Patty Shelley, fund development specialist for the Girl Scouts Heart of Michigan, who told me some amazing things about these programs that I'd never known before.
Being a Girl Scout isn't just any ol' extra-curricular activity for girls who come from single-parent families, girls whose families receive either free or reduced-cost lunches, girls whose families are homeless; it involves fun and education and friendship, all within the context of a necessary support system. Outreach programming is offered at a variety of sites, from SOS Community Services to the Peace Neighborhood Center to the Boys & Girls Club of Southeast Michigan Huron Valley.
I was particularly impressed to hear that the Girl Scouts are involved with Juvenile Justice Livingston County, facilitating community service placements. And although I'm not a weepy sort of person, I started to tear up as Patty told me about Girl Scouts Beyond Bars, which regularly brings a troop of girls to the Women's Huron Valley Correctional Facility in Ypsilanti to visit their incarcerated mothers.
The mothers and daughters get to spend an afternoon together making crafts or engaging in other activities, and they have lunch together. Most importantly, the prison's usual restrictions against physical contact are removed, and the girls get to give and receive hugs from their moms... such a rare gift. After the visits, there are special group counseling sessions to help process everything that is happening in the girls' lives, helping them to cope with stress and absent parents and overwhelming emotions.
But before I get teary again, let's continue on with the fun and the fundraiser, shall we?
Here is the impressive list of chefs who will be competing for "Most Creative Dessert" and "Judges' Choice":
- Jeff Basta, Palio
- Lisa DeLong, Gandy Dancer - Nico Duca, Achatz Handmade Pie Co.
- Cheryl Hanewich, La Dolce Vita (2011 Judges' Choice winner)
- Glee Havens, Glee Cake & Pastry
- Carla Hoopingarner, Paesano's
- Karl Kooyers, Fabulous Food Catering
- Kim Lippert, Knight's Steakhouse
- Randall Surline II, Schakolad Chocolate Factory
- Chris Troiano, Washtenaw Community College Culinary Arts Program (2011 People's Choice winner and winner of Most Creative Dessert)
And my fellow incredibly lucky judges are:
- Courtney Clark - owner/chef, Cake Nouveau
- Carol Hart, CEO - Move Communications
- Jonell Jackson - senior business consultant, Michigan Small Business & Technology Development Center
- Kim Pritchard - director of career and student services, Michigan Institute of Aviation Technology
The Cookie Bake-Off will be a fabulous event, with lots of great food and fun! Please join me there and support the mission to ensure that all girls — especially those most at risk and most in need — get to be Girl Scouts and "gain courage, confidence and character."
It's all about the cookies, but it's about so much more than just the cookies.
Girl Scout Cookie Bake-Off Benefit Thursday, Sept. 20 at 6 p.m. Washtenaw Community College Morris J. Lawrence Building 4800 E. Huron River Drive Ann Arbor, MI 48105
Tickets can be purchased online or at the Girl Scouts' Ann Arbor Regional Center at 1900 Manchester Road. For more information, please contact 734-794-7494.
(This post was updated at 2:30 p.m.)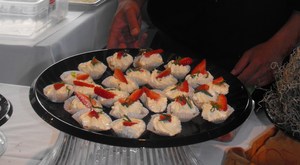 Mary Bilyeu writes for AnnArbor.com on Tuesdays, Wednesdays, and Fridays, telling about her adventures in the kitchen - making dinner, celebrating holidays, entering cooking contests, meeting new friends ... whatever strikes her fancy. She is also on a mission to find great deals for her Frugal Floozie Friday posts, seeking fabulous food at restaurants on the limited budget of only $5 per person. Feel free to email her with questions, comments, or suggestions: yentamary@gmail.com.

Go visit Mary's blog — Food Floozie — where she enthuses and effuses over all things food-related; and look for her monthly articles in the Washtenaw Jewish News. "Like" her on Facebook, or send a tweet on Twitter, too.

The phrase "You Should Only Be Happy" (written in Hebrew on the stone pictured in this post) comes from Deuteronomy 16:15 and is a wish for all her readers - when you come to visit here, may you always be happy.