Posted on
Tue, Sep 11, 2012 : 10:38 a.m.
Give summer its last hurrah with an aioli feast
By Kim Bayer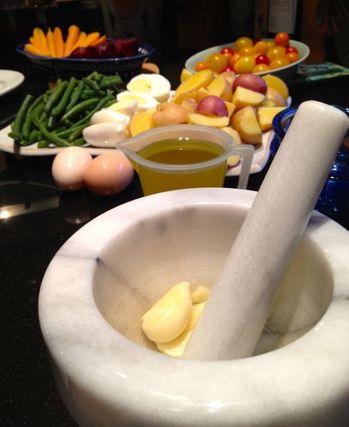 Photo | Kim Bayer
School is in session and nighttime temperatures may be dipping into the forties, but I am not ready to give up on summer yet. One of my goals for this summer was to put together a Provencal aioli feast, inspired by one in the New York Times. You definitely want your guests for this meal to be close friends, because aioli is that wonderful mayonnaise with a powerful garlic kick. And it is easily made by hand with a whisk and common kitchen ingredients.
The fact that winter squash and kale have started to roll in now makes it all the more urgent to give summer its last hurrah. The almost daily farmers' markets in town remain a motherlode for everything you need — from the green beans, potatoes, carrots, summer squash, and beets for the feast, to the eggs and garlic for the aioli. Find up to 40 different kinds of garlic just from the Dyer Family Organic Farm alone.
This feast is surprisingly easy and delicious, just for two or for 20. While there's still time enough and sun, I want to drink that last bottle of rosé, and revel in the taste of summer from all the beautiful produce nearby. And have at least one more vicarious trip to France by making mayonnaise by hand like they do in Provence. It works like magic.
The Times article recommends you scrub and steam each separately until tender:

- New potatoes

- Green beans

- Beets

- Summer squash

- Carrots

Have on hand if you wish:

- Cherry tomatoes

- Hard boiled eggs

- Mild steamed fish (like cod)

- Garbanzos

For the aioli, I followed the recommendation to start by crushing the garlic and salt together in a mortar and pestle and then mixed in the egg yolks. Make sure your eggs are from a source you trust. Drizzle in the oil very slowly at first while you whisk. You don't have to whisk quickly, and it helps to have a couple of your friends helping.

Provencal Aioli From the NY Times
I find that it is easy and just as quick to make aioli in a mortar and pestle or in a bowl with a whisk as it is to use a food processor. I prefer the tight mayonnaise I get this way. No matter which tool you use, always mash the garlic in a mortar and pestle first so that you have a paste and not little bits of garlic suspended in mayonnaise.
2 to 4 large garlic cloves (more to taste; authentic aioli has more like 4 to 6), peeled, cut in half, and green shoot removed

Salt to taste (about 1/2 teaspoon)

2 free-range organic egg yolks, or 1 egg and 1 egg white (the yolks are traditional, but the whole egg and white works fine)

1/2 cup grapeseed oil

1/2 cup extra virgin olive oil

1. Whether or not you are using a mortar and pestle for the mayonnaise, begin by mashing the garlic and salt together in a mortar and pestle. Mash to a smooth paste.
2. Using the mortar and pestle (for egg yolks only; this is the traditional method, and will result in a very silky, creamy aioli if you do it correctly):
3. Add the egg yolks to the mortar and beat with the pestle until smooth. Measure the grapeseed oil into a measuring cup with a spout, and drip by drip, work the oil into the egg yolks, gently but constantly stirring in one direction with the pestle. As the mayonnaise begins to emulsify, you can start adding the oil in a steady stream, but the stream must be a thin one, and you must stir constantly but not too fast.
4. Once you have a good emulsion, you can scrape the mixture into a bowl and continue with a whisk if it's easier for you. It helps to rest the bowl on a damp towel shaped into a ring. Use up the grapeseed oil first, since it makes a better emulsion than olive oil, then continue with the olive oil. I find that once the egg yolks and oil are emulsified, it's easiest to drizzle in a tablespoonful of oil while beating, stop drizzling and really beat hard to work it in, then continue with another tablespoonful.
5. When all of the oil has been added and the mayonnaise is thick, taste and adjust salt. Refrigerate until ready to use.
Kim Bayer is a freelance writer and culinary researcher. Email her at kimbayer@gmail.com.