Posted on
Mon, May 6, 2013 : 12:05 p.m.
Glee star and U-M grad Darren Criss spotted at Bill's Beer Garden Thursday
By Jessica Webster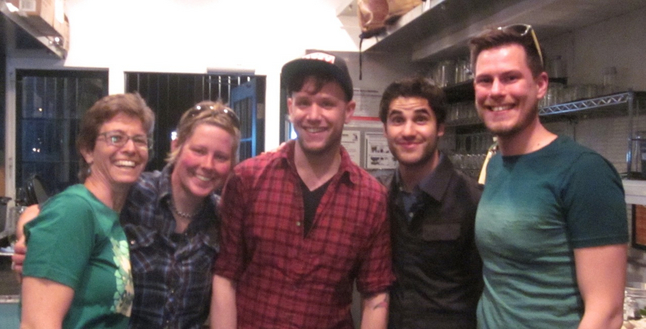 Courtesy photo
Bill's Beer Garden was packed with springtime revelers on the first night of the outdoor bar's spring season. Locals mixed with soon-to-be grads and their parents. Those paying careful attention might have recognized a face that they're more accustomed to seeing on their TV.
University of Michigan grad and Glee star Darren Criss (Blaine Anderson on the popular TV program) was in Ann Arbor last week, and dropped by Bill's Beer Garden with some friends on Thursday night.
Courtesy photo
"Darren was super warm and friendly," said Bill's Beer Garden publicist Phillis Engelbert. "It was a super-busy night at the beer garden. Staff was working incredibly hard to make the lines move fast. It was a real treat to have Darren come into the bar and hang out with us. It was the one time all night we took a break!"
Engelbert says it was after dark when Criss arrived at the outdoor drinking establishment, and only a handful of people recognized the Glee star.
Criss was accompanied by friend and musical director Tyler Duncan, late of My Dear Disco and Ella Riot. He will return to Ann Arbor for a free Sonic Lunch performance at the Michigan Theater June 13.
Bill's Beer Garden spring hours are now in effect, open every Thursday through Saturday from 7 p.m. to 11 p.m. and Sundays from 5 p.m. to 9 p.m. in the Downtown Home and Garden parking lot at 210 S. Ashley St.
Jessica Webster leads the Food & Grocery section for AnnArbor.com, a part of the MLive Media Group. Reach her at JessicaWebster@annarbor.com. You also can follow her on Twitter or subscribe to AnnArbor.com's email newsletters.