Posted on
Tue, Aug 23, 2011 : 4:30 a.m.
Green Bean Salad with Almonds a nutritious, vegetarian side dish
By Peggy Lampman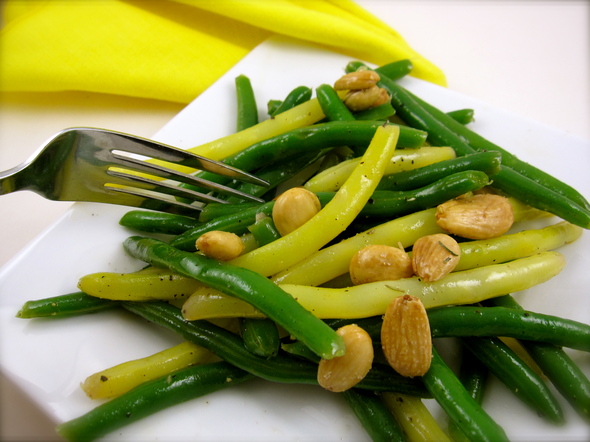 Peggy Lampman | Contributor

Peggy Lampman's Tuesday dinnerFeed
Green beans salads are great nutritious, make-ahead side dishes, and the addition of nuts only makes them better. I've used smoked almonds, Marcona almonds and plain, everyday toasted almonds in the following recipe. Crumbled blue cheese would also be a great addition.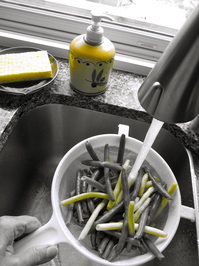 I've seen wasabi nuts around town and am thinking another great green bean dish would be wasabi nuts tossed with long beans and an Asian-styled vinaigrette.
Yield: 4-6 servings
Time: 20 minutes
Ingredients
3/4 pound green beans, trimmed
3/4 pound yellow wax beans, trimmed
5 tablespoons extra-virgin olive oil
3 tablespoons red wine vinegar
1 teaspoon minced garlic
1/2 cup smoked almonds, coarsely chopped
1/3 cup chopped fresh basil

Directions
1. Bring a large pot of salted water to a boil. Cook beans until crisp-tender, about 5 minutes. Drain; rinse with icy cold water and pat dry.
2. Meanwhile, in a large bowl, whisk together oil, vinegar and garlic.
3. Combine beans, smoked almonds and basil with vinaigrette. Season to taste with kosher salt and freshly ground pepper. Cover; chill at least 1 hour and up to 6 hours, tossing occasionally. Serve salad cold or at room temperature
Looking for a specific recipe? Click here for dinnerFeed's recipe search engine; type the recipe or ingredient into the search box. I am a real-time food writer and photographer posting daily feeds on my website and in the Food & Drink section of Annarbor.com. You may also e-mail me at peggy@dinnerfeed.com.