Posted on
Wed, Jun 27, 2012 : 8 a.m.
Greens 'n' Grains Salad with fresh blackberries - serve it as a complement to an entree or as a light vegetarian lunch
By Mary Bilyeu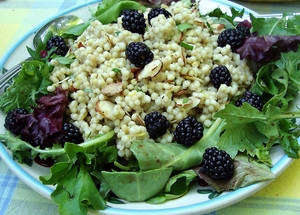 Mary Bilyeu | Contributor
This is the third in a series of "Berry Fest" posts. See
Day One here
and
Day Two
here.
My BFF Wendy and I particularly loved this salad, with the bright lemony flavor of the couscous and sweetness from organic blackberries, crunch from toasted almonds, and a hint of tartness from the blackberry-fig balsamic dressing lightly coating the greens.
This was substantial enough to serve as a light lunch or supper; it was therefore a nice dish to serve at my Berry Fest for vegetarian guests, since it was supplemented by a variety of cheeses, grilled strawberries, biscuits, and desserts. There was plenty of food for everyone, regardless of dietary needs! I also served a fresh fruit salad, because these beautiful organic berries are a wonderful ingredient but also shine on their own without any adornment.
The lemon-herb couscous with stir-ins could even be prepared and served without the lettuce, as a complement to any number of entrees. It's quick, simple, and delicious — what more do you need for a perfect summer dish?
Greens 'n' Grains Salad with Fresh Blackberries
2 5-ounce packages Whole Foods 365 brand lemon & herb pearled couscous
1 cup sliced almonds, lightly toasted
finely grated zest of 2 organic lemons
1/2 cup chopped fresh organic parsley
8 ounces mixed organic spring greens
2/3 cup Bella's organic blackberry & fig balsamic dressing
1 cup organic blackberries
Prepare couscous according to package directions; let come to room temperature. Stir in almonds, lemon zest, and parsley.
Toss greens with dressing. Place greens onto a serving platter, then place couscous into the center of the greens. Sprinkle berries over the top.
Serves 6-8.
(Note: Whole Foods Market very graciously provided me with a gift card to help purchase supplies.)

Mary Bilyeu
writes about her adventures in the kitchen - making dinner, celebrating holidays, entering cooking contests ... whatever strikes her fancy. She is also on a mission to find great deals for her Frugal Floozie Friday posts, seeking fabulous food at restaurants on the limited budget of only $5 per person. Feel free to email her with questions or comments or suggestions:
yentamary@gmail.com
.
You should visit Mary's blog — Food Floozie — on which she enthuses and effuses over all things food-related. And be sure to look for her monthly articles about holiday foods and traditions in the Washtenaw Jewish News.
The phrase "You Should Only Be Happy" (written in Hebrew on the stone pictured in this post) comes from Deuteronomy 16:15 and is a wish for all her readers - when you come to visit here, may you always be happy.