Posted on
Fri, Nov 2, 2012 : 4:08 a.m.
Grilled Butternut Squash Pizza with Fried Sage Leaves - careful prep makes this an easy recipe
By Peggy Lampman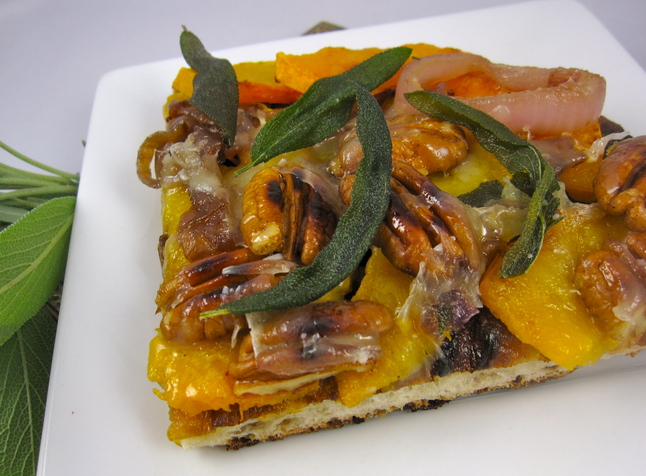 Peggy Lampman | Contributor

My dinnerFeed web site is a lean,
mean fighting machine!
To receive my lastest dinnerFeed posts
by email, sign up here.
This, for me, is the quintessential fall pizza; and oh so much better than anything you'd find in the freezer section of a grocery store, or even in a cardboard box delivered to your front door.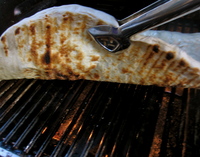 The down side is it does take a bit of time and effort on your part. But not as much as you'd think. Grilling pizza is a breeze; the dough firms up in seconds, and it's actually easier to grill than a burger.
The most essential part of grilling pizzas is having all of your ingredients prepped in advance, and close to the grill. Read the directions below twice before you begin and you're good to go.
Time: 45 minutes (if your pizza ball is thawed) Yield: 8 pieces
Ingredients
1 pizza dough ball, thawed if frozen
Flour for dusting
1 medium (2-pound) butternut squash
Extra-virgin olive oil for butternut squash and pizza dough
1 tablespoon unsalted butter
1 large red onion, sliced thin
1 teaspoon sugar
1 1/2 cups shredded imported Gruyere cheese (asiago, fontina, Parmesan or Gorgonzola may be substituted)
1/2 cup toasted walnuts or pecans
Fried Sage Leaves*, for garnish, optional
Instructions
Preheat oven to 400 degrees.
Peel the squash, remove seeds and slice into 1/4-inch slices. Toss the squash slices with olive oil and a pinch of kosher salt. Spread the squash slices out on an oiled sheet pan and roast for 15 to 20 minutes or until just tender. Reserve.
While the squash is roasting, heat butter in a large skillet. Add the onion, sprinkle with sugar and sauté over low heat until the onion is soft and caramelized, about 20 minutes, stirring occasionally. Place in a dish and reserve.
Place grated Gruyere and toasted walnuts in separate dishes and reserve. Place individual bowls of squash, onions, gruyere, walnuts and fried sage leaves, if using, close to your grill for easy last-minute assembly.
On a large cutting board lightly dusted with flour, prepare and stretch the thawed dough. Following package instructions, after dough "rests", stretch into a large 10-12 inch oval, circle or rectangle.( I prefer a a thin crust, so I stretch it thin — slightly transparent in the center.) Lightly brush olive oil on both sides of dough.
Oil and clean grill grates. If you are using a gas grill, turn one side to low and keep the other side on medium-high. If you are using a charcoal grill, build the coals higher on one side so that there is a hot side and a cooler side.
Gently lift the dough by the edges and drape it on the hot side of the grill. Grill pizza until golden brown on bottom side, about 3-5 minutes depending on temperature of the grill. Using tongs, flip the crust over and move crust to the cooler section of the grill. Immediately decorate the grilled side of the dough (that is now facing up) with the ingredients, sprinkling with Gruyere after your design is complete. Close the grill cover and allow cheese to melt, 2-4 minutes. With a large spatula and guiding hand, remove cooked pizza from grill. Garnish with fried sage leaves, if desired. Let sit a minute or two, slice and enjoy!
*To fry sage leaves, in a sauté pan, simply heat 3 tablespooons of grape seed or canola oil to medium-high heat. Fry sage leaves until crispy, only 30 seconds to a minute. Carefully remove from oil with tongs, drain on paper towels and season with kosher salt.
Peggy Lampman is a real-time food writer and photographer posting daily feeds on her website and in the Food & Grocery section of Annarbor.com. You may also e-mail her at peggy@dinnerfeed.com.