Posted on
Tue, Jun 26, 2012 : 8:50 a.m.
Berry Fest continues with recipe for grilled chicken with blueberry barbecue sauce
By Mary Bilyeu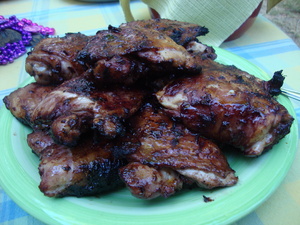 Mary Bilyeu | Contributor
Chicken is particularly well-suited to serve with fruit, so it only seemed natural that my Berry Fest should feature some poultry complemented by a sweet sauce. But not too sweet —it should have some zest.
So I took my basic homemade barbecue sauce, which is universally loved and has a fabulous flavor, and cooked some blueberries in it to enhance it. Brushed onto chicken as it grilled, to set the sauce and caramelize it a bit, this entree was an ideal summer food!
This grilled chicken was fork-tender, sweet, spicy... perfection!
Blackberry-Fig Marinated Grilled Chicken with Spiced Blueberry BBQ Sauce
Chicken:
5 pounds Pine Manor Farms free-to-roam Amish chicken thighs with skin
1 cup Bella's Organic Blackberry & Fig Balsamic Dressing
Place chicken into 2 gallon-size freezer baggies; pour 1/2 cup marinade into each baggie. Seal tightly, turn to coat chicken, and refrigerate overnight.
BBQ Sauce:
2/3 cup organic blueberries
1/4 cup water
1 12-ounce bottle chili sauce
1/4 cup brown sugar
3 tablespoons cider vinegar
2 tablespoons Worcestershire sauce
2 tablespoons Whole Foods 365 brand organic honey mustard
splash of cayenne pepper sauce
Bring blueberries and water to a boil over medium heat in a medium saucepan; cook 4 minutes, stirring frequently and mashing the berries. Add remaining ingredients and bring just to a boil; simmer 5 minutes, then remove from heat.
Preheat grill to medium-high. Remove chicken from marinade and drain, then place onto grill. Cook for 8 minutes per side. Baste with sauce, cook 5 more minutes. Turn chicken over, baste with sauce, cook 5 more minutes or until firm.
Serves 8-10.

(Note: Whole Foods Market very graciously provided me with a gift card to help purchase supplies.)

Mary Bilyeu
writes about her adventures in the kitchen - making dinner, celebrating holidays, entering cooking contests ... whatever strikes her fancy. She is also on a mission to find great deals for her Frugal Floozie Friday posts, seeking fabulous food at restaurants on the limited budget of only $5 per person. Feel free to email her with questions or comments or suggestions:
yentamary@gmail.com
.
You should visit Mary's blog — Food Floozie — on which she enthuses and effuses over all things food-related. And be sure to look for her monthly articles about holiday foods and traditions in the Washtenaw Jewish News.
The phrase "You Should Only Be Happy" (written in Hebrew on the stone pictured in this post) comes from Deuteronomy 16:15 and is a wish for all her readers - when you come to visit here, may you always be happy.