Posted on
Fri, Aug 9, 2013 : 4:31 a.m.
Grilled Fresh Mozzarella, Tomato & Pesto Pizza - good control of heat level makes this recipe a cinch
By Peggy Lampman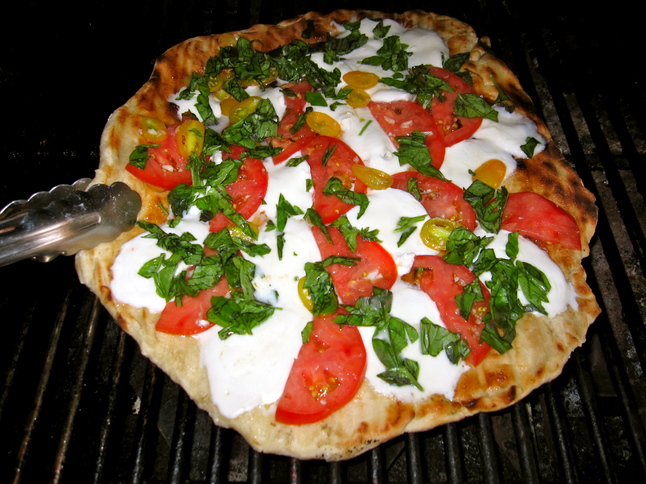 Peggy Lampman | Contributor

To receive my lastest dinnerFeed posts
by email, sign up here.
The one instance I prefer grilling over gas instead of charcoal or wood is when I'm grilling pizza. At least right now.
Last week I tried grilling a pizza on a small kettle charcoal grill (no room for a hot and cool side), thinking a quick hand would work, and burned the heck out of it; I've been spoiled by the instant heat control my gas grill allows.
I've recently purchased a Big Green Egg and plan to by the pizza stone that custom fits the Egg. Until then, I'm sticking with my Jenn-Aire gas for control when grilling pizza; it really makes the recipe below a cinch.
Time: 45 minutes (if your pizza ball is thawed)
Number of servings (yield): 6-8 pieces
Ingredients
1 pizza dough ball, thawed if frozen (I prefer Tseo's—it's delish and locally made)
Flour for dusting
2-3 medium-sized ripe tomatoes, thinly sliced (assorted varieties of locally-grown summer tomatoes are tastiest)
1/3 cup packed fresh basil leaves, torn
6-8 ounces fresh mozzarella (in liquid), drained and thinly sliced
2 tablespoons extra-virgin olive oil
1 teaspoon minced garlic
Instructions
1. On a large cutting board lightly dusted with flour, prepare and stretch the thawed dough. Following package instructions, after dough "rests" about 20 minutes, stretch into a large 10-12-inch oval, circle, or rectangle. (I prefer a thin crust, so I stretch it thin—slightly transparent in the center. You may also lightly brush the dough with olive oil at this point, if you enjoy a rich-flavored crust.)
2. Oil and clean grill grates. If you are using a gas grill, turn one side to low and keep the other side on medium-high. If you are using a charcoal grill, build the coals higher on one side so that there is a hot side and a cooler side.
3. Place sliced tomatoes in a bowl and lightly season with kosher salt and freshly ground pepper. Place torn basil and sliced mozzarella in additional separate bowls. Place bowls in an area close to your grill for easy, last-minute assembly. Combine olive oil and garlic.
4. Gently lift the dough by the edges and drape it on the medium-hot side of the grill. Grill pizza until golden brown on bottom side, about 3-5 minutes depending on heat of the flame. You may need to move the pizza around for even grilling.
5. Using tongs, flip the crust over and move crust to the cooler section of the grill. Immediately brush the grilled side of the dough (that is now facing up) with garlic-oil, then decorate with the cheese, tomato slices, and basil. Close the grill cover and allow cheese to melt, 2-4 minutes. With a large spatula and guiding hand, remove cooked pizza from grill. Let sit a minute or two, then slice.
Peggy Lampman is a real-time food writer and photographer posting daily feeds on her website and in the Food & Grocery section of Annarbor.com. You may also e-mail her at peggy@dinnerfeed.com.