Posted on
Thu, Apr 28, 2011 : 4:56 a.m.
Adobo Pork Tenderloin with Grilled Pineapple Salsa
By Peggy Lampman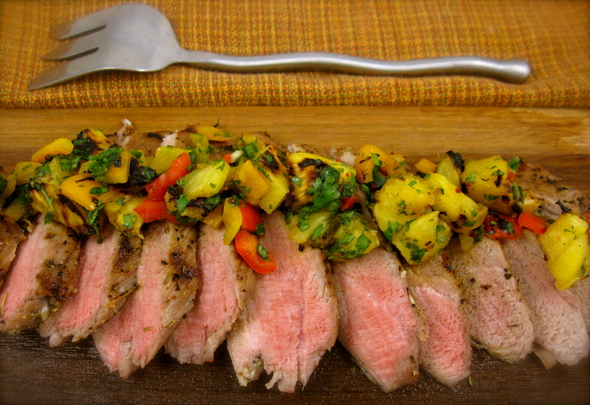 Peggy Lampman | Contributor

Peggy Lampman's Thursday dinnerFeed
Cinco de Mayo
, Spanish for the "fifth of May," is celebrated next week, often with food and spirits. Many cooks, therefore, will be sorting through their jumble of spices to liberate the cumin, chili powders, cinnamon and oregano — common seasonings of Mexican cuisine. I once assumed the holiday celebrated Mexico's liberation from Spanish rule as well, which would be equivalent to the American Fourth of July.
Wrong
.
Mexico celebrates its liberation from Spain on Sept. 16. Cinco de Mayo festivities commemorate the victory of a small Mexican army over a much larger French force at the Battle of Puebla on May 5, 1862. This date, for many, symbolizes the Mexicans' determination to rid themselves of foreign domination.
Another interesting bit of myth-busting trivia, according to many websites, such as Bandarasnews.com, is "Cinco de Mayo is actually celebrated more widely and on a grander scale in the United States than it is in Mexico, possibly due to effective marketing techniques."
Whatever your reason for celebration, be it Mexican sovereignty or a 10-for-10 avocado sale, the history and shared heritage of Mexico and America celebrates a vibrant culinary culture, expressed in its plethora of fresh ingredients and spices.
Check out the local groceries — colorful Mexican chilies appear waxed with shellac, as exotic birds and fauna of the Yucatan peninsula. And dried peppers, with their leathery black and wrinkled brown skin, remind me of wizened viejos combing the Coahuila desert for cacti.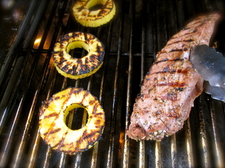 Peggy Lampman | Contributor
This recipe, adapted from
Cooking Light Magazine
, expresses the flavors of Mexico with an adobo — which is essentially a marinade commonly comprised of vinegar or citrus, oregano and garlic — and pineapple salsa. Fruity salsas, such as this pineapple, are always marvelous paired with pork.
Don't let the long list of ingredients scare you — it's actually quite simple to put together. There are no heavy sauces, and the additional ingredients translate to additional flavor — and less fat.

Cooking Ligh
t recommends you "remove the silver skin, which is the thin, shiny membrane that runs along the surface of the meat. Leaving the silver skin on can cause the tenderloin to toughen and lose shape during grilling. Stretching the membrane with one hand so it's tight, use your other hand to slip the tip of the knife underneath the silvery skin. Slowly slice back and forth, angling the sharp edge of the blade up, rather than down, through the meat. Continue this process until all the silver skin is removed, then discard."
This is a fresh, light, and limey dish, a great way to kick off a week of Mexican fiestas — wonderful served warm tortillas, steamed white rice, guacamole and sour cream.

Viva Mexico, and pass the tequila!
Yield: 4 servings
Marinate Time: 1 hour
Active Time: 45 minutes
Grill Time: apx. 25 minutes

Ingredients for Adobo Pork

1/2 cup fresh lime juice (4-6 juicy limes)
1 teaspoon dried oregano
1 teaspoon dried cumin
1 tablespoon minced garlic
1 large pork tenderloin (1 - 1 1/2 pounds)
Light oil, such as canola or corn, for brushing over pork and grill grates, as needed
1/4 cup chopped fresh cilantro
1 tablespoon chopped green onions

Directions for Adobo Pork

1. In a freezer-sized zip-lock or dish large enough to accommodate tenderloin, combine lime juice, oregano, cumin, garlic, 1 1/2 teaspoons kosher salt and 1 teaspoon freshly ground pepper. Marinate pork in dressing, refrigerated, 1 hour, turning once after 30 minutes.
2. Remove pork from dish; discard marinade. Brush with oil. Over medium heat, on an oiled grill grate; grill 25 minutes or until a thermometer inserted into the thickest part of the meat registers 160 degrees. Cut into 1/4-inch-thick slices.
Sprinkle with cilantro and green onions. Serve with Grilled-Pineapple Salsa (recipe follows.)

Ingredients for Grilled Pineapple Salsa

4 (1/2-inch thick) slices fresh pineapple
1 red bell pepper
Light oil or cooking oil spray
1/4 cup finely chopped red onion
1/4 cup chopped fresh cilantro
1 1/2 tablespoons fresh lime juice
1/2 tablespoon brown sugar
1 1/2 teaspoons minced crystallized ginger
2-3 tablespoons jalapeno peppers, seeded and minced
1-2 teaspoons canned chipotle chile in adobo sauce, minced
Directions for Grilled Pineapple Salsa

1. On well-oiled grates, preheat grill to medium-high heat. Grill pineapples until grill-marked on both sides. Grill peppers until just blackened, then place in a plastic or paper bag to steam.
2. When peppers are cool enough to handle, remove blackened skin, stem end, membranes and seeds.
3. Chop pineapple and peppers into a large dice, and combine with onion, cilantro, lime juice, sugar, ginger, 2 tablespoons jalapeno and 1 teaspoon chipotle peppers. Season with kosher salt to taste and additional jalapeno and chipotle peppers, as desired.
Looking for a specific recipe? Click here for dinnerFeed's recipe search engine; type the recipe or ingredient into the search box. I am a real-time food writer and photographer posting daily feeds on my website and in the Food & Drink section of Annarbor.com. You may also e-mail me at peggy@dinnerfeed.com.