Posted on
Fri, May 13, 2011 : 4:17 a.m.
Grilled Swiss Chard and Smoked Mozzarella Bundles
By Peggy Lampman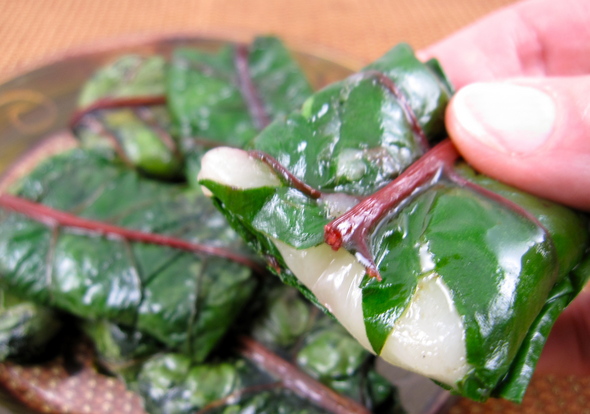 Peggy Lampman | Contributor

Peggy Lampman's Friday dinnerFeed
There are only three ingredients it this off-the-chart delicious appetizer but there is a bit of technique involved. They are a bit fussy but if you enjoy wrapping presents, you will have no trouble making them.
I've made these several times in the past for appetizers, but tonight my hubbie and I are going to eat the entire recipe (with some chewy bread) for dinner.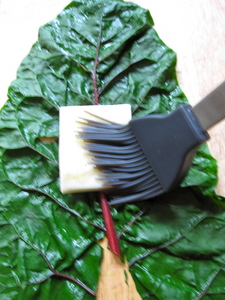 I've never tried the recipe using anything other than chard — it holds up to the heat of the flame — but I'm thinking a smooth leaf Tuscan kale may work as well. I love smoked mozzarella; it seems to have the perfect gooey texture when grilled, but I'd imagine other cheeses, halloumi for instance, would be delicious too.
Yield: 12 bundles
Time: 40 minutes
Ingredients
12 large ruby or rainbow Swiss chard leaves
3/4 pound smoked mozzerella, trimmed to 12, 1 & 1/2x1x1/4-inch pieces Extra virgin olive oil for brushing and drizzling
Directions
1. Bring a large pot of salted water to a boil; have a large bowl of ice-water nearby.
2. Plunge chard, 1-2 leaves at a time, into the boiling water and cook until just wilted, about 10 seconds. Using tongs, carefully remove from water and place in ice water. Remove from ice water and drain on paper towels. Repeat steps with remaining leaves.
3. Prepare a gas or charcoal grill to medium heat.
4. Place chard leaves face down, flat side up. Cut the chard to a 7-inch length from the tip. Cut out 2-inches from the bottom thickest part of stalk, halfway up leaf. Place mozzerella pieces on the center of each stem; drizzle with extra virgin olive oil and season with freshly ground pepper.
5. Fold tip side down then tightly fold each side around the cheese, wrapping the cheese into a bundle. 6. Grill 3-5 minutes on each side or until lightly charred and heated through. Serve immediately.
Looking for a specific recipe? Click here for dinnerFeed's recipe search engine; type the recipe or ingredient into the search box. I am a real-time food writer and photographer posting daily feeds on my website and in the Food & Drink section of Annarbor.com. You may also e-mail me at peggy@dinnerfeed.com.