Posted on
Tue, Oct 11, 2011 : 9:08 a.m.
Grilled tomato, mozzarella Swiss chard wraps burst with flavor
By Anne Savage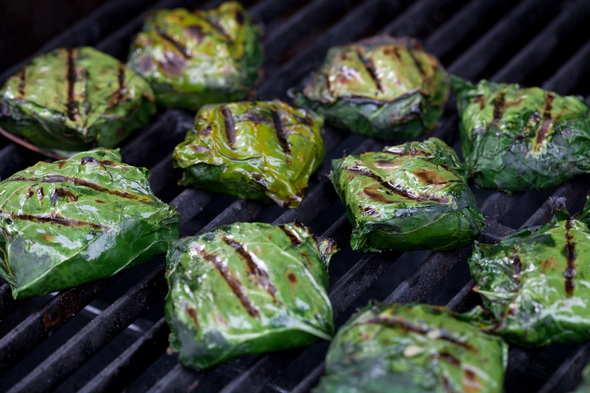 Anne Savage | Contributor
I didn't grow up eating Swiss chard, probably because it wasn't readily available in stores back then, but it is now. I see it everywhere. It's also very easy to grow, and it produces all summer and even lasts after a few frosts. It can be cooked just like spinach and can be added to soups, pasta dished and quiches for a great burst of nutrition and flavor.
Swiss chard has quickly become one of my favorite foods, and I like to add it to many of our recipes that don't call for it. For a simple but amazing side dish, chop it up, wilt it down in a pan with olive oil and add a little balsamic vinegar and toasted almonds.
Or, for my favorite way to eat swiss chard, grill it. Grilling really brings out its nutty flavor, and even those who do not care for Swiss chard will most likely love this recipe.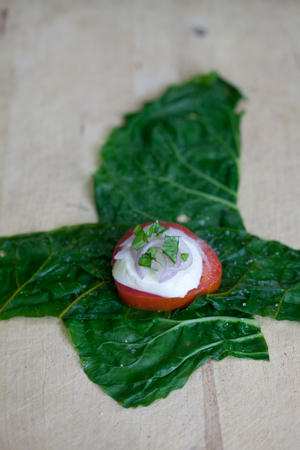 Anne Savage | Contributor
Grilled Swiss Chard and Tomato Wraps:
Ingredients:
12 medium to large Swiss chard leaves
3-4 medium roma tomatoes
8 ounces fresh mozzarella cheese
1 small red onion, diced
24 basil leaves chopped
Olive oil
Coarse salt
Directions:
Wash the Swiss chard leaves and remove the center stalk
Stack the Swiss chard halves and steam in a large pot with a steamer until just wilted, about 1 minute. Remove and let cool.
Slice tomatoes into 12 slices, about 1/2 thick. Cut the mozzarella into 12 slices.
Lay one of the wilted Swiss chard halves on a cutting board and cross over it with a second half.
In the center of the Swiss chard cross place one tomato slice, one mozzarella slice, a tablespoon of diced onion, top with 1/12 of the chopped basil and sprinkle with a little salt.
Wrap the Swiss chard around the tomato and cheese center until bundled up tightly.
Repeat steps 4-6 until all 12 wraps are complete.
Preheat grill and oil the grill so the wraps don't stick.
Brush a little olive oil on the outside of the wraps and place on grill. Cook for about 2-3 minutes on each side.
Serve as a side dish or as a main dish with a side of rice.
For detailed photos on making these wraps or to print this recipe, click here, or go to The Savage Feast for additional recipes or to subscribe. You can also follow The Savage Feast on Facebook!
Anne Savage is a professional photographer living in Dexter. She specializes in food photography and is an experimental cook and avid gardener. Much of her food photography and many of her recipes can be found at http://thesavagefeast.com.