Posted on
Fri, Aug 23, 2013 : 4:43 a.m.
Grilled Vegetables with Dill-Almond Pesto showcases best of seasonal veggies
By Peggy Lampman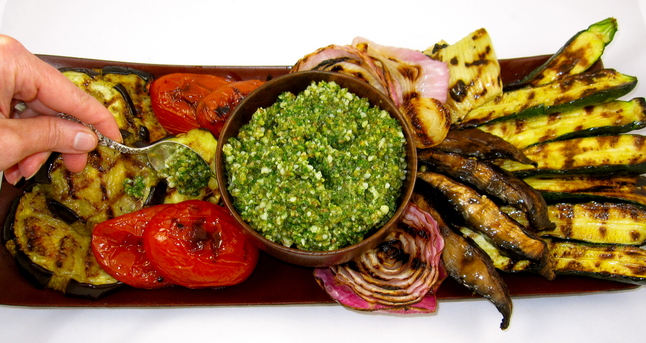 Peggy Lampman | Contributor

To receive my lastest dinnerFeed posts
by email, sign up here.
'Tis the season, and now's the time to use this parade of seasonal, local vegetables when available to us. Seems a pity we can't spread out the riches a bit longer.
Wire vegetable grilling baskets are handy for grilling vegetables but I don't bother, unless I'm grilling small pieces or using only one type of vegetable. Long-handled utensils like basting brushes for olive oil, spatulas, and tongs make the job of grilling much easier.
Time: 45 minutes

Yield: 3-6 servings, depending on other foods served
Ingredients
1/2 tablespoon chopped garlic

1 1/2 packed cups fresh dill

1/2 cup toasted almonds

2/3 cup extra virgin olive oil, plus extra for brushing on vegetables while grilling

1/4 cup freshly grated Parmigiano-Reggiano

1 large red onion, cut into 1/3-inch thick slices

1 globe eggplant, striped with a vegetable peeler then cut into 1/2-inch slices

2-3 plum tomatoes, washed, halved and seeded

4-8 small to medium-sized zucchini, washed and cut in half lengthwise

1 portabello mushroom, stem removed, gills scraped out, washed and sliced
Instructions
1. To make the Dill-Almond Pesto, place garlic and dill in the bowl of a food processor or blender. Pulse until well combined.

2. Add almonds then process, with off-and-on pulses, until nuts are coarsely chopped and combined with dill and garlic. Slowly add oil to bowl until mixture is combined.
Remove mixture from processor bowl, transferring to a bowl large enough to accommodate pesto. Stir in Parmesan. Season to taste with kosher salt and freshly ground pepper. Reserve. (May be made up to 24 hours in advance, refrigerated.)

3. To ensure the onion slices don't fall apart, insert a toothpick into the side of each onion. Lay eggplant slices on a baking sheet lined with paper towels, lightly sprinkle with kosher salt, and allow excess moisture to drain 30 minutes.

4. Prepare a gas or charcoal grill to medium to medium-high heat.

5. On a well-oiled grill grate or in a vegetable grilling basket, grill onion slices 6-8 minutes per side; eggplant slices 4-6 minutes per side; tomato halves, zucchini and portabello slices 2-4 minutes per side. Brush vegetables with additional olive oil while grilling, removing vegetables from the grill when they are tender but not mushy.
6. Arrange on a platter with reserved Dill-Almond Pesto.
Peggy Lampman is a real-time food writer and photographer posting daily feeds on her website and in the Food & Grocery section of Annarbor.com. You may also e-mail her at peggy@dinnerfeed.com.