Posted on
Mon, Jan 21, 2013 : 4:47 a.m.
Ground Turkey, Farro and Brussels Sprouts Medley - flavor even better in leftovers
By Peggy Lampman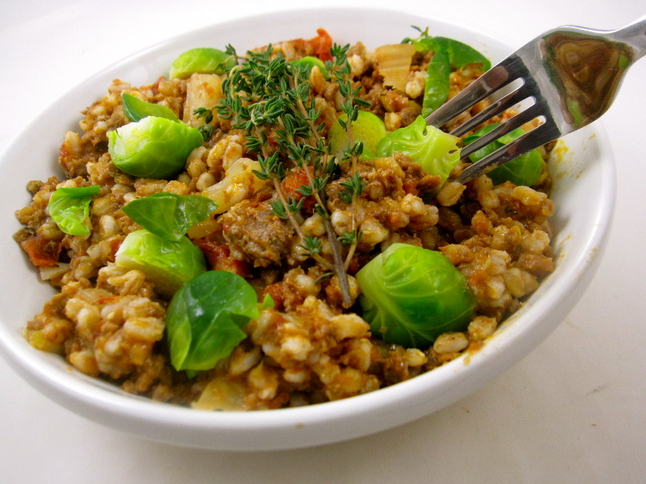 Peggy Lampman | Contributor

My dinnerFeed web site is a lean, mean fighting machine! To receive my lastest dinnerFeed posts by email, sign up here.
For a healthy recipe to jump start your Monday, this recipe has it all: complex carbs, protein and vegetables.
I often cook with farro — I love its toothsome texture and nutty flavor, and make variations of the dish below often; reheated leftovers are a bonus as the flavor improves after a day or two confinement in the fridge — the lovely flavor of fennel blossoms.
I chose dark meat ground turkey for the moisture content; substitute with white meat turkey if you prefer less fat. Ground beef or even lamb would also be a substitute; if cooking with lamb, I would substitute eggplant for the Brussels sprouts and a sheep's milk cheese, such as Pecorino, for the cow's milk Parmesan.
Leftover Brussels sprouts from last night's dinner inspired the dish; in the past I've substituted frozen peas, which cook quickly when added at the last minute.
Ingredients
8 ounces farro
1 tablespoon extra virgin olive oil
1/2 small onion, diced (1/2 cup)
1/2 large bulb fennel, cored and diced (1 cup)
1 teaspoon minced garlic
1/3 pound ground turkey (I used dark meat)
1/2 cup white wine
1/4 cup tomato paste
Scant teaspoon fresh thyme finely chopped, plus fronds for garnish (optional)
1-2 cups chicken stock
1 cup Brussels sprouts, halved and cooked until tender
Parmigianno Reggiano
Instructions
1. Bring 5 cups of salted water to a low boil. Cook farro in boiling water until just tender, about 15 minutes. Drain.
2. While farro is cooking, heat oil in a large sauté pan over medium-low heat. Sauté onion and fennel 5 minutes, or until just limp. Stir in garlic then turkey, breaking up with a fork. Brown slightly, raise heat and add wine and tomato paste, cooking until wine is almost evaporated.
3. Reduce heat to medium and add farro, thyme (if using) and chicken stock to pan. Cook an additional 10-15 minutes or until farro is tender, yet toothsome, adding additional stock if necessary to cook to your palate's level of doneness. Stir in cooked Brussels sprouts.
4. Season to taste with kosher salt and freshly ground pepper. Serve garnished with thyme sprigs, if using. Pass freshly grated Parmesan.
Peggy Lampman is a real-time food writer and photographer posting daily feeds on her website and in the Food & Grocery section of Annarbor.com. You may also e-mail her at peggy@dinnerfeed.com.