Posted on
Mon, Jul 11, 2011 : 4:19 p.m.
Growing food and redemption at the Women's Huron Valley Correctional Facility
By Kim Bayer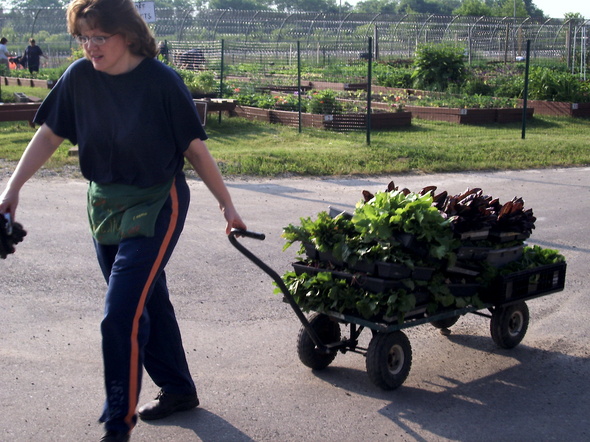 Courtesy photo | Ellen Baron
It's not easy to get into prison. To be able to visit the Women's Huron Valley Correctional Facility in Ypsilanti, I had to agree to a Law Enforcement Information Network check to confirm my non-criminal background.
Once approved for entry, I was told that I was allowed to bring my driver's license, a car key, a notepad and pencil. No camera, no purse, nothing else. But I submitted to these requirements because there was something at this facility, the only women's prison in the state, that I wanted to see.
One of only a handful of others like it across the country, I had heard that the prison has a half-acre organic garden inside. The garden, tended by 35 women in the horticulture program, provides 40 percent of the fresh produce donated and distributed by Food Gatherers local growing initiatives in Washtenaw County.
According to Food Gatherers' 2010 Hunger in America report "more than 43,900 people — including more than 14,000 children and 6,500 seniors — receive emergency food each year through Food Gatherers' network of emergency food pantries and meal sites. The findings represent a 138 percent increase since 2006."
Last year, the women at the correctional facility in Ypsilanti donated more than 12,000 pounds of vegetables that hungry people would not otherwise have had.
I wanted to learn more about how a garden in prison could not only feed hungry people in the community but also heal and restore the women for whom "something had gone drastically wrong," as one of them described it to me.
Hunger and poverty
Feeding America, which calls itself "the nation's leading domestic hunger-relief charity" (a network of which Food Gatherers is a member) says, "In many ways, America is the land of plenty. But for 1 in 6 Americans, hunger is a reality ….These are often hard-working adults, children and seniors who simply cannot make ends meet and are forced to go without food for several meals, or even days."
In its Hunger and Poverty Statistics, Feeding America says: "In 2009, 50.2 million Americans lived in food insecure households, 33 million adults and 17.2 million children."
Undoubtedly the numbers are higher now, but in terms of poverty, the organization says: "In 2009, 43.6 million people (14.3 percent) were in poverty. Including 15.5 million (20.7 percent) children under the age of 18."
Focusing on their partnerships with the prison, with Plant-a-Row, and with Food and Faith initiatives for fresh produce, Missy Orge, chief program officer for Food Gatherers says, "An investment in ensuring access to nutritious, high quality foods is an investment in health for individuals and the community. Breaking the cycle of poverty and hunger requires long-term systemic solutions."
Prison and poverty
It's also true that breaking the cycle of poverty and prison requires long-term systemic solutions. If you read even a little bit about why people end up in prison, you'll quickly learn that, for a majority, an underlying issue is: poverty.
According to researchers Tracy Penner and Ilene Pevec, "Most people who end up in prison come from a variety of life-long difficulties that include growing up in environments of poverty, low levels of formal education, childhood abuse, limited options and a lack of role models for earning a living honestly."
John Cordell, Michigan Department of Corrections spokesperson, says that well over 50 percent of the 1850 women at the Women's Huron Valley Correctional Facility come from a background of poverty.
Cordell writes that the goal of the correctional facility is "to segregate prisoners from society based on the sentence imposed by the court but also to provide programming and skills that allow them to successfully re-enter society. The measure is the recidivism rate. If fewer former prisoners are returning to prison and are instead becoming viable and supporting citizens in the community, we are doing our job."
At the Women's Huron Valley Correctional Facility, in addition to GED certification there are five vocational programs designed to help with re-entry to society: Building trades, automotive, business ed tech, custodial mechanics and horticulture.
According to Cordell, the overall recidivism rate for men and women in Michigan's prisons is around 35 percent. He says he doesn't have recidivism data for people completing vocational programs — the system may not track those numbers.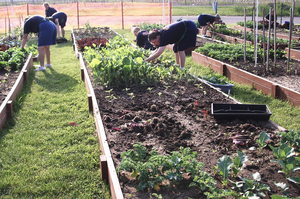 Courtesy photo | Ellen Baron
WHVCF's horticulture programEllen Baron
, horticulture instructor at the prison for the past nine years, tells me that the curriculum is more in-depth than the training for a Master Gardening certificate. There are two groups of 15 women who come three hours a day. It's a voluntary program, and the only requirements are eighth grade level reading and math skills.
Inside, the educational facilities at the women's prison are surprisingly like any school campus, with low, brown brick buildings landscaped with flowers and sidewalk pathways in between. Guided by Baron through security and down the hallways, I identify her classroom door because it has a sign that reads "Know food, know freedom."
My first glimpse of the women in Baron's horticulture program is of a group of women from perhaps age 25 through 65 wearing dark blue shirts and shorts or pants. Their hair is pulled back in ponytails, and some have glasses, but they seem about as threatening as a gathering of my aunts and cousins.
It's 7:45 a.m. as Baron calls out the tasks for the day. The Food Gatherers truck is coming later, so this morning they will harvest lettuce, beets, turnips, collards, kale and Swiss chard.
The women line up to sign out garden tools and green workbelts and then head out to the 30 or so raised beds enclosed by high fences topped with spiraled razor wire. Out in the garden, they each have an assignment and step into a pattern they seem to know well, bending over their immaculate plots to bring in what's needed for the day.
Understanding gardening in prison
I'm a little nervous about approaching individuals, not sure if there's an etiquette I'm not aware of. One convention I've already noticed inside is that they call each other "Ms." something rather than their given names.
Ms. D.C., age 53, is cutting kale, as she tells me, "This is like therapy. It's important to give back to the community. There are people worse off than we are — at least we get meals."
Ms. S.C., age 44, is thinning turnips, "pulling out ones that have grown so that others that are maturing can draw nutrients from the earth."
She tells me, "I've learned a lot — growing things is about more than putting a seed down. It takes time and patience. It's important to give food. People out there don't have a support system — all they can do is go to a church or food pantry. I wouldn't want my family to be hungry."
Baron describes what's going on as "caring for something, realizing if you care for it that it will give back 10 times or more what you put in. For people that have never had any success, it builds confidence in knowing how to be successful… women start to think maybe I was a little smarter than my stepfather or my mother told me."
Ms. L.E., age 43, says gardening here "is a salvation. When you come into this place, you're already set in motion. This class changes that. Ms. Baron changes it. She talks to you like you're a human being. If I didn't have this, I don't know how I'd feel."
Ms. D.C says, "Ms. Baron makes us feel like we matter. Her love for the class and for us make us feel different, like we can be different. It makes you feel like you're not how society puts you — as a menace. Her essays, about cultivating yourself, hit home a lot of times. They're one page, about how you would cultivate your life, what seeds would you plant, what will you reap, what do you need to weed out."
Ms. A.B., age 30, says, "Control is taken away when we come in here. We don't have control over anything. But we have control over the garden — how we grow, what we grow. I had to learn a lot about what will grow. It's a lesson in patience. You can take a seed and make it grow into something beautiful. I didn't have much appreciation for that before. In the garden, there are life lessons that show how we apply them to other areas — there's a discipline. Patience is huge for me."
Ms. A.W., age 36, says being able to work in the garden "made me notice things I didn't notice before. What was making strife in my life. And weed out those areas. I lost my husband and was sinking into depression. This kept me from going into a more destructive mode. It was a helping hand. I can't put it into words — it's really been a blessing."
Ms A.S., age 33, tells me, "We're supposed to be here because we want to be rehabilitated. But there's nothing showing you which direction — you really have to find it on your own."
Ms. A.W. says, "The overall value of this is astronomical — priceless. If not for this program, you could easily get lost in the system. It allows more people to have access — what we can do is very surprising in prison, planting our own beds, landscaping the grounds, educating other students."
Ms. M.Z., age 54, tells me, "When we find something joyful in life it helps our families — they are suffering so much more than we are. … This class gives you optimism and hope for the future. That helps your family."
She, like all the women I talked to, gives credit to Baron: "She's just a phenomenal instructor and mentor, and has been such a rock. Her character is one with a lot of empathy, but she's not judgmental. It's all caring. She doesn't make you feel the degradation, or like a second-class citizen. She makes this is a place to grow, a safe harbor."
For her part, Baron says, "This class is for people that want to change their lives and learn skills to be productive citizens. My job is to teach. I don't care what they did. My job is to help them go out into society. I take them where they are right now, with their skills and their desire to improve themselves and go from there. … What it comes down to is that this is a really harsh place with a lot of awful feelings. I treat people how I want to be treated.
"What I've gotten back is immeasurable — seeing the ways in which the human spirit can overcome adversity and obstacles. I've gained so much more than I've given. I feel very blessed to have this position. To teach, to make a dent with Food Gatherers, to make a difference with a problem in this county. It's very satisfying."

The future of the horticulture program

The program's goal is to send 10,000 pounds of food to Food Gatherers each year, though after a 12,000-pound year, I wonder if that will become the new standard. Baron says that when you're growing that much on half an acre, succession planting is critical, "You don't leave holes in your garden beds for six weeks."
With the success they've had in providing food for people who need it and the obvious difference it makes in the lives of the women in the program, I ask Baron if it's possible that they'll expand the growing space and draw more people to the class. But Baron is doubtful.
Aside from her position, the program is funded for under $3,500 a year. They used to rely on the city's compost for their soil, but since the compost system was privatized, they are not able to get that donation. They have a large greenhouse that would allow them to grow more in the winter if they could get soil, and install raised beds. But the budget outlook is not promising. "We'll get there eventually. We do the best we can with what we've got," Baron says.
In May this year, Food Gatherers recognized the efforts of the women in the horticulture program with their "Gatherer of Plenty Award." Missy Orge says the award went "to Ellen Baron and the women in the MWCF program in recognition of their efforts to grow and donate more than 46,000 pounds (since 2005) of healthy fresh produce to our hunger relief efforts."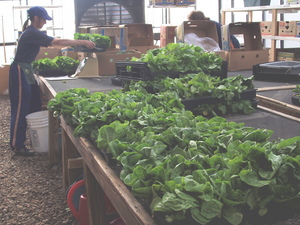 Courtesy photo | Ellen Baron
Since the horticulture program's inception, the women at the correctional facility have donated the food they grow rather than consume it themselves. When I learned that the meals in the prison are on a two-week rotation of mostly processed meats and packaged foods, and almost no fruits or vegetables, I was a little stunned at the sacrifice this represents for the women.
Baron said they came to this decision because "in a prison setting, being able to grow something and give something back, when you've taken so much, goes a long way toward restoring a broken person … growing something and giving back can restore the soul and make a person whole again in so many different ways."
Kim Bayer is a freelance writer and culinary researcher. Email her at kimbayer@gmail.com.