Posted on
Fri, Feb 3, 2012 : 4:27 a.m.
Half and Half Po' Boy Sandwich with Horseradish Cole Slaw offers a taste of Louisiana during Mardi Gras season
By Peggy Lampman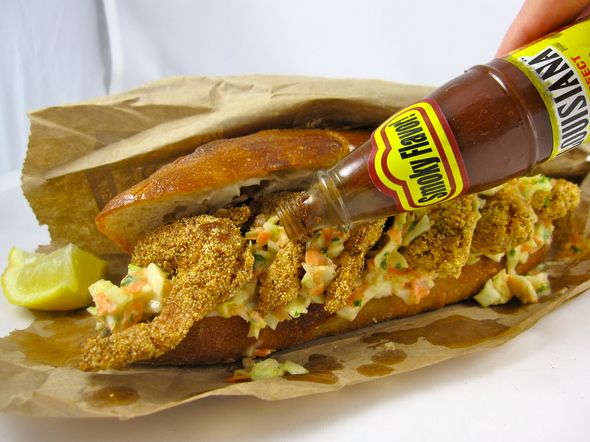 Peggy Lampman | Contributor

mean fighting machine!
I've created a lot of dishes in my day, but to my palate, there are few things finer in life than salty-spiced-lip-smacking fried shellfish nestled under a blanket of horseradish coleslaw sandwiched in a (I'll repent tomorrow) plushy white roll. As we approach the Mardi-Gras, pre-Lenten season, cravings for Louisiana goodies such as this kick in.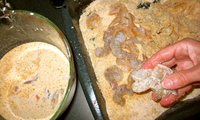 Last time I was visiting my family in Alabama, my brother, Allen, and I were debating whether to make shrimp or oyster Po' boys. Our recipe reconciles this angst giving us several big bites of both fried shrimp and oysters. We christened it the "Half-and-Half," not to be confused with another L.A. (lower Alabama) Half-and Half favorite: Black-Eyed Peas and Turnip Greens.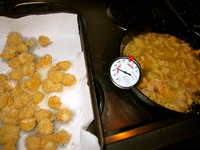 In Louisiana, the cole slaw used in these sandwiches is mayonnaise-based and is more sweet than tart. My recipe for Po'boy Horseradish Coleslaw is delicious with the oysters and shrimp, but you may purchase a pre-made coleslaw, to save time, adding horseradish to taste.
Time: 1 hour
Number of servings (yield): 6 sandwiches
Ingredients for Po Boy
3 cups cornmeal, white preferred
3 tablespoons seafood seasoning, (such as Old Bay or Paul Prudonne's Seafood Magic)
2 teaspoons-1 1/2 tablespoons kosher salt*
1 tablespoon black pepper
6 cups peanut or vegetable oil
24 medium-sized oysters, freshly shucked if possible
24 medium-sized raw shrimp
3 egg whites, beaten
6 hoagie rolls or demi-baguettes
1/2 cup mayonnaise
8 cups Po'boy Horseradish Cole Slaw (recipe follows)
2 lemons, cut into wedges
Hot sauce
Instructions
1. Preheat oven to 200 degrees.
2. Combine cornmeal, seafood seasoning, 2 teaspoons salt and pepper. Taste blend and add salt to taste.
3. Heat oil in a cast iron skillet, fry baby or heavy-bottomed sauté pan to 355 degrees. (Use a candy or fry thermometer, if available. If not, oil is ready when a crumb of cornmeal frys briskly in pan. You will need to adjust burner temperature when frying to insure oil maintains a steady sizzle.)
4. Dredge both sides of oysters in corn meal mix. Gently drop in hot oil and fry oysters, in batches, until golden brown, 3-4 minutes on each side. Place oysters on a paper-towel lined baking sheet and place in warm oven.
5. Dredge shrimp in cornmeal mixture, dip in egg whites, then dredge again in cornmeal mixture. Fry shrimp in hot oil (355 degrees) until golden brown on each side. Place shrimp on a paper-towel lined baking sheet in the warm oven.
6. Slice bread horizontally, about 3/4 of the way through leaving one edge intact. Spread mayonnaise over both sides cut bread. Divide Po' Boy Horseradish Coleslaw over bottom pieces of bread. Top coleslaw with 4 fried oysters followed by 4 fried shrimp. Serve with hot sauce and lemon wedges.
*Often seafood seasoning blends and fry mixes contain salt. Taste your final cornmeal blend and add salt to taste.
Ingredients for Horseradish Cole Slaw
Number of servings (yield): 8 cups
1 cup mayonnaise
1 tablespoon cider vinegar
3 tablespoons white sugar
2 teaspoons-2 tablespoons horseradish
1 head green cabbage, diced
1 1/2 cups grated carrot
2 tablespoons grated onion
Instructions
Make a dressing by combining mayonnaise, vinegar, sugar and 2 teaspoons horseradish. Add diced cabbage, carrot and onion to dressing and combine, adding additional horseradish, kosher salt and freshly ground pepper to taste.
My new web site has recently been launched (www.dinnerFeed.com)! I'm a real-time food writer and photographer posting daily feeds on my website and in the Food & Drink section of Annarbor.com. You may also e-mail me at peggy@dinnerfeed.com.