Posted on
Mon, Oct 31, 2011 : 8 a.m.
Hallowe'en truffles for grown-ups
By Mary Bilyeu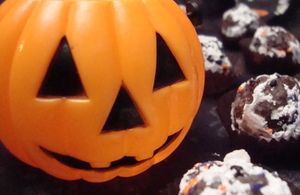 Mary Bilyeu | Contributor
We've all done it — we've all raided our kids' candy stashes after they've gone trick-or-treating for Halloween. We'd hang our heads in shame, but we're actually performing a mitzvah ("good deed") by saving our precious children's teeth from extra sugar and premature rotting. Be proud of your efforts! You've done well!
But, quite frankly, you can do better... better than the sickly sweet mass-produced candies that are handed out, that is. (Don't even get me started on the party poopers who nobly give those little mini boxes of raisins; that is not an option!)
I'm here to tell you that you don't have to steal from your kids, because you can have luscious chocolates of your very own. And the kids can't have any of these, because of the alcohol used for flavoring. They're all yours!
While traditional chocolate truffles are rolled in cocoa powder, the confectioners' sugar gives these a bit of a ghostly aura. A few Hallowe'en-themed sprinkles tossed into the coating just makes the candies a bit more fun.
Hallowe'en is a festival of sugar and frivolity. There's no reason adults can't celebrate along with their children but with a treat that's a bit more sophisticated than what the kiddies will be hauling home from their rounds.
And after the chaos of getting the kids' costumes ready, schlepping them around the neighborhood and then trying to get them to bed despite the sugar high, don't you deserve a reward when it's all over?
More Hallowe'en ideas:
Hallowe'en Dipped Marshmallows
Sweet 'n' Salty Caramel Corn Mix
Chocolate Truffles
(With many, many thanks to my friend Doris, who's recently moved to California but who left me with some priceless food-related gifts — including the cherry cordial — to remember her by whenever I cook with the lovely items....)
1 cup chocolate chips
3 tablespoons whipping cream
2 tablespoons cherry cordial (or other flavoring)
1 tablespoon butter
1/4 cup confectioners' sugar
1 tablespoon seasonal sprinkles
12 paper candy cups, optional
Melt the chocolate, whipping cream, cordial and butter together in a small saucepan; whisk until smooth. Pour into a bowl and cover with plastic wrap, pressing the plastic wrap against the chocolate; chill until firm, 2 hours.
Combine the confectioners' sugar and the sprinkles in a small bowl. Using a 1-inch scoop, scoop balls of chocolate. Roll each ball into the confectioners' sugar mix until lightly coated, then place into paper candy cups. Refrigerate, then let the truffles sit at room temperature for 5 minutes to take the chill off before serving.
Makes 12 truffles.
Note: The cherry cordial is a lovely complement to the chocolate, but you could also use Kahlua or rum or even non-alcoholic options like coffee or the juice from a jar of maraschino cherries.

Mary Bilyeu has won or placed in more than 60 cooking contests and writes about her adventures in the kitchen. She was thrilled to have her post about Scottish Oatmeal Shortbread named as one of the daily "Best of the Blogs" by the prestigious Food News Journal.
Go visit Mary's blog — Food Floozie — on which she enthuses and effuses over all things food-related. Her newest feature is Frugal Floozie Friday, seeking fun and food for $5 or less ... really! Feel free to email her with questions or comments or suggestions: yentamary@gmail.com.
The phrase "You Should Only Be Happy" (written in Hebrew on the stone pictured in this post) comes from Deuteronomy 16:15 and is a wish for all her readers as they cook along with her ... may you always be happy here.