Posted on
Mon, May 27, 2013 : 4:38 a.m.
4 Tips for a Perfectly Grilled Steak
By Peggy Lampman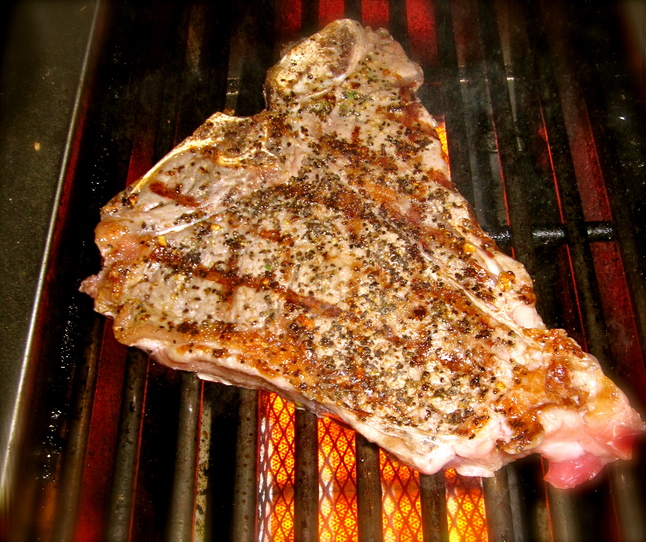 Peggy Lampman | Contributor

To receive my lastest dinnerFeed posts
by email, sign up here.
Yahoo! Summer's officially begun! Pull out the grills and cooler — let's get this party rolling.
Grilling steaks brings out a primal hunger in me. All it takes is walking past a neighbor's house while they're grilling, catching a whiff, and my eyes glaze, palate tingles; I won't rest until I have my own grilled steak on a plate, just for me, sharing not allowed.
I've blogged several times about grilling the perfect steak, which can be summed up as follows. Attention should be paid to:
1. Cut of meat — I prefer on-the-bone rib eye, T-bone, porterhouse-style, at least 1 and 1/4-inches thick. (I prefer knowing where my beef originated and how the animal was cared for. I select a butcher who can answer these questions.)
2. Liberally sprinkling both sides with kosher or sea salt then letting the meat sit at room temperature at least an hour before grilling. Then, right before grilling, salt the meat again, pound black peppercorns into coarse ground pepper, and rub this into the meat.
3. Searing over extremely high heat, then moving meat to a slightly cooler, medium-high heat, and cooking it to desired level of doneness.
4. Letting the meat sit 10 minutes after grilling before cutting into the beef. A good steak needs time to settle and absorb the savory juices.
The only thing that would have improved the flavor of this steak would have been if I'd grilled over hardwood or charcoal instead of gas. Happy Memorial Day!
Pre- grill rest time: 1-2 hours
Grill Time: 9-11 minutes for medium-rare
After-grill rest time: 10-15 minutes
Number of servings (yield): 1 big steak
Ingredients
1 steak, bone-in, at least 1 1/4-inch thick preferred
Olive oil
2 tablespoons whole black peppercorns
Instructions
1. Brush both sides of beef with olive oil. Liberally sprinkle both sides with kosher or sea salt. With a mallet, pound peppercorns until you have an assortment of fine, medium and coarsely ground pepper, and rub into beef. Let meat sit at room temperature 1-2 hours.
2. Oil grill grates. Prepare one side of gas or charcoal grill to high heat, and the other side to medium-high heat. Sprinkle additional salt over beef. Place steaks on the hottest side of grill and sear for 1 1/2-2 minutes on each side. (To create a diamond pattern on the meat, rotate 45 degrees after 1 minute.) After searing meat, move steaks to a slightly cooler side of the grill and cook to desired level of doneness. (For medium rare, about 3-4 additional minutes per side.)
3. Remove steaks from grill and let sit 10-15 minutes.
Peggy Lampman is a real-time food writer and photographer posting daily feeds on her website and in the Food & Grocery section of Annarbor.com. You may also e-mail her at peggy@dinnerfeed.com.