Posted on
Thu, Oct 4, 2012 : 1:31 p.m.
Chicken and Butternut Squash Stew with Moroccan Flavors satisfies autumn craving for rich, exotic fare
By Peggy Lampman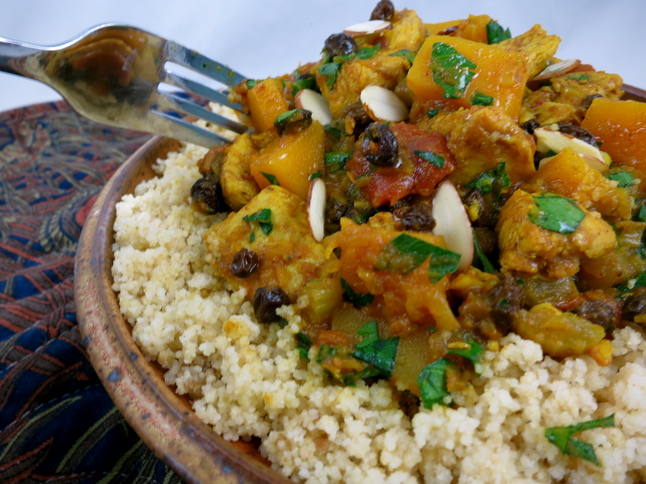 Peggy Lampman |Contributor

My dinnerFeed web site is a lean,
mean fighting machine!
To receive my lastest dinnerFeed posts
by email, sign up here.
Delicious, impromptu meals don't always come from a book, the Internet or exhaustive recipe files. Rummaging through kitchen pantries and freezers, then adapting those odds and ends to suit cravings, are often what inspire a favorite dish.
Certainly that's the case with this recipe. A half of a butternut squash, beginning to discolor around the edges, was begging to be used, as were chicken breasts I froze from an enticing sale a month back. Or was it two? Maybe it was three months ago that I purchased them. Never mind. They need to be used before freezer burn attacks.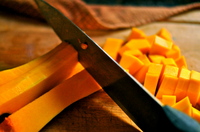 These items, plus dried nuts and fruits and my collection of spices, lend further inspiration, colliding with the chill in the early October air. At this time of the year, my cravings cave inward, longing for deep, rich and exotic flavors—the flavors, perhaps, of Morocco.
Situated in the northwest corner of Africa, this is a country I've always wanted to explore and remains exotic to me because as of now, it's only been fodder for my imagination. I've read about the walled Medina encasing the perfumes of spices, the chaos of people haggling over produce, and the stacks of earthenware tagines ready for barter at the bazaar.
This world's in sharp contrast to my usual shopping environment of sterile grocery-store aisles, ingredients boxed in neat rows, and produce separated in bins. One of these years I'll make it to Morocco, but not this week.
I'm not suggesting that my quickie American version of a Moroccan meal would pass as authentic Moroccan food, a world-class cuisine borne of a fertile land and tapestry of cultures and civilizations. I've read enough Paula Wolfert to understand it's the spit-roasted meats, for example, the hand-rolled grains of couscous, preserved lemon and fragrant waters — items not found in the typical American cupboard — that lend the cuisine its sultry nuance. But the flavor of cilantro, perfumes of cinnamon and cumin married with dried fruit and almonds, will be close enough tonight.
Long ingredient list? Nah... it's mostly spices that need to be used in my cupboard. Peruse your panty and freezer to discover what ingredients could create a dinner that would suit your mood. Use this recipe as a skeleton: substitute chickpeas, lamb, shrimp or chicken thighs for chicken breast (adjusting cooking time accordingly); prunes, raisins or apricots for currants; leeks for onions; fresh ripe tomatoes for canned, quinoa or rice for couscous, wine or orange juice for stock... catch my drift?
One of these years I will go to Morocco and explore, first-hand, their fabled bazaars — I've no qualms about adapting my dress and manner to their culture. My fear lies in becoming lost in a labyrinthine Marrakesh souk (covered market), and spending the rest of my days swaddled in black peddling Berber silver in a dim-lit cubby.
This is not a stretch considering I recently forgot where I parked my car in the back streets behind Kerrytown. I spent a solid half-hour up and down the cobbled roads, laden with produce, wondering if I'd been towed or was just losing my mind.
Yield: 4-6 servings
Time: 45 minutes
Ingredients
2 tablespoons olive oil

2 cups chopped onion

2 teaspoons minced garlic

1 1/2 teaspoons ground cumin

1 teaspoon paprika

1 teaspoon ground turmeric

1/4 teaspoon ground cinnamon

1/4 teaspoon ground ginger

1 1/2 pounds skinless, boneless chicken breast, cut into 1-inch pieces

1 (14.5 ounce) can whole tomatoes, coarsely chopped with juice

1 cup currants

1 cup chicken stock

2 cups butternut squash, cut into 1/2-inch pieces

Cayenne pepper

1/2 cup loosely packed cilantro leaves, chopped

1/2 cup loosely packed Italian parsley leaves, chopped

Sliced almonds, optional

3/4 cup dry couscous, cooked per package instructions
Directions
1. Heat oil in a Dutch oven or heavy bottomed pot over medium heat. Add onion and cook, stirring occasionally, until fragrant and golden. Raise heat to medium high and stir in garlic. Cook, stirring, until fragrant, about 1 minute.

2. Stir the cumin, paprika, turmeric, cinnamon and ginger into the onions. Cook for 30 seconds, stirring, then add chicken. Lightly brown chicken and coat in spices. Stir in tomatoes with their juices, currants, stock and squash.

3. Cover, reduce heat to medium-low, and simmer 10-15 minutes or until squash is tender. Season to taste with kosher salt and cayenne. Let sit, covered, 10 minutes; the liquid will thicken a bit from the starch released from the squash. Stir in cilantro and parsley. Garnish with almonds, if using, and serve with couscous.
Peggy Lampman is a real-time food writer and photographer posting daily feeds on her website and in the Food & Grocery section of Annarbor.com. You may also e-mail her at peggy@dinnerfeed.com.