Posted on
Thu, Oct 13, 2011 : 4:05 a.m.
Michigan Harvest Chili will warm you when weather turns chilly
By Peggy Lampman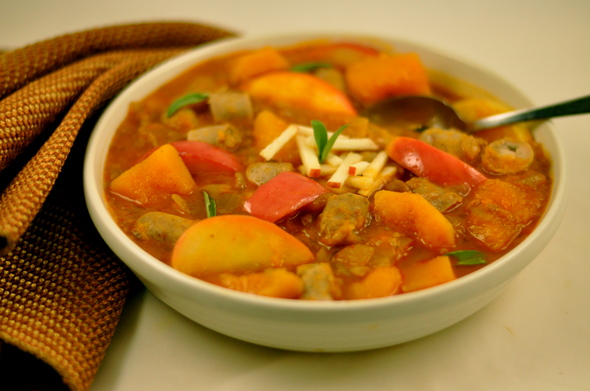 Peggy Lampman | Contributor

October's sun slants low, gradations of gold lie warped, creeping across the kitchen. I venture outside and revel in late afternoon's warmth spreading across my back. Sleeveless, inhaling the musk of decaying leaves racked into piles, I cling to the heat of an Indian Summer day.
But the squash know better. In markets and gardens across town, they've shed their thin summer skins, donning the protective armors of gourds. At once I crave their dense texture and concentrated flavor to give sustenance for braving the months ahead.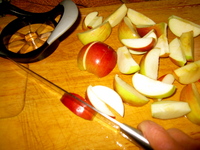 I continue my walk but night comes quickly, as does the chill. I hurry inside to grab a jacket, my first tentative steps into winter. Now, my cravings turn towards a simmering stew, perhaps a chili. Friends from my home state of Alabama are in town, and if I make a pot tonight, I can serve it at lunch tomorrow.
Like a Billy Joel love song, chili has been played to death. Every western and Midwest town seems to have some prize-winning version. The following recipe doesn't try to be the next great chili or contest champ; it simply reflects, indeed celebrates, the season's changing of the guard.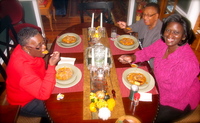 Every food magazine worth its salt understands that to ignore some version of this American favorite in their October/November edition could mean dwindling revenues at the checkout counters. The October 2011 issue of Better Homes and Gardens is no exception, including eight unique versions of the classic. One recipe caught my fancy as it uses butternut squash and apples, perfect for satisfying my desire for both winter squash and chili.
The apples lent a tart-sweet flavor and the squash gave heft, an unexpected yet welcome flavor in a chili — like a warm, sunny day in the middle of fall. The magazine recommends serving it over creamy polenta, which would have been delicious. I served it with Jalapeno Corn Bread purchased from the Stadium Whole Foods, which was also a fine complement.
The following Harvest Chili recipe was adapted from the Oct., 2011 issue of Better Homes and Gardens Magazine. Changes: I used raw sausage, not cooked, and added apple cider to the chicken stock.
Yield: 6 servings
Time: 45 minutes
Ingredients
2 tablespoons olive oil
1 1/2 pounds chicken-apple sausage links, cut into 1/2-inch pieces
2 large red onions (4 cups), chopped
1 tablespoon minced garlic
1 large butternut squash, peeled, seeded and cut into 3/4-inch chunks (6 cups)
2-3 teaspoons chili powder
1/8-1/2 teaspoons cayenne pepper
3 1/2-4 1/2 cups chicken stock or apple cider or combination of both
3 Granny Smith or other tart apple, suitable for cooking, cut into 1/2-inch slices*
1 (15-16 ounce) can pinto beans, rinsed, drained and slightly mashed
1 tablespoon chopped fresh sage or tiny sage leaves
* Cut an apple slice into matchstick pieces for an optional garnish, if desired.
Directions
1. In a Dutch oven or other heavy-bottomed pan, heat 1 tablespoon oil over medium-high heat. Add sausage and cook 5 to 6 minutes or until lightly browned, stirring occasionally. Remove with a slotted spoon.
2. In the same pan, cook onions and garlic 2 to 3 minutes, or until fragrant and onions are just tender. Stir in squash and cook 5 minutes, occasionally stirring. Stir in 2 teaspoons chili powder and 1/8 teaspoon cayenne; cook 1 minute. Return sausage to pan and add 3 1/2 cups stock and/or apple cider, bring to a boil, then reduce heat. (At this point, chili may be made and refrigerated up to 48 hours in advance.) Season to taste with kosher salt and additional chili powder and cayenne, if desired. If chili is too thick, add additional stock or cider.
3. Meanwhile, in a large skillet, heat remaining oil and cook apples 4 to 5 minutes, stirring occasionally, until light brown. Transfer apples and beans to chili. Simmer until apples are tender, about 3 to 4 minutes. Top individual bowls with sage and matchstick apple pieces, if using, and serve.

My new web site (packed with holiday recipes) is coming soon! But in the meantime, If you're looking for a specific recipe, click here for dinnerFeed's recipe search engine; type the recipe or ingredient into the search box. I am a real-time food writer and photographer posting daily feeds on my website and in the Food & Drink section of Annarbor.com. You may also e-mail me at peggy@dinnerfeed.com.