Posted on
Thu, Aug 26, 2010 : 5:15 p.m.
Hayden Panettiere's 3-foot tall dolphin birthday cake created by Ann Arbor bakery
By Stefanie Murray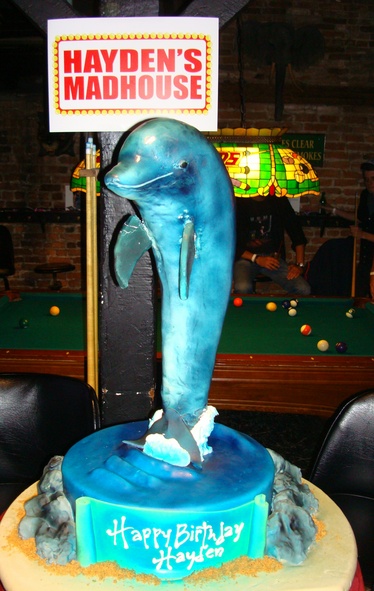 Photo courtesy of Bryant Stuckey
Bryant Stuckey has made some pretty complicated, unusual and certainly delicious sculpted cakes over the years — but never anything like a 3-foot tall dolphin cake concocted especially for a popular Hollywood starlet's 21st birthday.
Until last weekend.
Stuckey and his company Decadent Delight Cakes and Pastries were commissioned to make the birthday cake for "Scream 4" star Hayden Panettiere's 21st birthday celebration at the Cavern Club in Ann Arbor on Saturday night.
The chocolate fudge and dark chocolate truffle cake was 14 inches tall and was topped with a 2-and-a-half foot tall dolphin molded out of Rice Krispies treats and covered in frosting. Stuckey said Panettiere's mother chose the cake flavors.
"We have done sculpted cakes before, but never anything so tall and straight up in 3-D," Stuckey said.
The dolphin was connected to the base cake with PVC pipes. In total, Stuckey said it took him about 20 hours to bake and build the dolphin cake. A similar cake will cost you about $400-$600.
Stuckey said he drove "2 miles an hour" down South First Street to deliver the concoction to the Cavern Club.
Why a dolphin? Panettiere has been a vocal activist for the prevention of dolphin hunting.
Apparently, the dolphin part of the cake was a hit — Hollywood Life reported it was for sale on eBay.
Decadent Delights is based in Ann Arbor at 416 W. Huron St. Stuckey has been in business for five years. He specializes in all kinds of desserts but says he's known especially for his cakes.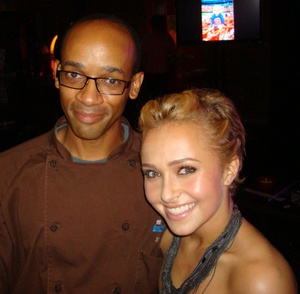 Photo courtesy of Bryant Stuckey
'Scream 4' around town
Missed our past stories about filming of the horror flick? Check them out here