Posted on
Thu, Dec 6, 2012 : 4:40 a.m.
Flank Steak Florentine - dish's presentation is stunning but recipe isn't as complicated as it looks
By Peggy Lampman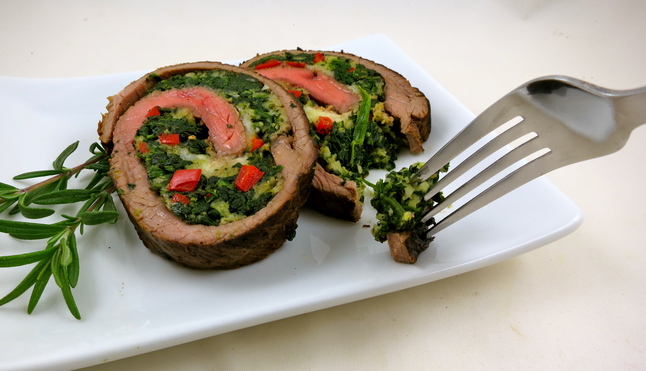 Peggy Lampman | Contributor

The new Holiday Cookbook answers all of your cooking needs. Strapped for time? Check out the well-tested Super-Simple section.
Ask a person how they're doing in December and their answer — jaws clenched — is predictable: "I'm so freaking busy... insanely busy... busy busy busy."
I, too, feel the pain. There are so many expectations driving up the busy-meter we forget to breathe. We want to deck the halls and create festive meals celebrating the season, yet the last thing we've time for are complicated recipes to unravel.
At first glance the following recipe may appear as such: butterflying and stuffing steak, kitchen twine — get real. But this is a dish that looks more complicated than it really is.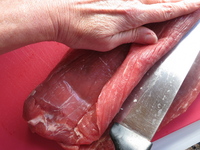 This
Flank Steak Florentine
may be assembled prior to cooking, up to 6 hours in advance, makes a stunning presentation and is fairly easy to prepare. The end result, to me, is worth the small amount of fuss. Most importantly, the tangy, melted cheese and spinach rolled into marinated beef is delicious; your vegetable and protein requirements wrapped in a tidy bundle of bliss.
To esure your success, I will explain, in detail, how to butterfly the meat. First, sharpen your largest chef knife, remembering that the objective is one large, flat, thin piece of meat, suitable for stuffing and rolling. To do this you must cut through the center of the meat, sandwich style, to make equal halves. Never cut all the way through the meat; one end remains secure, as a book binding, serving to keep the piece of meat intact. (Note that partially freezing the meat for about 15 minutes will make the cutting process easier.)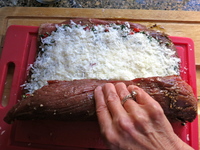 To begin, with the steak perpendicular to you, press one hand firmly on top of the meat. With the other hand, carefully slice though the middle, beginning at the thickest part, taking care to esure your blade remains in the center of the beef and does not tear either side of the meat. Stop slicing when you are about 1 inch away from the end. Then, open the meat as you would a book. If your final butterflied beef is irregular in thickness, or thicker than 1/4-inch, pound it with a meat mallet to have one uniform piece of meat, ready for stuffing.
If you don't have a large chef knife or simply don't want to bother, order your beef in advance from a local butcher and explain how you want it butterflied. Simpler still, call Sparrow Meats in Kerrytown and order a Flank Steak Roulade. In fact, watching Bob Sparrow stuff flank steaks with spinach and cheese last week gave me the idea for creating the recipe below.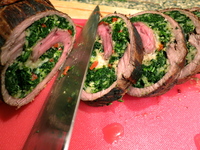 But I encourage you to try this at home; for a blow-by-blow description, check out my
slideshow
. Because once you get the hang of making a roulade, you'll realize the same technique translates to
chicken
and turkey breast, boneless pork, seafood fillets, even sliced eggplant or cabbage leaves. And stuffings can be a simple as binding various cheeses and breadcrumbs with whatever spices and leftovers you have on hand.
Served with pasta, polenta, mashed or baked potatoes, family and friends will marvel how "oh so busy you" could find the time to pull out the stops, once again.
Yield: 6 servings (12-14 pinwheels)
Marinate Time: 2-6 hours
Active Time: 40 minutes
Sear and Roast Time: 30-35 minutes
Ingredients
1 3/4 - 2 pound flank steak
1 clove garlic, cut in half plus 1 teaspoon minced garlic
4 tablespoons extra virgin olive oil
2 tablespoons balsamic vinegar
1 (1 pound) bag frozen spinach, thawed
1 large egg, beaten
1 tablespoon finely chopped fresh rosemary
1/2 small red bell pepper, seeds and membranes removed, cut into small dice (1/4 cup)
1/2 cup dry bread crumbs, panko preferred
1 1/2 cups packed freshly grated Italian cheese, such as Asiago, Parmesan, Pecorino, or mozzarella
Kitchen twine as needed
2 tablespoons canola or grape seed oil oil
Directions
1. Butterfly steak (see above notes). Rub both sides with cut garlic and season with kosher salt and freshly ground pepper.
2. Make a marinade by whisking together oil and vinegar. In a zip-lock bag or container large enough to accommodate steak, let meat marinate in vinaigrette at least two hours and up to six, refrigerated, turning once.
3. Preheat oven to 400 degrees.
4. Remove water from spinach by pressing it into a sieve with a spoon, then wringing out all remaining water with fists or clean towels. Combine with minced garlic, egg, rosemary, bell pepper, bread crumbs, 1/2 teaspoon kosher salt and 1/2 teaspoon freshly ground pepper.
5. On a flat surface, lay out butterflied flank steak and spread out so the grain is running in front of you, left to right. Evenly press spinach mixture into entire flank steak. Sprinkle and press cheese mixture into spinach mixture, then tightly roll up, jelly-roll style, into a log.
6. Cut a long piece of twine. First, wrap around the length of beef then wrap around the roll, securing it every couple of inches. Knot the twine and cut off dangling ends.
7. In a large, heavy-bottomed skillet, heat oil over high heat. Sear flank steak on all sides, about 5 minutes total cooking time. Place flank steak on foil or parchment-lined cooking sheet and roast on center rack of oven 25-30 minutes, or until cooking thermometer registers 135 degrees, for rare and medium rare pieces.
8. Remove to a cutting board with a well, and tent with foil. Let rest 15 minutes. Remove foil and, with a sharp knife, cut into 3/4-inch pieces. Remove twine and serve.
Peggy Lampman is a real-time food writer and photographer posting daily feeds on her website and in the Food & Grocery section of Annarbor.com. You may also e-mail her at peggy@dinnerfeed.com.