Posted on
Thu, Dec 20, 2012 : 12:56 p.m.
Cranberry-Stuffed Brie en Croute makes an easily-adapted holiday appetizer
By Peggy Lampman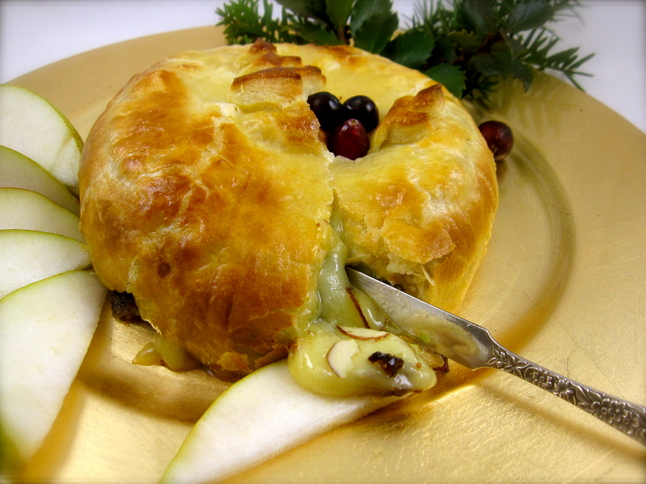 Peggy Lampman | Contributor

To receive my lastest dinnerFeed posts
by email, sign up here.
Death by chocolate wouldn't be a bad way to go. But an oozing buttery brie laced with nut-spiked, jammy warm fruit bundled in a package of flaky pastry would be my preferred poison, for sure.
This stuffed brie en croute takes only 30 minutes — max — to assemble. Yet with stockings to stuff and presents to wrap, I couldn't manufacture even that small block of time. Therefore, the following appetizer, which I carted to my friend's holiday party, was done in stages: I stuffed the brie 24 hours in advance, wrapped it in pastry 8 hours before show time, then a half-hour before leaving the house, I baked (then photographed) the holiday diva, and she "rested" in the passenger seat on the way to the party.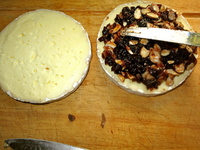 But the party girl disdains regimented recipes and enjoys your messing around with her. Prefer a crispy, more delicate crust? Cover the brie with butter-brushed layers of phyllo dough. Perhaps your palate would enjoy a savory rather than sweet bite. Instead of a fruity filling, stuff the brie with caramelized onion, bacon and pepper jelly.
With this type of appetizer, I prefer using a double or triple cream brie or camembert. But what's to stop you from using a goat cheese — or round of gorgonzola? Certainly not me. I used a 12-ounce wheel, but serve a large crowd with a 1 kilo, or a smaller group with an 8-ounce cheese.
"En Croute" is the French phrase meaning "baked in crust." You could pull out a Julia Child cookbook and make it yourself, but I always purchase frozen sheets. I use the award-winning Dufour Puff Pastry purchased from Whole Foods, but Pepperidge Farm sheets are available at most groceries in town.
My only advice when working with pastry is to chill, literally; don't allow that dough to warm, it's much harder to work with. I've found that a marble slab, or granite or quartz counter, keeps the dough chilly. If these surfaces aren't available to you, use any cutting board and work with your pastry outside in December's chilly air; roll the pastry out and fold around the brie on a porch or in your garage.
The recipe below was inspired by Nicci Cook's Holiday Brie en Croute. I found it in the December issue of Traverse: Northern Michigan's Magazine, which included a section on A+ Appetizers from four students from Northwestern Michigan College's culinary institute. I used puff pastry instead of phyllo, which is less hassle and more durable to me, used a larger brie and "messed around" with the technique. Happy Holidays!
(Click here for recipe slide show.)
Yield: Serves a crowd of 16-22, if part of a group of other finger foods. Accommodates 8-12 if served alone as a prelude to dinner.
Defrost Pastry Time: about 4 hours, refrigerated
Active Time: 30 minutes
Bake Time: 15-20 minutes
Rest Time: 20 minutes
Ingredients
1 (12-ounce; 5-inch round) brie
3 tablespoons chopped dried cranberries
3 tablespoons berry jam, such as cranberry, strawberry or raspberry
3 tablespoons sliced, toasted almonds
1 sheet frozen puff pastry, defrosted*
White flour for dusting
1 egg, optional
Parchment paper or Silpat
Garnishes such as fresh cranberries, holly sprigs, etc. (optional)
Fresh sliced pears, plain crackers or baguette slices
Instructions
1. Preheat oven to 375 degrees (convection ovens 325-350 degrees).
2. Slice brie through the center into two pieces, sandwich-style.
3. Combine cranberries, jam and almonds; spread evenly across cut side of one piece of the brie. Replace other piece of brie, cut side down, on top. (At this point brie may be wrapped and refrigerated up to 24 hours in advance.)
4. Spread the thawed puff pastry sheet on a work surface, lightly dusted with flour. (The work surface should be as cold as possible; a marble counter or slab works best.) With a rolling pin, roll pastry out to 1/8-inch thickness, pinching together any tears.
5. Place stuffed brie in the center of pastry sheet and, beginning at corners, wrap pastry up and over brie. Pinch seams together with your fingers to completely enclose brie; cut off excess pastry and reserve for garnishing brie, if desired. Turn brie over so the sealed side is down, If desired, roll out pastry scraps and cut into designs, such as leaves, and arrange on top of brie. (At this point the brie may be lightly tented with saran and refrigerated for up to 8 hours.)
6. Place on parchment or Silpat-lined baking sheet. Whisk egg with 1 tablespoon of water together and brush over brie.
7. Bake on center rack of oven 15-20 minutes, or until golden brown. (If you made pastry cut-outs to decorate brie, these will be browned in 10 minutes; cover with foil after 10 minutes and continue baking brie until golden brown.)
8. Place on plate and garnish with cranberries and greens, if using. Let sit 15 minutes before serving with pear slices and/or bread and crackers.
*Should be large enough to wrap around brie when thawed and rolled out. The 14-ounce Dufour sheet was plenty big for wrapping around the brie with extra dough for decorative cutouts. A sheet of Pepperidge Farm works, too.
Peggy Lampman is a real-time food writer and photographer posting daily feeds on her website and in the Food & Grocery section of Annarbor.com. You may also e-mail her at peggy@dinnerfeed.com.