Posted on
Mon, Dec 24, 2012 : 4:53 a.m.
Super-Quick Spinach and Fresh Raspberry Salad with Walnut-Maple Vinaigrette
By Peggy Lampman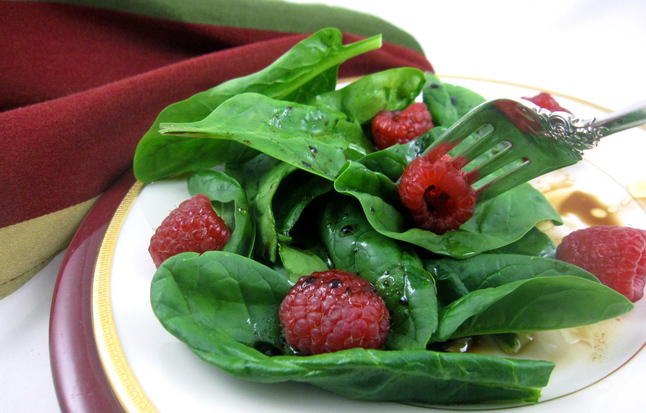 Peggy Lampman | Contributor

The new Holiday Cookbook answers all of your cooking needs. Strapped for time? Check out the well-tested Super-Simple section.
Today is Christmas Eve, and most people who intend to cook and entertain have long figured out the side dishes and salads that will enhance their main course. Except, perhaps, you?
The clock's a tickin' so here's a salad you can throw together in 10 minutes - it will look as festive as a sprig of mistletoe.
Crumbled goat cheese or feta would be a grand touch, and the addition would make it look as if snow flakes had fallen on the salad. And, of course, you could substitute strawberries for raspberries, arugula leaves for spinach and a good olive oil for the walnut oil if desired. Toasted almonds, walnuts and pecans are great additions...but I digress. The idea is to keep it simple yet festive, right?
Here are some more elaborate side salad creations from past blogs... Tossed Salad with Pears, Walnuts and Gorgonzola Wilted Insalata Tricolore Composed Salad with Pears, Pomegranate Seeds and Pistachios
Holiday Cheer to each and everyone!!!
Yield: 6-8 side salads
Active Time: 10 minutes
Optional Time to soak shallots: 30 minutes

Ingredients
1/2-1 teaspoon minced shallot
1 tablespoon fruit-infused or balsamic vinegar
5 tablespoons walnut oil
1 teaspoon maple syrup
8 cups spinach, well-washed*
6 ounces (1 1/2 cups) fresh raspberries
*The organic spinach found in bunches, not in bags, looks greener and tastes better to me.
Instructions
1. If time allows, soak shallot in vinegar for 30 minutes. Whisk together oil, shallot mixture and maple syrup. Adjust seasonings adding kosher salt and freshly ground pepper to taste.
2. Toss 1/2 vinaigrette with spinach, adding remaining dressing as desired. Top salad with fresh raspberries and serve.

Peggy Lampman is a real-time food writer and photographer posting daily feeds on her website and in the Food & Grocery section of Annarbor.com. You may also e-mail her at peggy@dinnerfeed.com.