Posted on
Wed, Nov 16, 2011 : 8 a.m.
Honey mustard trout for National Fast Food Day
By Mary Bilyeu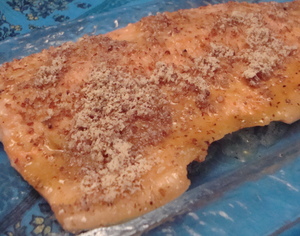 Mary Bilyeu, Contributor
I was in a fast food restaurant a few weeks ago, after I'd lost Internet service at my condo due to some confusion over the account; it was transferred to my ex-husband's new house sooner than it was supposed to be.
McDonald's had wi-fi, and Jeremy had won a free small smoothie while playing the Monopoly game. He gave me the coupon so that I could have a free treat to compensate for the inconvenience of having to move my writing operation out of my favorite comfy chair.
But normally I drive by these places with contempt and disdain. I will spare you my rant, but I assure you that it can continue for quite some time. You'd get bored and you might not get around to reading the rest of my post, which offers an excellent recipe.
In honor of today's dubious holiday — National Fast Food Day — I'm giving you a recipe that can be made in 20 minutes. Real food, nutritious food, delicious food, prepared from start-to-finish in 20 minutes. Fast food, in the truest sense of the words!
I bought some beautiful trout fillets on sale recently. I considered the traditional Trout Almondine, but decided to tweak it a bit; it's usually prepared with breading and butter, and I wanted something lighter.
So I schmeared the fish with a honey mustard and sprinkled some ground almonds over that. A quick bake, and that was it! The fish was perfectly tender, moist, and exceptionally good. The sweetness of the coating was an ideal complement to the trout.
There is no need for drive-throughs or car-side services, the usual notion of "fast food." On this day, honor the spirit of those words by serving honest, simple, quickly prepared food that you make in your very own kitchen.
Honey Mustard Trout Almondine
2 trout fillets, totaling 3/4-pound
pinch each of salt and pepper
1 tablespoon Dijon mustard
2 tablespoons honey
2 tablespoons ground almonds
Preheat oven to 375 degrees. Line a 9x13-inch baking pan with foil, then grease the foil.
Lay the filets side-by-side skin-side down in the prepared pan; sprinkle with the salt and pepper. In a small bowl, stir together the mustard and honey; spread over the fish. Sprinkle the almonds over the fish.
Bake for 15 minutes. Serve immediately.

Mary Bilyeu has won or placed in more than 60 cooking contests and writes about her adventures in the kitchen. She was thrilled to have her post about Scottish Oatmeal Shortbread named as one of the daily "Best of the Blogs" by the prestigious Food News Journal.
Go visit Mary's blog — Food Floozie — on which she enthuses and effuses over all things food-related. Her newest feature is Frugal Floozie Friday, seeking fun and food for $5 or less ... really! Feel free to email her with questions or comments or suggestions: yentamary@gmail.com.
The phrase "You Should Only Be Happy" (written in Hebrew on the stone pictured in this post) comes from Deuteronomy 16:15 and is a wish for all her readers as they cook along with her ... may you always be happy here.