YOU SHOULD ONLY BE HAPPY ....
Hooray for the smoking ban!
Posted on Tue, Jun 15, 2010 : 6:30 a.m.

I am a longtime supporter of non-smoking venues, so you can imagine my immense glee when the smoking ban was recently enacted for Michigan restaurants! I worked with the American Lung Association of Michigan in 1984, as a volunteer with a group called G.A.S.P. (Group Advocating Smokeless Places), hoping and wishing for limits to the places where people could poison my air with cigarette smoke.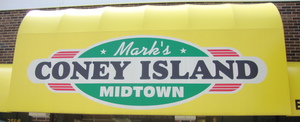 Mary Bilyeu | Contributor

And now, all these years later, it's here! And so Jeremy and I went to have lunch one day recently at Mark's Midtown Coney Island at Plymouth and Green, now that I could walk in without being assaulted by fumes.

I have always loved the food at the Coney Island; I can't tell you how many gyro platters Jeremy and I have ordered there! But we ordered take-out almost exclusively, because it was so oppressive to walk into the restaurant and into a cloud of smoke -- the smoking section was at the front, and those of us who wanted no part of it had to walk through the stench in order to get to the non-smoking section in the back.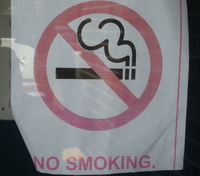 Mary Bilyeu | Contributor
But now the air smells of french fries and chili, not of ashtrays! And Jeremy and I happily sat at a booth that was once off-limits to me with my sensitive sinuses and bronchial tubes.
Jeremy ordered a cheeseburger, while I ordered my usual gyro. (Any regular readers know that my brain goes into paralysis when faced with decisions, so sometimes it's easier to go with what you know will be excellent.) The food arrived with remarkable speed, thanks to our fabulous waitress who maintained an astoundingly calm disposition and exceptional friendliness despite the chaos of the lunch crowd.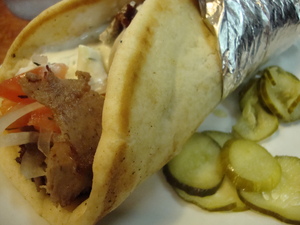 Mary Bilyeu | Contributor
The portions of food -- burger with fries, gyro with Greek salad -- would have been excessive if we hadn't been so hungry. But we happily polished off everything but the last french fry.
While I know that many were concerned that the smoking ban would affect business, I for one am wholeheartedly going to places that I used to avoid now that I can breathe in their establishments. And although people always think that I must pick at my food because I'm thin, they are regularly surprised by what a good eater I am.
So don't fear the ban; instead, welcome new customers who have been waiting ages -- decades, in my case -- for the opportunity to eat a meal without the contamination of cigarette smoke. As Martha Stewart would say, it's a good thing!

Mary Bilyeu has won or placed in more than 60 cooking contests and writes about her adventures in the kitchen. The phrase "You Should Only Be Happy" (written in Hebrew on the stone pictured next to the blog's title) comes from Deuteronomy 16:15 and is a wish for all her readers as they cook along with her ... may you always be happy here. Check out her blog -- Food Floozie -- in which she cooks, reviews restaurants, and generally enthuses and effuses over all things food-related. Or send an email to yentamary@gmail.com.