Posted on
Tue, Mar 26, 2013 : 8 a.m.
Hot cross buns will make Easter season extra special
By Mary Bilyeu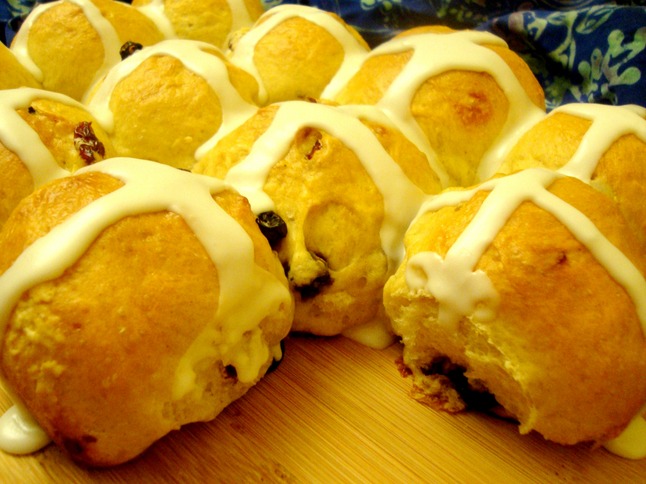 Mary Bilyeu | Contributor
I hadn't baked
hot cross buns
in years — not since Jeremy was maybe in kindergarten, which would make it at least 15 years. I shouldn't have waited so long.
I love to make bread, to knead yeast dough, to bake from scratch. And so, given that it's almost Easter — and also that there is a new pope — it just seemed fitting to make these treats again.
Hot cross buns — with their symbolic crosses by which to remember Jesus' crucifixion — are traditionally served throughout Lent, and particularly on Good Friday. These are light, sweet, and feature both dried cherries and blueberries — beautiful Michigan fruits instead of the usual currants or candied citron — and just a tiny hint of spice.
They'll make your holiday season extra special.
Hot Cross Buns
Rolls:
1/4 cup dried cherries
1/4 cup dried blueberries
hot water to cover fruit
1 packet quick-rise yeast
1 tablespoon sugar
2/3 cup warm vanilla soy milk
3 eggs, divided
1/4 cup butter, melted
1/2 tablespoon kosher salt
3 cups flour, divided
pinch of cinnamon
1 tablespoon water
In a small bowl, combine cherries, blueberries, and hot water; let fruit soak while making dough.
In a large mixing bowl, combine yeast, sugar, and soy milk; let yeast proof for 10 minutes.
Once yeast has proofed, stir in 2 eggs, butter, and salt. Drain fruits and add to mixing bowl. Stir in 2-1/2 cups flour and the cinnamon until a soft dough forms.
Turn dough onto the counter top and knead in remaining 1/2 cup flour until dough is no longer sticky. Grease another mixing bowl, place dough into it and turn to coat; cover with plastic wrap and with a dish towel. Let dough rise for 1 hour until doubled.
Punch down dough, recover with plastic wrap and the dish towel; let rise for 1 hour until doubled.
Punch down dough, divide into 12 pieces, and roll each into a ball. Grease a 9x13-inch baking pan and place the dough balls into it, in 3 rows of 4, evenly spaced apart. Let rise for 1-1/2 hours until rolls have doubled in size.
Preheat oven to 350 degrees.
Combine remaining egg with 1 tablespoon water. Brush egg wash generously over the dough.
Bake rolls for 30-35 minutes, until golden. Let cool completely.
Glaze:
3/4 cups confectioners' sugar
2 tablespoons milk
Whisk together confectioners' sugar and milk. Place into a freezer baggie, snip one corner off, and pipe glaze onto each roll in the pattern of a cross. Let glaze set.
Makes 12 hot cross buns.

Mary Bilyeu writes for AnnArbor.com on Tuesdays, Wednesdays, and Fridays, telling about her adventures in the kitchen - making dinner, celebrating holidays, entering cooking contests, meeting new friends ... whatever strikes her fancy. She is also on a mission to find great deals for her Frugal Floozie Friday posts, seeking fabulous food at restaurants on the limited budget of only $5 per person. Feel free to email her with questions, comments, or suggestions: yentamary@gmail.com.

Go visit Mary's blog — Food Floozie — where she enthuses and effuses over all things food-related; and look for her monthly articles in the Washtenaw Jewish News. "Like" her on Facebook, or send a tweet on Twitter, too.

The phrase "You Should Only Be Happy" (written in Hebrew on the stone pictured in this post) comes from Deuteronomy 16:15 and is a wish for all her readers - when you come to visit here, may you always be happy.