Posted on
Wed, Oct 17, 2012 : 8 a.m.
Hungarian noodles for National Pasta Day - unusual sweet dish features walnuts and sugar
By Mary Bilyeu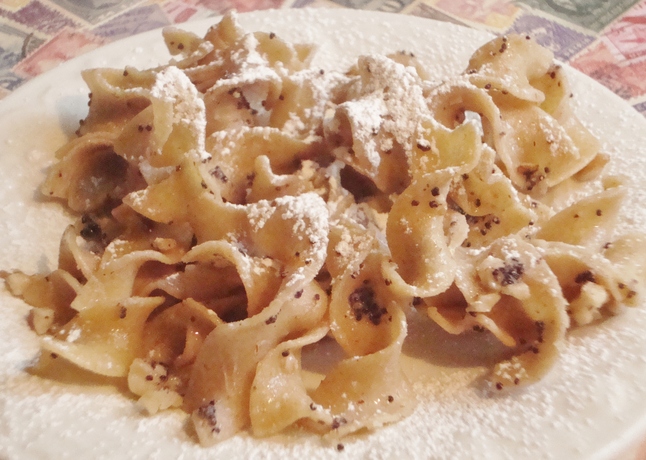 Mary Bilyeu | Contributor
It's
National Pasta Day
which, of course, does
not
equate to a celebration with spaghetti and meatballs at my house. Love spaghetti, love meatballs, but there's so much more to such an occasion than the ol' standby!
Awhile ago, I had the great good fortune to attend a Hungarian tasting class at Zingerman's Bakehouse, where I was utterly enthralled by rich soups and luscious pastries, as well as learning about a culinary and cultural history I knew very little about.
And while I was there I was happy to see people I knew, including San Slomovits and his wife, as well as Ilona Klein, whose daughter Nikki is a good friend of mine. I can go almost nowhere without running into folks I know, and these were especially lovely people to meet up with!
After we'd enjoyed the class and the food, Ilona was showing me a Hungarian cookbook she'd brought with her. As we perused it, we talked about her family, its history, and, of course, food. We noted a recipe for a simple, sweet pasta dish called Diós Tészta.
The word "diós" immediately makes me think of "God;" but that's because I've studied mostly, though not exclusively, Romance languages. Hungarian is actually a Uralic language, which means it's more closely related to Finnish rather than to neighboring dialects. So "diós" actually means "walnut." And "tészta" means "noodle." Diós Tészta, therefore, is simply a sweet dish of noodles tossed with butter and with toasted walnuts; before serving, it's sprinkled with a bit of powdered sugar.
Mákos Tészta is a somewhat similar dish, using poppy seeds rather than walnuts. And since I had both walnuts and some poppy seed cookie filling on hand, it only made sense to combine the dishes into one lovely sweet treat.
What a quick and easy way to celebrate a holiday!
Diós és Mákos Tészta
1 12-ounce package whole wheat noodles
4 tablespoons butter
1 teaspoon vanilla extract
3 ounces walnuts, chopped
2 tablespoons Solo poppy seed filling
powdered sugar, for dusting
Prepare noodles according to package directions.
Meanwhile, melt the butter and vanilla together in a small saucepan over medium-high heat. Add the walnuts and cook, stirring frequently, for 5 minutes. Stir in the poppy seed filling until the seeds are well dispersed; remove from heat.
Once the noodles are cooked and drained, pour the butter mixture over the noodles and stir to coat. Place onto a serving plate and dust with confectioners' sugar.
Makes 8 servings.

Mary Bilyeu writes for AnnArbor.com on Tuesdays, Wednesdays, and Fridays, telling about her adventures in the kitchen - making dinner, celebrating holidays, entering cooking contests, meeting new friends ... whatever strikes her fancy. She is also on a mission to find great deals for her Frugal Floozie Friday posts, seeking fabulous food at restaurants on the limited budget of only $5 per person. Feel free to email her with questions, comments, or suggestions: yentamary@gmail.com.

Go visit Mary's blog — Food Floozie — where she enthuses and effuses over all things food-related; and look for her monthly articles in the Washtenaw Jewish News. "Like" her on Facebook, or send a tweet on Twitter, too.

The phrase "You Should Only Be Happy" (written in Hebrew on the stone pictured in this post) comes from Deuteronomy 16:15 and is a wish for all her readers - when you come to visit here, may you always be happy.