Posted on
Thu, Apr 8, 2010 : 6:30 a.m.
No starving artists at this party: Food and art come together at Riverside 'Docent Invitational'
By Mary Bilyeu

I'm always happy to brag when my loved ones and friends have news to broadcast - from
Jeremy's gigs
at the
Blind Pig
to
charity fundraisers
to
new products at local markets
… whatever I feel is important to share. So now I'm proud to issue an invitation to the
Docent Invitational
Reception on Saturday, April 10, from 5 - 7 p.m. at the Riverside Arts Center
(76 N. Huron in Ypsilanti).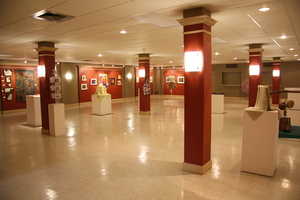 Thomas Boulan, Photographer

My boyfriend, Thomas Boulan, is showing three extraordinary works of digital photography in the exhibit, which will be open to the public through April 24. And the artists will be in attendance on Saturday evening to discuss their work, which I can attest (from visiting the gallery on opening day) is truly remarkable.

Of course, for this to qualify as a posting for the "Food and Drink" section of AnnArbor.com as well as the Community Wall, there has to be a culinary twist, right? And here it is: each of the exhibitors is expected to bring snacks and tidbits for guests to enjoy as they peruse the art and schmooze with the artists. So, needless to say, I offered my services on Tom's behalf … he uses Photoshop for his creative pursuits, I use mixing bowls!
Although I didn't see the sign-up sheet myself, I understand that the general notion was to bring dips and desserts. So I mulled numerous options from a salmon dip with bagel chips to a sweetened sour cream dip with fruit. And, ever indecisive, I continued to change my mind even as I shopped at the grocery store for my ingredients. So now my offerings will include baby bagels with a cream cheese, dill and lox filling; a spicy mustard dip with chips and vegetables; and a chocolate dip served with cookies and, if I can find pretty ones, strawberries. Easy to make, easy to transport, easy to serve, easy to eat … and, most importantly, all delicious!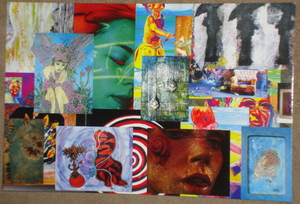 Mary Bilyeu, Contributor
The
Docent Invitational
is a fabulous idea for an exhibit - an opportunity for those who donate their time to volunteer at the Arts Center to show their own work in the gallery. And this year, each docent was permitted to invite a guest to exhibit pieces as well, such that there are 16 artists working in a variety of media from photography to painting to sculpture and more.

So come to the reception, which is open to the public, to admire some innovative works and to meet 'n' greet 'n' eat a bit on a Saturday night. What better way to spend an evening than immersed in creativity, supporting local talent and a local venue?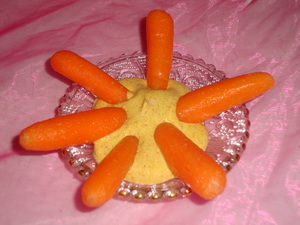 Mary Bilyeu, Contributor
Spicy Mustard Dip
1 cup sour cream
1 teaspoon cumin
1 teaspoon paprika
1/2 teaspoon Ras el Hanout -- a Moroccan spice blend
a splash of Tabasco
a pinch of kosher salt
a sprinkling of Cajun seasoning
1 tablespoon Mustard From Hell or other spicy mustard
Combine all ingredients and place into a decorative serving bowl. For dipping, offer chips or toasted pita triangles or vegetables or anything else your heart desires.
Mary Bilyeu has won or placed in more than 60 cooking contests and writes about her adventures as she tries to win prizes, feeds hungry teenagers and other loved ones and generally just has fun in the kitchen. The phrase "You Should Only Be Happy" (written in Hebrew on the stone pictured next to the blog's title) comes from Deuteronomy 16:15 and is a wish for all her readers as they cook along with her ... may you always be happy here! You can contact Mary at yentamary@gmail.com or follow her on Twitter (twitter.com/foodfloozie). And look for her new food blog: foodfloozie.blogspot.com.