Posted on
Tue, Jul 12, 2011 : 5:59 a.m.
Infuse a little summertime into your lemonade with black raspberry and lavender
By Anne Savage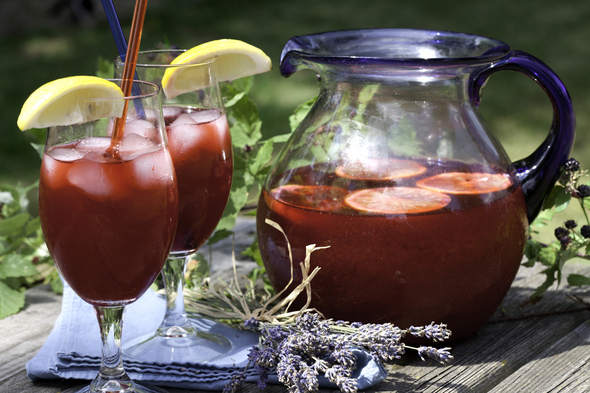 Anne Savage | Contributor
There is nothing like summer in Michigan. As a Michigan transplant, from a place where you avoid going outside and run your air conditioner for the entire summer, I can say I choose this. I love it, and I start day-dreaming about it in January. I may get a bit annoyed by the mosquitos, but I won't complain.
I think the good that summer has to offer completely outweighs any bad. One of the best things about Michigan summers is the berries. Right now it's wild black raspberries.
My husband and I do quite a bit of picking of wild berries in the summer to make jams for holiday gifts. We haven't had much luck with the wild black raspberry season over the last two years, but this year is fantastic!
On Sunday we picked a gallon of berries in about a half an hour. Because the the berries are so plentiful this year, I am making good use of them right now in addition to making jams.
What's more refreshing in the summer than lemonade? How about lemonade that is infused with fresh black raspberry juice and lavender? Yes, lavender.
Here is a very easy recipe for infusing sugar with lavender. The syrup is then used to sweeten the lemonade. Each sip has a perfect balance of tart lemons, sweet berries and the pungent, pine-like flavor of lavender.
Harvest the lavender when the blooms are almost fully open. Cut several lavender spikes in the afternoon when the blossoms are dry. With your thumb and index finger, rub buds off into a bowl. You can also clip stalks of lavender and make bundles and dry them for future recipes.
Lavender Syrup:
2 cups sugar
1/4 cup fresh lavender blossoms or 2 teaspoons dried
1 cup water

Bring all ingredients to a simmer in a saucepan, stirring until sugar dissolves. Remove from heat, and cool. Cover and store in refrigerator. Filter out the lavender buds before using.
Black Raspberry Lemonade:
1 1/2 cups fresh lemon juice (7-9 medium lemons)
1/2 cup fresh black raspberry juice (approx. 4 cups fresh black raspberries)
2 1/2 quarts water
1 to 1 1/2 cups of lavender-infused syrup

1. Place black raspberries in a food processor and blend until raspberries begin to smooth out.
2. Place a cheese cloth over a large bowl and pour black raspberry mixture into the bowl. Pull the ends of the cheesecloth together, twist, and begin to squeeze the liquid until 1/2 cup of juice is extracted. (Note: This process will be messy, so wash your hands immediately after squeezing the liquid or wear gloves if you don't want to stain your hands a reddish-purple.)
3. In a pitcher, add the lemon juice, raspberry juice and 2 1/2 quarts of water and stir.
4. Start by stirring in 1 cup of lavender syrup and then taste it. Add more syrup if you prefer sweeter lemonade.
5. Chill the lemonade for several hours or overnight and add ice before serving.
More photos and information about this recipe can be found here, or go to The Savage Feast for additional recipes or to subscribe. You can also follow The Savage Feast on Facebook!
Anne Savage is a professional photographer living in Dexter. She specializes in food photography and is an experimental cook and avid gardener. Much of her food photography and many of her recipes can be found at http://thesavagefeast.com.