Posted on
Tue, Mar 16, 2010 : 6:30 a.m.
St. Paddy's Day Brown Soda Bread
By Mary Bilyeu

Since I'm 1/4 Irish, you can imagine that
St. Paddy's Day
is a big deal at my house even without the green beer and
Guinness
(since I don't usually drink alcohol). I make the requisite corned beef 'n' cabbage, sometimes supplementing it with lamb stew or salmon.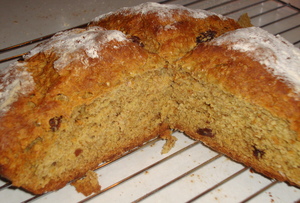 Mary Bilyeu, Contributor
But the key ingredient to my celebration is my Brown Soda Bread, served with beloved Dubliner cheese ... sigh. Really, I don't need very much else to make me happy.
I've been baking this bread for so long that I don't even know where I found the original recipe, which has been tweaked so many ways that I now call it my own. I know it didn't come from my paternal grandmother, born Mary Brigid (Maie) Collins - is that a great name for a redheaded Irish girl, or what - who never wrote down recipes and simply cooked and baked instinctively. But I carry her genes and her spirit with me when I bake it and tell myself each time I do so that I should make it more often because it's so easy ... and yet, it seems to just be an annual celebratory food at my house.
Irish flours tend to be more like our whole grain flours, so, for greater authenticity, you need to use whole wheat rather than only white varieties. It's not a sweet bread, despite the raisins (or currants, if you prefer) - soda bread is actually scone-like and a bit crumbly. And I've even taken this basic recipe and made scones, using a biscuit cutter, baking them for 15-20 minutes instead of the 30-35 for a loaf of bread.

I will tell you that ingredients are absolutely critical here: don't just use any ol' bleached white flour or store brand margarine, or it won't be worth your time and will be an affront to your taste buds. After many years of evolution, I have found that it is essential to use King Arthur flour and Calder Dairy buttermilk. Whether you prefer raisins to cranberries or vice versa is irrelevant, but the flour and the buttermilk must be the ones I've recommended for the sake of both the flavor and the texture. I'm not usually this adamant - hoping you'll use the best ingredients available when you cook but also understanding budgets and convenience - so please just trust me ... it's worth the investment of shopping time and grocery money to follow my instructions.

I once saw a recipe for soda bread that contained yeast, which is kinda missing the point of it being a quick bread that relies upon baking soda for leavening. And I've also seen recipes containing caraway seeds; but as my father, the son of the Irishwoman with the beautiful singing voice and lilting brogue, always says with utter disgust, "Caraway seeds don't belong in soda bread." He has spoken.

So be sure to take some time while your corned beef is simmering to bake this simple, nutritious and exceptional bread. And don't be shy about slathering it with butter - St. Paddy's Day is a day for festivity, after all!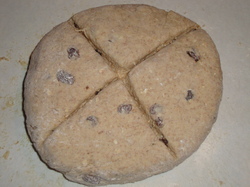 Mary Bilyeu, Contributor
Brown Soda Bread
1-1/2 cups unbleached white flour
2 cups whole wheat flour
2 cups white whole wheat flour
2 teaspoons kosher salt
1/2 cup quick oats
3 teaspoons baking soda
1 stick (1/2 cup) butter, cold, cut into bits
1 cup raisins, softened (I prefer dried cranberries, but Jeremy likes raisins)
2-2/3 cup buttermilk
Preheat oven to 425 degrees Fahrenheit. Sprinkle a bit of flour onto 2 baking sheets, and set aside.
In a large mixing bowl, combine 1/2 cup white flour, whole wheat flour, white whole wheat flour, salt, oats and baking soda. Add the butter and mix it in with your fingertips until the mixture resembles meal. Stir in the raisins and the buttermilk to form a wet dough.
Sprinkle half of the remaining flour onto the countertop, and knead it into the dough; repeat with the rest of the flour until the dough is no longer sticky. Divide dough in half and shape each half into an 8-inch round; place one dough round onto each of the prepared baking sheets. Slice an "X" into the top of the dough, and bake the breads for 30-35 minutes until they are golden brown. Let cool completely before serving.
Makes 2 loaves.
Mary Bilyeu has won or placed in more than 60 cooking contests and writes about her adventures as she tries to win prizes, feeds hungry teenagers and other loved ones and generally just has fun in the kitchen. The phrase "You Should Only Be Happy" (written in Hebrew on the stone pictured next to the blog's title) comes from Deuteronomy 16:15 and is a wish for all her readers as they cook along with her ... may you always be happy here! You can contact Mary at yentamary@gmail.com and follow her on Twitter (twitter.com/foodfloozie). Look for her new food blog, in which tales of fabulous meals are shared: foodfloozie.blogspot.com.