Posted on
Fri, Apr 26, 2013 : 11:30 a.m.
Is Ann Arbor Beer City USA?
By David Bardallis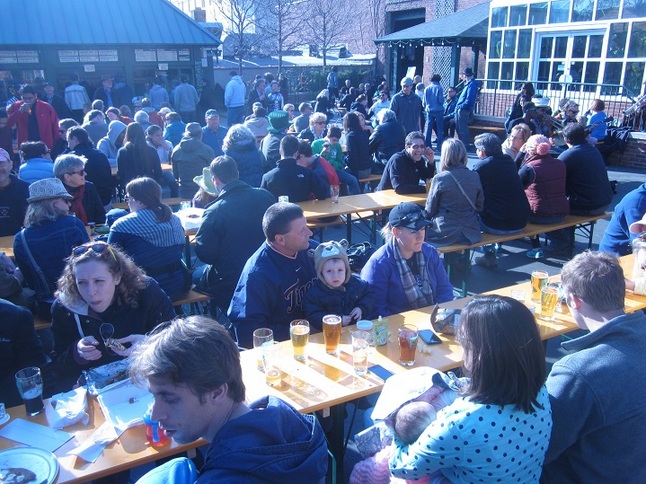 Photo courtesy Bill's Beer Garden
Is Ann Arbor Beer City USA? We'll never know unless you vote now to put Tree Town on Charlie Papazian's 2013 Beer City USA poll, to be conducted May 6-10. The nominating poll closes today.
Four hundred votes are needed to make the full Beer City USA poll and two Michigan cities — Ann Arbor and Kalamazoo — are far ahead of the other choices. Kalamazoo in fact has already qualified with over 500 votes. Ann Arbor is still about 60 votes shy.
Some Kalamazoo boosters are getting downright nasty, leaving comments such as these:
"Ann Arbor? Who are they kidding? Kalamazoo is far superior in every way...including BEER."
"Ann Arbor? Anyone with even a little research would know that Ann Arbor is not a place of craft beers."
"Beer in Ann Arbor has an imported and somewhat pretentious aroma to it. Ann Arbor has sub-par microbreweries who have not yet perfected their batches."
"Ann Arbor is Michigan's version of Gary, Indiana."
And that's not even counting the numerous insecure people posting that Ann Arbor's votes are all the result of a conspiracy to take votes from Kalamazoo.
I don't know about you, but to me them's fightin' words.
The Kalamazoo area's claim to fame is to being the home of Bell's Brewery, Michigan's largest and oldest and undisputed maker of many excellent brews including Two Hearted and Oarsman ales. But let's go over just a few things the Ann Arbor area brings to the table:
Larry Bell purchased his original brewing equipment from Ted Badgerow, who was first to open a microbrewery, Chelsea's Real Ale Company, in 1982. Ted later ran a homebrew supply shop on Ann St. and still lives in Ypsilanti, where he says his eventual return to commercial brewing is "probably inevitable."
Founded in 1983, Ashley's annually makes national lists of best beer bars and has 72 taps, the most in Michigan. Ashley's was also an early adopter of Bell's beers, back when Larry himself distributed them from his van.
Ann Arbor has four breweries — Arbor Brewing, Grizzly Peak, Blue Tractor, and Wolverine State — and will add a fifth when Biercamp gets their brewing operation up and running. Six other breweries, including the Chelsea Alehouse, Jolly Pumpkin, and the Corner Brewery, are a short drive away.
Arbor and Grizzly in 1995 were among the first brewpubs to open in Michigan following changes in state law that made it easier to do so. Grizzly has for years been Michigan's top-selling brewpub. Arbor just opened a brewpub in India.
The Ann Arbor Brewers Guild, officially founded in 1986, is the state's oldest homebrewing club. And also one of the most active: As but one example, they annually put on the huge Brews Crews homebrew competition, which last year judged some 400 entries.
You get the idea.
We're happy giving our friends in Kalmazoo their due, but let's keep the competition friendly and get both of these worthy Michigan cities added to the 2013 Beer City USA poll, where they can join last year's winner Grand Rapids in representing the Great Beer State.
David Bardallis is a freelance writer and editor, blogger, bon vivant, and man about town. Visit "All the Brews Fit to Pint" at AnnArborBeer.com, follow @allthebrews on Twitter, or join the "All the Brews Fit to Pint" Facebook page. He is also working on a book about Ann Arbor's illustrious beer past and present. Email your beer-related thoughts to annarborbeer@gmail.com.