Posted on
Wed, Aug 1, 2012 : 8 a.m.
Israeli Salad features fresh, in-season produce
By Mary Bilyeu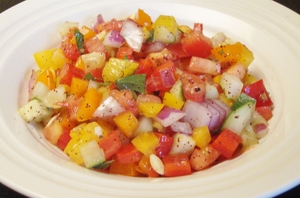 Mary Bilyeu | Contributor
Israeli Salad
— such a generic name for such a lovely dish! — is perfectly suited to this time of year. Just as
ratatouille
and
gazpacho
feature gorgeous summer produce, such as tomatoes and peppers, so too does this vegetable dish that is so easy to prepare but so flavorful.
Variations on this salad are found throughout the Middle East; but it has become a national dish in Israel, and it's evolved based upon a wide variety of cultural influences. According to Wikipedia: "Popularized in Israel by the kibbutzim, variations on the basic recipe have been made by the different Jewish communities to immigrate to the country. For example, Jews from India prepare it with the addition of finely chopped ginger and green chili peppers, North African Jews may add preserved lemon peel and cayenne pepper, and Bukharan Jews chop the vegetables extremely finely and use vinegar, without oil, in the dressing."
But I decided to go with just a fairly traditional version of the salad (which is actually considered to be a breakfast dish, but is delicious at any time of day). If you'd like to make this more substantial, you can also stir in some prepared Israeli couscous.
Remember that it is a point of pride to chop the vegetables as finely and evenly as possible, which lets each of the flavors come through in one bite rather than being overwhelmed by a large burst of one taste or another. This is a gorgeous, colorful, fabulous salad to serve on its own or as an accompaniment to other dishes.
Israeli Salad
2 medium tomatoes, finely chopped
1 small cucumber, finely chopped
1 small red onion, finely chopped
1 large pepper or 2 small peppers (your choice of color), finely chopped
1/4 cup finely chopped fresh parsley
pinch of kosher salt
generous sprinkling of freshly ground black pepper
3/4 teaspoon ground sumac (available at Middle Eastern markets)
1/4 cup extra-virgin olive oil
2 tablespoons fresh lemon juice
grated zest of half lemon
In a large mixing bowl, combine tomatoes, cucumber, onion, peppers, parsley, salt, black pepper, and sumac. Stir together oil, lemon juice, and lemon zest; pour over salad and stir to combine. Let salad rest 30 minutes before serving, for the flavors to develop.
Serves 6-8.

Mary Bilyeu writes for AnnArbor.com on Tuesdays, Wednesdays, and Fridays, telling about her adventures in the kitchen - making dinner, celebrating holidays, entering cooking contests, meeting new friends ... whatever strikes her fancy. She is also on a mission to find great deals for her Frugal Floozie Friday posts, seeking fabulous food at restaurants on the limited budget of only $5 per person. Feel free to email her with questions, comments, or suggestions: yentamary@gmail.com.

Go visit Mary's blog — Food Floozie — where she enthuses and effuses over all things food-related; and look for her monthly articles in the Washtenaw Jewish News. "Like" her on Facebook, or send a tweet on Twitter, too.

The phrase "You Should Only Be Happy" (written in Hebrew on the stone pictured in this post) comes from Deuteronomy 16:15 and is a wish for all her readers - when you come to visit here, may you always be happy.