Posted on
Thu, Nov 15, 2012 : 4:13 a.m.
Pasta with Roasted Chestnuts, Fried Sage Leaves and Bacon brings taste of Tuscany back home to Michigan
By Peggy Lampman
Peggy Lampman | Contributor

My Holiday Cookbook may be of assistance in your celebration strategies. Strapped for time? Check out the well-tested Super-Simple section.
Several months ago my long-time pal, Mara, told me she was leasing out her home in the fall, and simultaneously renting an apartment for herself and 13-year-old twin daughters in Lucca, Italy. As long as she has access to WiFi, she can conduct her business anywhere, so why not take advantage of our flattened world. She enrolled the girls in public school in Lucca, and a couple of weeks ago, I latched onto their coattails catching a tailwind across the Atlantic.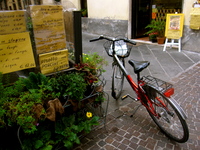 Lucca is situated in the Tuscan region of northwest Italy, best known for the intact Renaissance walls encasing the city. Within the massive circular stonework, cobbled medieval alleys weave around stately piazzas, Romanesque churches, museums, homes and businesses awash in the subtle patina of burnished clay and golden earth tones—best appreciated riding a bike (as do most of the locals) in the warm, slant-lit light of an autumn day.
A brief drive out of the city, and another magic unfolds in Tuscany's fall countryside. The harvest season begins around the autumnal equinox with the vendemmia, when small boutique and industrial vineyards harvest the grapes. The economic and cultural importance of wine to Italy cannot be exaggerated as, depending on vintage, Italy and France vie for first or second place in world production of wine.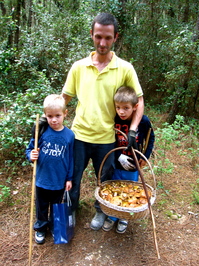 As morel picking in May is great sport to many of us Michiganders, porcini hunts abound in Italy through October, and porcini-centric menus are scribbled on makeshift signs outside local restaurants celebrating the day's harvest. Sagras—culinary community events spotlighting local, seasonal foods such as porcini—are another way of enjoying the bounty. Restaurants participate in hosting the events at large trestle tables in central squares when weather permits.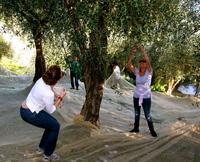 Late October into November celebrates the olive, and many consider small vineyard, cold-pressed sweet Lucchese olive oil to be some of the finest in the world; about now their olive harvest is in full swing. Harvesting olives is a communal event; indeed, Mara's landlady requested our help as did others of her friends.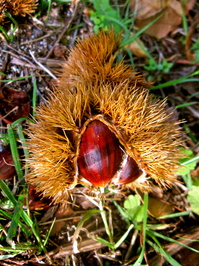 But what most stands out in my mind, was the day we hiked in the terraced mountains of Garfagnana—north of Lucca—among the forested slopes filled with chestnut trees. Baskets linked to elbow, the locals stooped to gather the fallen nuts, one of the most prolific flavors in the seasonal table.
For centuries, the Tuscan cook has held fresh harvested chestnuts dear to their soul. Chestnuts in some fashion are incorporated into many staples: pastas and polentas made from chestnut flour, beer brewed with chestnuts, chestnut-scented honey, to name a few. But the way I best enjoyed them was unadulterated, purchased from a street vendor in Lucca.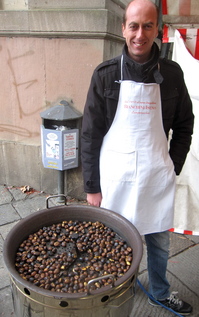 Peeling away their warm skins and popping them into my mouth, their starchy, earthy flavor reminded me of all the ways they could be incorporated into a holiday menu. For Thanksgiving you may consider tossing them with roasted brussels sprouts, pureeing into a soup, or incorporating them into a stuffing or a pasta dish, as in the recipe I penned below.
Upon returning to Ann Arbor, I noticed Whole Foods had fresh Michigan chestnuts and I selected two dozen of the fattest chestnuts in the basket. The store also stocks jars packed with roasted and peeled chestnuts for time-pinched cooks. But if you've the time, there's nothing to put you into a holiday frame of mind more than roasting them yourself, preferably singing along with Bing Crosby as you roast them over an open fire. (My recipe calls for roasting them in the oven, but use whatever method you'd prefer.)
And how did the flavor of Michigan chestnuts stand up to their Tuscan counterparts? The Michigan chestnuts tasted sweeter and richer than those I remember eating in Tuscany, but perhaps I was simply happy to be eating them at home, with my family by my side.
Yield: 6 servings
Time if using fresh chestnuts: 1 hour
Time (if using frozen or bottled chestnuts): 30 minutes
Ingredients
16-24 fresh chestnuts, the largest you can find
8 ounces thick cut bacon, cut into 3/4-inch pieces (1 1/2 cups); pancetta may be substituted
1 leek, well-washed and chopped
2 teaspoons minced garlic
1 1/2 tablespoons finely chopped sage, plus a small intact bunch for frying, if desired
8-12 ounces dried pasta*
Grated romano or Parmigiano Reggiano
Instructions
1. Preheat oven to 425 degrees.
2. With a sharp knife, score an "x" through the skin on the flat side of each chestnut. Place chestnuts on a large, shallow sheet pan and roast, shaking pan once, 25-35 minutes, depending on size of nut. When cool enough to handle, peel, slice and reserve.
3. While chestnuts are roasting, In a large heavy bottomed pan, fry bacon until most of fat is rendered, about 8 minutes. (If using friend sage leaf garnish, fry in rendered bacon fat at this time until browned, then remove and drain.) Add leeks to pan and continue cooking an additional 4 minutes; stirring. Stir in garlic and reserved chestnuts and sauté an additional 1-2 minutes or until garlic is fragrant. Stir in sage and remove from heat.
4. Meanwhile, bring a large pot of salted water to a boil and cook pasta according to package directions or until al dente.
5. Toss pasta with bacon-chestnut mixture and season with freshly ground pepper and grated cheese, to taste. Garnish with fried sage leaves, if using.
*I used a flat, leaf-shaped pasta from Hillers but orrechiette, tagliatelle or a chestnut pasta may be substituted.
Peggy Lampman is a real-time food writer and photographer posting daily feeds on her website and in the Food & Grocery section of Annarbor.com. You may also e-mail her at peggy@dinnerfeed.com.