Posted on
Tue, Sep 11, 2012 : 2:23 p.m.
James Beard Award-winning Zingerman's Roadhouse chef joins diplomatic chef corps
By Jessica Webster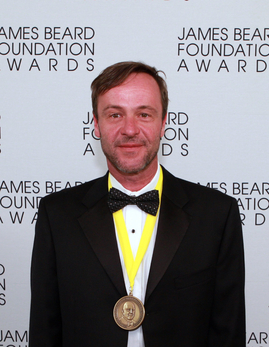 Photo courtesy of Zingerman's.
Back in the 1950s, near the height of the Cold War, the Eisenhower administration tapped jazz musicians like Louis Armstrong, Dave Brubeck and Dizzy Gillespie to serve as cultural ambassadors. They traveled across the globe; spreading the word that American culture was unique and vibrant.
Fast-forward half a century, and a new bevy of cultural ambassadors has been tapped. This time, it's the chefs.
The Diplomatic Culinary Partnership initiative was launched Friday evening at a State Department dinner in Washington D.C. as a joint venture between the State Department and the James Beard Foundation.
In a pre-taped welcome video, Secretary of State Hillary Clinton welcomed the newly assembled "American Chef Corps," to their volunteer posts, where they will share America's "diverse culinary tradition by advising the State Department and participating in cooking demonstrations here in America and abroad."
Among the chefs present at the dinner were many names familiar to foodies and "Top Chef" fans: Rick Bayless, Duff Goldman, Bryan Voltaggio and our own Alex Young, executive chef at Zingerman's Roadhouse.
Young is no stranger to the power that food has to change lives and minds. He is passionate about changing the way children approach food. He works in the Dexter and Chelsea public schools, bringing healthier, fresher choices at lunchtime, as well as with the Farm to School program in Ann Arbor.
We snagged the busy Chef Alex Young via email for a few questions about his recent and upcoming experiences with the American Chef Corps.
AnnArbor.com: What was your first reaction when you were tapped to be part of the Diplomatic Culinary Partnership? How about when you saw the list of the other prestigious chefs invited to participate?
Chef Alex Young: Certainly honored! To be in the company of these chefs, and possibly contribute is an honor.
AnnArbor.com: You were approached "to become a food activist for the James Beard Foundation." What does that mean in this context? Do you feel as though you were already a food activist with the work you do at the Roadhouse and with the public schools?
Alex Young: I feel that I am an activist in ways, and I suspect that is why I was chosen. The other chefs in the group are all doing incredible things and our hope is that we might affect even more positive change with the Beard Foundation behind us.
AnnArbor.com: I understand that part of this appointment could involve travel to promote American foods. Do you have any idea where you might be going, or how often you might be called upon for these duties?
Alex Young: We can only wait and see. The possibilities are intriguing though.
AnnArbor.com: Do you think this experience will influence how you approach what you do at Zingerman's Roadhouse?
Alex Young: I realize that we are only as good as the last meal we served a customer, so I need to continue to try and improve everything that we do.
AnnArbor.com: What do a bunch of world-class chefs talk about when sharing a meal? Do you talk shop? Critique the food you're eating? Tell jokes?
Alex Young: We mostly have a good time learning about what each other is doing. It's inspiring, and it certainly makes me want to work even harder.
Jessica Webster heads up the Food & Grocery section for AnnArbor.com. You can reach her at JessicaWebster@AnnArbor.com or follow her on Twitter.