Posted on
Mon, Dec 3, 2012 : 9:53 a.m.
Asian Cabbage Pancakes with Spicy Bean Dipping Sauce - recipe is easy and adaptable
By Peggy Lampman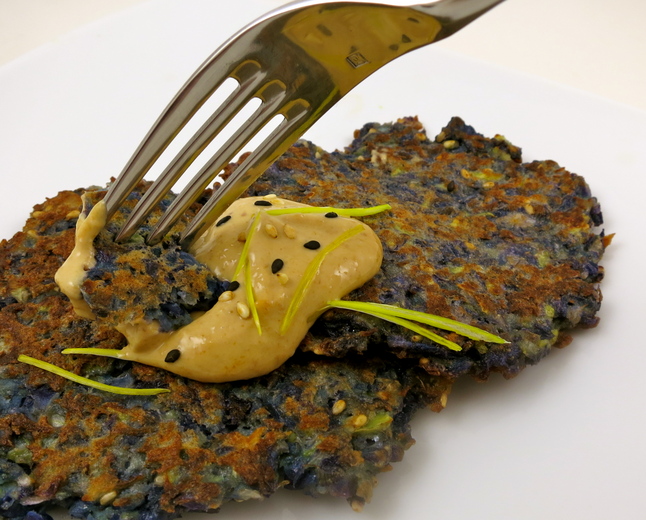 Peggy Lampman | Contributor

The new Holiday Cookbook answers all of your cooking needs. Strapped for time? Check out the well-tested Super-Simple section.
This easy, healthy recipe will satisfy three or four appetites, any cravings for upscale Asian cuisine, and cost less than 5 bucks to make. Even less, as in my case, as I've yet to harvest my purple cabbages (albeit, a bit frozen at the core) resting happily in the backyard. Who says the Michigan vegetable gardening season is short when you can harvest baby lettuce in early May and cabbages in early December?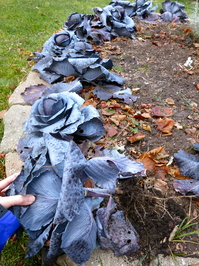 All of this cabbage demands creativity. The internet is filled with recipes for
Japanese pancakes
— some simple, some complex — and I combined several of them to adapt to the ingredients I have in my kitchen. Why run to the store for a bottle of Hoisin sauce when a Brown Bean Sauce begs to be used?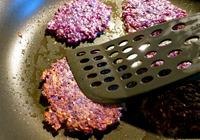 I was pretty darned pleased with the results of this experiment. I don't remember ever seeing sour cream incorporated into Asian fare, but combining the sour cream with black bean sauce was the perfect, essential, stroke. I've enjoyed Russian blinis with sour cream in the past — why not in this recipe as well?
Of course you may adapt any of the ingredients below to what you have on hand: green cabbage for purple, white flour for whole wheat, scallions for leeks, hoisin sauce for spicy bean; all would be scrumptious!
Yield: 12 cakes (3-inch) cakes; 4 servings

Time: 40 minutes

Ingredients:
3 teaspoons spicy brown or black bean paste

3 tablespoons sour cream

3 cups shredded purple cabbage

3/4 cup shredded leek

2 teaspoons sesame seeds, black or white

1 teaspoon soy sauce

3 large eggs

1/4 cup whole wheat flour

2 tablespoons peanut oil
Directions:
1. Preheat oven to 200 degrees and prepare a cooking sheet with foil or parchment paper. Combine bean paste and sour cream and refrigerate until ready to use.

2. In a medium bowl, combine cabbage, leek and sesame seeds. Whisk egg and soy sauce together and combine mixture with flour. Stir cabbage mixture into egg mixture and incorporate well.

3. Heat 1 tablespoon oil in a large heavy-bottomed fry pan or flat skillet. When oil is sizzling but not smoking, add 1/4 cup increments of cabbage mixture to pan and fry cakes, pressing to flattern,until golden brown on each side. Adjust heat while cooking so pancakes sizzle but don't burn. Remove from fry pan and transfer to middle rack of warm oven.

4. Continue cooking cakes is the same manner, adjusting heat and adding additional oil as required. Serve cakes with reserved spicy bean sauce.
Peggy Lampman is a real-time food writer and photographer posting daily feeds on her website and in the Food & Grocery section of Annarbor.com. You may also e-mail her at peggy@dinnerfeed.com.