Posted on
Mon, Nov 21, 2011 : 7:17 p.m.
Jennings Bros. Stone Ground Grains offers locavores heirloom varieties, depth of flavor
By Kim Bayer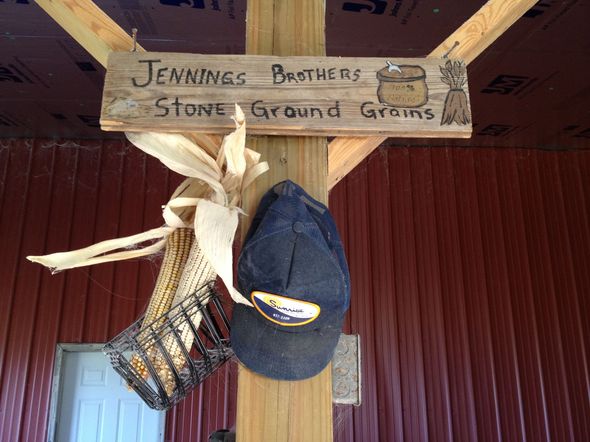 Photo l Kim Bayer
It's gone way beyond just produce at the Ann Arbor Farmers' Market these days. With meat, cheese, fish, bread, fruit, garlic, cider, pickles, pastries, yogurt (and more!), the farmers' market has become my supermarket. Except for my beloved Hellman's mayonnaise, I can buy pretty much everything I need for a week of meals with just one Saturday morning stop.
Discovering I could also get certified organic Michigan-grown flour, cornmeal, spelt and buckwheat from Jennings Bros. Stone Ground Grains has made it even better.
Archie Jennings is, to put it mildly, a character. A transplant from West Virginia, he has been enlivening the Ann Arbor Farmers' Market with his good-natured teasing and southern drawl for the past couple of years.
Farming several hundred acres in Nashville, Mich., Jennings and his wife, Mattie, grow and grind their grains on antique, often hand-powered, machinery that Archie finds and refurbishes.
They sell two- pound and five-pound bags of hard red spring wheat flour, pastry flour, spelt, buckwheat, and multi-grain flours.
And they have several hard-to-find heirloom cornmeals including: Trucker's Favorite, Reid's Yellow Dent, Bloody Butcher, Hopi Blue and "American," which is a combination of the red, white and blues of the others.
It's hard to describe the depth of flavor in the heirloom variety cornmeals, or the delicious nuttiness that spelt flour adds to my baked goods. When I eat foods that are made with these freshly ground cornmeals and flours, it's like discovering flavors that my mouth didn't even realize were missing.
And you can try before you buy. Mattie Jennings bakes up pans of delicious samples that she sends to market with Archie — it's just about the only marketing they do, but it's pretty darn effective.
When my mom and I visited the Jennings' big, tidy farm a couple of weeks ago on opening day of deer season, Archie was out hunting and Mattie was tending the corn-drying processor. Their daughter, Jeannette, was visiting. And her daughter, Meredith, was chasing the Rhode Island Red chickens in her pink rubber boots.
After helping Meredith gather eggs from the "Red Roost Inn" coop, Jeannette told us that, although she now lives overseas, she spent most of her life on the farm. She and her brothers and sisters all went to college while their parents worked hard on raising corn and pigs. In the last several years, the Jennings made the switch to just corn and soybeans.
Jeannette explained that her dad went through the five-year process for organic certification when he realized that his yields only increased and the pests only decreased by applying more and more chemicals every year. It was wearing out the soil. And when you depend on the soil, it only makes sense to take care of it.
This year they brought in a bumper crop of corn, and getting their 5,000- and 10,000-bushel corn bins filled up before winter has kept them too busy to update their website. The heirloom organic corn and flour is just a little sideline business that they enjoy. But Jeannette says her dad is always working on something, and this mostly keeps him out of trouble.
Kim Bayer is a freelance writer and culinary researcher. She would love any news about interesting local food and agriculture efforts. Email her at kimbayer at gmail dot com.