Posted on
Wed, Dec 7, 2011 : 4:02 a.m.
Jerk-rubbed Grouper pairs well with Caribbean treats like plantain chips
By Peggy Lampman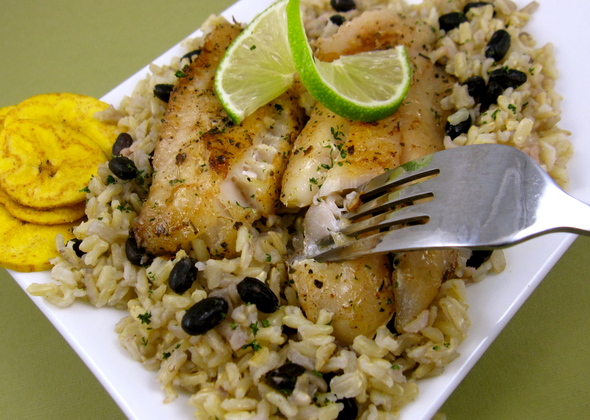 Peggy Lampman |Contributor

Grouper
is one of my favorite fish. I particularly love grilling moist hunks of it fresh from the hook. I understand that's a pricey proposition, as this could involve a trip to the Caribbean, or purchasing it from a top-notch fishmonger (like
Monahan's
), who had the fish flown in overnight.
That being said, I purchased a 12-ounce frozen bag of Kroger-brand wild-caught grouper fillets. (The Kroger grocery chain, by the way, is the one of the most - if not, the most - philanthropic businesses in the country. According to a recent survey, Krogers donates more than 10 percent of its profits to charity.)
The eating experience wasn't as transcendental as the aforementioned options, but quite tasty, especially with the jerk seasoning. I much, much preferred the flavor and texture of this wild-caught frozen grouper, than, for example, other generic frozen cod or tilapia fillets I've purchased through the years. Indeed, I could have easily consumed the entire 12 ounce portion, myself!
Delish with rice, beans and a handful of plantain chips.
Yield: 2 servings
Marinate time: 30 minutes
Sauté time: approx. 6 minutes
Ingredients
1 tablespoon freshly squeezed lime juice, plus extra wedges
1 tablespoon olive oil, plus extra for cooking fillets
1 teaspoon dry thyme
1 teaspoon ground allspice
1/4 teaspoon ground cinnamon
1/4 teaspoon cayenne
1/4 teaspoon garlic or onion powder
12 ounces grouper fillets
Directions
1. Whisk together lime juice, oil, thyme, allspice, cinnamon, cayenne and garlic or onion powder, olive oil and lime juice. Pat fillets dry.Brush seasoning mixture over both sides of fillets. Let sit, refrigerated, 30 minutes.
2. In a large, heavy-bottomed sauté pan or skillet, heat 2 teaspoons olive oil over high heat*. Cook fillets 3 minutes on one side. Carefully fip with a spatula, and cook an additional 2-4 mintues, depending on thickness of filet. If the fish is browning too fast, turn down the heat.
3. Season with kosher salt and serve with lime wedges.
* Olive oil works for high-heat cooking in this recipe, but a high-smoke oil, such as grape seed, is best.

My new web site (packed with holiday recipes) has recently been launched. (www.dinnerFeed.com)! I'm a real-time food writer and photographer posting daily feeds on my website and in the Food & Drink section of Annarbor.com. You may also e-mail me at peggy@dinnerfeed.com.