Posted on
Wed, Aug 15, 2012 : 8 a.m.
Julia Child 100th birthday chocolate mousse - a perfect tribute to the chef
By Mary Bilyeu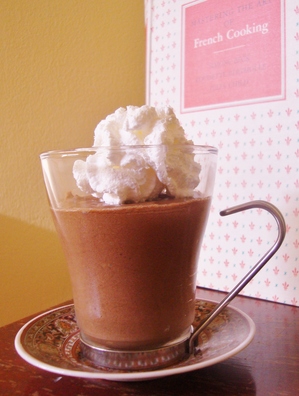 Mary Bilyeu | Contributor
Today would have been
Julia Child's 100th birthday
, and celebrations are going on all over the country!
The Culinary Historians of Ann Arbor held their annual summer picnic this past Sunday, and — of course — honored the beloved Julia by making her the star of the party. The event was a potluck, and each member who attended was asked to bring a dish that was made using a recipe of Julia's.
Now, there were a lot of choices when deciding what to bring, and we all know that decisions are not my strong suit. I considered making a tomato tart with beautiful fresh produce; a lovely chilled cucumber soup was also recommended to me. I didn't want to make anything like a souffle that would fall before its grand entrance or a frosted dessert that would melt before it arrived at the buffet table.
But since Jeremy was coming with me, that narrowed down the options a bit. He's not a tremendous fan of sweets, but he loves chocolate mousse. He immediately agreed that this should be our contribution. It's rich with chocolate, eggs and whipped cream — a perfect tribute to Julia!
This recipe requires several steps, but they're not difficult. And the end result is so decadent, so luscious... so worth it!
Bon anniversaire, Julia! Happy 100th!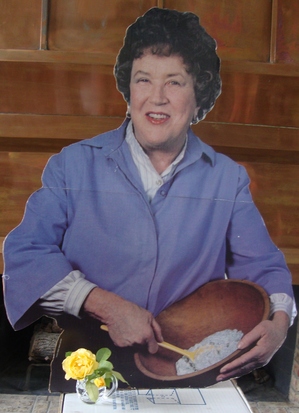 A cut-out of Julia Child, gracing the Culinary Historians of Ann Arbor's summer picnic in honor of Julia's 100th birthday.
Mousseline au Chocolat (Chocolate Mousse) (slightly adapted from Julia Child's recipe in Mastering the Art of French Cooking, Volume I)
4 eggs, separated
3/4 cup + 1 tablespoon sugar
juice of half orange
6 ounces semisweet chocolate
2 tablespoons prepared coffee
6 ounces butter, softened
pinch of kosher salt
In a large mixing bowl, whisk together eggs yolks and 3/4 cup sugar until mixture is light yellow and forms a ribbon when whisk is lifted and mixture dribbles into the bowl.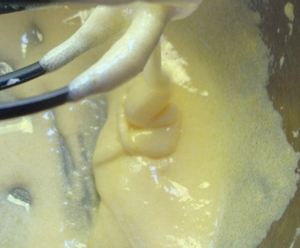 Place 1 inch of water into a small saucepan and heat just to simmering over low heat. Place mixing bowl with yolk mixture on top of the saucepan and whisk constantly for 4 minutes until mixture lightens and thickens a bit.
Fill a medium mixing bowl 3/4 full with ice water; place the large mixing bowl on top of this bowl, and whisk for another 4 minutes until mixture thickens some more. Stir in orange juice.
In a small saucepan, melt together chocolate and coffee over very low heat; stir until smooth, then stir in butter bit-by-bit until incorporated. Whisk chocolate into egg yolk mixture.
Using an electric mixer, beat egg whites until soft peaks form; add 1 tablespoon sugar and continue beating until stiff peaks form. Whisk egg whites into chocolate mixture.
Pour mousse into 8 small serving cups, cover with plastic wrap, and refrigerate for at least 2 hours. Serve cold, topped with whipped cream.
Makes 8 servings.

Mary Bilyeu writes for AnnArbor.com on Tuesdays, Wednesdays, and Fridays, telling about her adventures in the kitchen - making dinner, celebrating holidays, entering cooking contests, meeting new friends ... whatever strikes her fancy. She is also on a mission to find great deals for her Frugal Floozie Friday posts, seeking fabulous food at restaurants on the limited budget of only $5 per person. Feel free to email her with questions, comments, or suggestions: yentamary@gmail.com.

Go visit Mary's blog — Food Floozie — where she enthuses and effuses over all things food-related; and look for her monthly articles in the Washtenaw Jewish News. "Like" her on Facebook, or send a tweet on Twitter, too.

The phrase "You Should Only Be Happy" (written in Hebrew on the stone pictured in this post) comes from Deuteronomy 16:15 and is a wish for all her readers - when you come to visit here, may you always be happy.