Posted on
Thu, Jun 28, 2012 : 8:39 a.m.
Firecracker Flank Steak with Margarita Flavors & Mango Salsa
By Peggy Lampman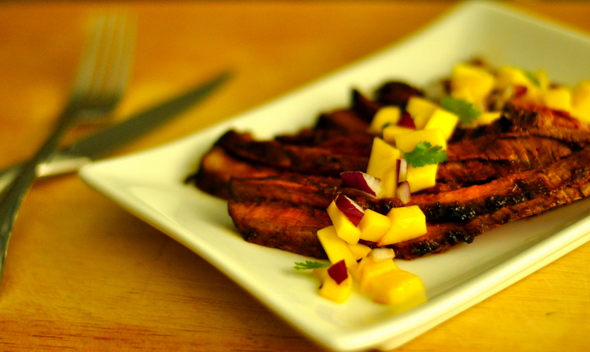 Peggy Lampman | Contributor

To receive my lastest dinnerFeed posts
by email, sign up here.
It's that time of the year, and I'm not talking fireworks; I'm talking the great media
grilling
blitz. An hour doesn't pass without some TV personality, electronic feed, or magazine headline firing off their ultimate recipe for "whatever" on the grill.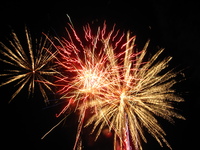 Recipe overload, no doubt, and why not? Grilling on the Fourth of July is as traditional to the American Landscape as enjoying a hot dog at the ball park. So allow me to stoke the flames by tossing my recipe for the "ultimate flank steak" on the grill.
Flank steaks are the ideal centerpiece for entertaining; they are flavorful, easy to prepare and people-pleasers. In the following recipe, much of the prep work involves making the marinade and rub, which must be done in advance; a blessing for cooks who'd rather partake in festivities than work in the kitchen.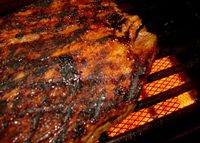 The cut of meat cooks quickly and accommodates a laid-back eating schedule, tasting as great at room temperature as it does hot off the flame. Flank steak is mindful of the expense of beef and watches your bottom line. The meat is best enjoyed sliced thinly against the grain, so it stretches further accomodating a larger group. To further extend your dollar, consider serving the steak and salsa alongside warm tortillas and sour cream.
Keep in mind flank steaks are best served rare to medium rare; they toughen up the longer they are cooked. If you prefer your meat well-done, I'd select a different cut of beef, such as a delmonico.
Commemorating the Fourth, I amped up the heat in the following recipe by injecting it with flavors from south of the border. Ground chipotle chili pepper, which is available in the spice section of most groceries, delivers the smoky bang. Use it with discretion according to your personal pain/pleasure heat index. The dry rub works overtime also seasoning the marinade.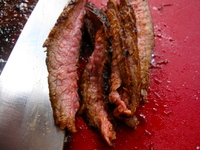 The spicy rub hits the base notes, lending a flavorful crust, and the cooling sweet mango and piquant flavor of lime hit the treble. Herbaceous cilantro and redolent red onion balance the composition; a symphony of flavor. The perfect side dish for this recipe would be Southwest Roasted Potato and Corn Salad, bundling a potato and vegetable salad together. It may be found on-line in tomorrow's Ann Arbor.Com food section.
Penning these words, I wipe the sweat from my brow in this sweltering heat. The addition of tequila and orange-scented triple sec to the marinade was impulsive, momentarily quenching my thirst for a margarita - momentarily. Did I mention the tequila and triple sec used in the recipe also work overtime as libation for the chef? It may be noon but, as the song goes, it must be happy hour somewhere. Happy Fourth!
Active Time: 30 minutes
Marinate Time: 12-24 hours
Grill Time: apx. 8 minutes
Yield: 6-8 servings

Ingredients
1 cup mango juice *
1 recipe for dry rub (recipe below)
1/4 cup triple sec (orange liqueur)
1/8 cup tequila
1 1/2-2 pounds flank steak
1 recipe for mango salsa (recipe below)
*I used the Looza brand of juice, which has a rich intense flavor; pineapple juice may be substituted.
Directions
To make a marinade, combine juice, 1 tablespoon of dry rub mixture (reserving the rest), triple sec and tequila.

Place meat in a non-reactive dish, or gallon-sized plastic bag with a secure seal, and pour marinade over beef. Marinate 12-24 hours, refrigerated, turning once.

When ready to cook, remove meat from refrigerator and allow to come to room temperature. When ready to cook, discard marinade, pat meat dry and massage remaining rub into beer.

Prepare charcoal or gas grill to high heat, or preheat broiler in oven and position rack as close to heat source as possible. Grill or broil 4 minutes on each side for rare; ends will be medium to medium rare. Let steak sit 10 minutes before slicing into thin, diagonal strips against the grain. Season to taste with kosher salt, and serve with mango salsa.
Ingredients for Dry Rub
1/4 cup brown sugar
1/4-1 tablespoon ground chipotle chili powder
1/4 teaspoon cinnamon
1/4 teaspoon garlic powder
2 teaspoons kosher salt
Combine brown sugar, 1/4 tablespoon ground chipotle, cinnamon, garlic powder and salt. Taste and add additional chipotle as desired.
Ingredients for Mango Salsa
1 ripe mango, peeled and diced
1/2 tablespoon lime juice
1 tablespoons chopped fresh cilantro
1 tablespoon finely diced red onion
Combine mango, lime juice, cilantro and onion. Season to taste with kosher salt.