Posted on
Mon, Oct 22, 2012 : 10:45 a.m.
Kale and Butternut Squash - dish is so delicious you'll forget it's also a nutritional superstar
By Peggy Lampman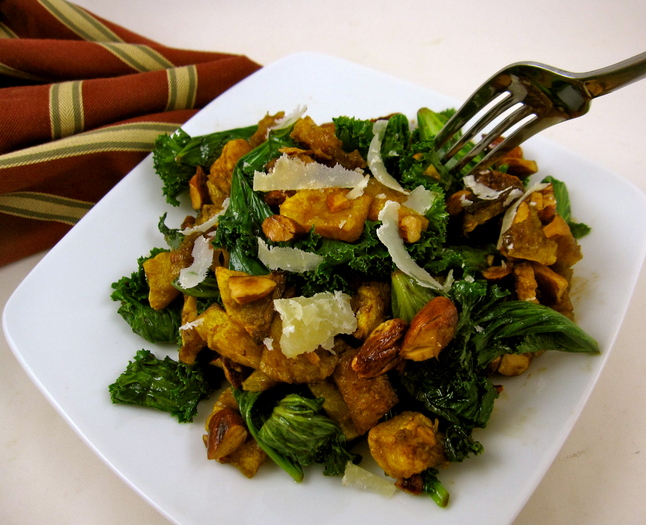 Peggy Lampman | Contributor

My dinnerFeed web site is a lean,
mean fighting machine!
To receive my lastest dinnerFeed posts
by email, sign up here.
This warm, delicious salad is a palate of October colors; as delicious to eat as is to admire. My friend, Debbie, sent me the recipe she'd found in Bon Appetit knowing I would love it. No doubt.
The chewy texture of kale is marvelous paired with creamy squash and the crunch of toasted almonds. I followed the recipe, but prefer far less dressing to ingredients ratio than the recipe suggested, so doubled (plus) the amount of kale and squash I used. As well, the kale I was using had such small leaves, I didn't cut it into ribbons per recipe, and left them whole before sautéing. I also reduced the cooking time on the squash.
This, to my palate, is most delicious served warm. I'll reheat the leftovers tomorrow. One could write a journal on the potent health properties in the ingredient list, but that might spoil the fun of eating. It's a wonderful autumn recipe to serve as a side, or as a meal unto itself with, perhaps, cornbread.
(This recipe was adapted from Bon Appetit)
Yield: 4-6 side servings
Ingredients
8 tablespoons extra-virgin olive oil
3 tablespoons balsamic vinegar
1 teaspoon minced shallot
1 teaspoon Dijon mustard
4 cups, 1/2-inch cubed, butternut squash
10 (packed) cups small leaves of kale stems removed*
3/4 cup whole almonds, toasted, coarsely chopped
Parmesan (for shaving)
* If using larger leaves, or Tuscan kale, cut into ribbons
Directions
1. Preheat oven to 425 degrees.
2. Line a baking sheet with foil. Whisk 5 tablespoons oil, vinegar, shallot, and Dijon mustard in a small bowl. Season to taste with kosher salt and freshly ground pepper. Set aside.
3. Toss squash with 2 tablespoons oil to coat. Transfer squash to prepared baking sheet and roast, turning occasionally, until squash is tender and lightly golden, about 15 minutes. Let cool slightly.
4. Meanwhile, heat remaining tablespoon oil in a large skillet over high heat. Add kale and cook, in batches if necessary, tossing frequently, until bright green and slightly wilted, 1-2 minutes. Remove from heat.
5. Combine squash, kale and almonds and season to taste with dressing. Using a vegetable peeler, shave Parmesan over individual plates and serve.
Peggy Lampman is a real-time food writer and photographer posting daily feeds on her website and in the Food & Grocery section of Annarbor.com. You may also e-mail her at peggy@dinnerfeed.com.