Posted on
Tue, Feb 26, 2013 : 8:50 a.m.
Kale for breakfast, because food is healthcare
By Kim Bayer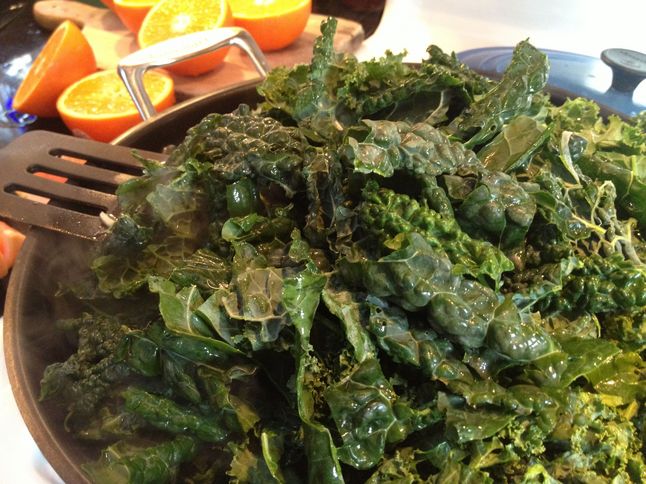 Photo | Kim Bayer
"Medicine is not healthcare — food is healthcare. Medicine is sick care. Let's all get this straight for a change." — Karen Pendergrass
Have you noticed how much actual fresh produce there is at the wintery Ann Arbor Farmer's Market? All kinds of kale, spinach, lettuce, pea shoots, chard, carrots, potatoes, rutabaga, garlic, turnips, squash and more. Not to mention all the eggs, meat, bread, cheese and burritos.
No it's not like it is in summer. But hey, it's the depths of winter out there. And there are still people, like Nate and Jill at Green Things Farm, and John and Lois at Our Family Farm, and Alex and Mark at Seeley Farm, who are working in freezing temperatures to bring fresh vegetables to market every week.
And those greens are so sweet in the cold weather. Last week I finally cooked the last of the remaining fresh dinosaur kale that I grew and had been storing in my refrigerator (that's the photo with this post).
There are so many good reasons to eat kale, and my friend (and dietician) Diana Dyer has chronicled most of them in her blog 365 Days of Kale. One study I saw even suggests that eating more vegetables (like kale) may make you more optimistic.
The University of Michigan is on board, with a new mantra: "Kale to the Victors." The UM Sustainable Food Program has a photo contest to show the world what happens to people under the influence of kale.
I do believe strongly in the health properties of kale. Lately my favorite thing to do with my greens is lightly sauté them with a little garlic for breakfast. With an over-easy egg and a slice of toast, it's the best winter breakfast imaginable. I'm convinced that this breakfast is the reason I haven't had a cold all winter — even when my husband was sick for a week, I didn't get it. Coincidence or kale?
Kim Bayer is a freelance writer and culinary researcher. Email her at kimbayer at gmail dot com.