Posted on
Thu, Jul 29, 2010 : 6:30 a.m.
Salem Township's Karl's Cabin walks the line
By Jessica Levine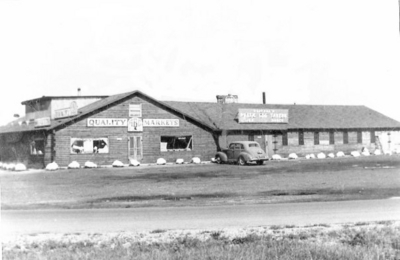 Photo courtesy of Karl's Cabin
In the far eastern reaches of Washtenaw County is a log cabin. Karl's Cabin, Salem Township's only full-service restaurant on the corner of Gotfredson and North Territorial roads, is, however, much more than stacks of pine and mortar.
It began as Rusceak's Rustic Tavern in 1945, surrounded by butter-thick corn fields and apple orchards. "Bonanza" with Midwest moxie, the tavern was manned by the formidable Katie Rusceak and the shotgun she perched precariously above the bar. Farmers and small town folk from nearby Plymouth came here looking for beer, brotherhood and plaintive country music.
So did country legends on the rise. Lore has it that even young Johnny Cash performed at Rusceak's early in his career. Possibly, even, Hank Williams on a break from his 1950 Hadicol Caravan tour. Yet, lonely country singers with their lonely guitars aren't this place's only claim to fame.
In 1982, after several other incarnations, the old Rusceak's was reopened by Karl and Sophia Poulos as Karl's Cabin. They had a different idea for the tavern. What was once Salem Township's watering hole for the hardworking and weary has today become a fine eating establishment serving up big portions of high-quality comfort food.
"My father purchased the place and wanted to just do a nice, family restaurant that featured homestyle, old-school cooking," said Peter Poulos, who, alongside his brother, Louis, helps his parents to run the restaurant. "It wasn't as crazy 'foodie' back then. Originally, he didn't have a liquor license. We actually did breakfast out of here on Saturdays and Sundays."
Today, Karl's prepares only lunch and dinner menus. Poulos explained that creating those menus is a process that, when done right, demands dedication. It begs pride, and an eagerness to find it—the best combination of the best ingredients—and replicate again and again for the hungry masses over an open grill.
Jessica Levine I Contributor
The Poulos family's team led by Chef R.J. Covert has indeed done it, using primarily local produce and suppliers. Half-pound Angus burgers (that, according to Louis Poulos, tastes superior to domestic Kobe beef), Lake Superior whitefish, mozzarella ravioli, Blackstone Merlot and Cavit Pinot Grigio, Founders Centennial and Bells Two Hearted Ale—all of this, food and alcohol meticulously ordered and packaged to best reflect Karl's and, largely, Michigan's character.
And, here, in Michigan, we are about the family restaurant. Coney Islands, Bob Evans and Big Boys crowd the spaces in front of our strip malls and grocery stores. We like, too, our lakes and trees. We really dig pontooning and cooking marshmallows to charcoal over cottage bonfires. That is who we are. Karl's makes it its mission to reflect these values.
"Karl's has always been marketed as a family restaurant," said Poulos. "We have coloring books and crayons. It has been definitely geared towards families from day one."
It still maintains that quality. At dinner time, when the menu makes its switch from sandwiches to strip steaks, from coffees to wine carafes, Karl's continues to welcome families with kids. Many of its ritzier compatriots wouldn't offer up macaroni and cheese, chicken tenders or chocolate chip cookies to its younger diners. No, Karl's is much more akin to a restaurant you would find in Mackinaw City: Humble at its roots, rustic, but with an elegant flair.
Vestiges of the old days remain. Up-and-coming musicians like The Dale Hicks Band shove their amps onto the ready-made stage. A group of young co-workers, obvious by the same name badges and same tired expression, make their way out onto the flagstone patio. The kitchen crew—pirates, bandana'd and wielding steak knives like fencing swords—moves fast, flinging sirloins and groupers onto china with incredible precision.
"We take what we do seriously," said Poulos. Both refined and unassuming, you could say that Karl's walks the line.
"I keep a close watch on this heart of mine. I keep my eyes wide open all the time. I keep the ends out for the tie that binds. Because you're mine, I walk the line."
-Johnny Cash, "I Walk the Line"
Jessica Levine profiles the culture and history of Washtenaw County restaurants for AnnArbor.com. Contact her at jlfoodstuffz@gmail.com.