Posted on
Mon, May 6, 2013 : 4:55 a.m.
Kerrytown Soft-Shell Crab Salad - farm market lettuce is the perfect accompaniment
By Peggy Lampman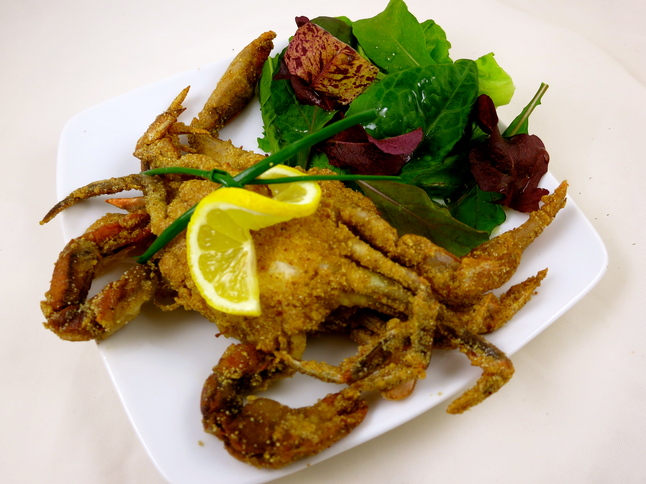 Peggy Lampman | Contributor

To receive my lastest dinnerFeed posts
by email, sign up here.
What joy - what absolute bliss to spend a beautiful May morning at the Farmers Market! Us Michiganders sure know how to appreciate a warm, sunny day; everyone I passed on the sidewalks in the Kerrytown area have shed their dour winter continence, seeming to revel in the daffodils and tulips lining the sidewalks. At last — back to the Ann Arbor I love best.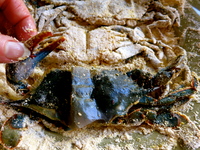 At this time of the year, pickings from the farmers may be slim but there are an abundance of lettuces to be had, not to mention local artisan goods such as cheeses and breads. The greens make a fine simple salad and are complemented by one of my favorite seasonal treats from the sea: soft-shelled crabs, at last, are available from
Monahans
.
And of course, if you haven't done so already, now is the time to be thinking of your vegetable garden. I have a small kitchen garden, mostly filled with herbs, and was happy to find fresh tarragon from Goetz Family Farm. I've been having trouble finding it to supplement my one lone tarragon survivor from the winter.
The following recipe is a simplified version of another soft-shelled crab salad I make, which includes fresh shucked corn and tartar sauce.
Yield: 2 salads

Time: 30 minutes
Recipe for vinaigrette (to yield 1/2 cup)
Ingredients
1 tablespoon lemon juice

1 tablespoon celery seeds

1 teaspoon sugar

1/2 teaspoon chopped fresh tarragon plus extra sprigs for garnishing

1 teaspoon snipped fresh chives, plus extra sprigs for garnishing

1/3 cup extra virgin olive oil
Instructions
To make the vinaigrette, in another small bowl, combine lemon juice, celery seeds, sugar and thyme, then slowly whisk in olive oil. Season to taste with kosher salt and freshly ground pepper. Reserve.
Ingredients for Crab Salad
3 tablespoons all-purpose flour

3 tablespoons corn meal*

1 tablespoon Old Bay Seasoning, other seafood seasoning or paprika**

1/2 teaspoon cayenne

4-6 soft-shell crabs, cleaned (I request my fishmonger clean them)

Canola or vegetable oil as needed for frying crabs

6 cups baby spring greens, gently washed and spun dry

1 small lemon, quartered
*May substitute cornmeal with all-purpose flour

**If your seafood seasoning if sodium-free, add 1/2 teaspoon kosher salt
Instructions
1. In a large shallow dish, combine flour, seafood seasoning and cayenne. Gently pat crabs dry with paper towels, then coat both sides in seasoned flour, tapping off excess seasoned flour before frying.

2. Coat a large, heavy-bottomed sauté pan or cast iron skillet with 1/4 inch of oil. Heat oil over medium-high heat. (Oil should be hot but not smoking. Oil is ready for crabs when it lightly bubbles when you add a speck of water.)

3. Carefully place crabs in oil and fry until golden brown on each side, 3-5 minutes per side. Drain on paper towels.

4. Toss baby greens with two-thirds vinaigrette adding additional vinaigrette to taste. Divide greens on two large plates and center 2 crabs on each bed of greens. Top crabs with fresh herbs and lemon wedges.
Peggy Lampman is a real-time food writer and photographer posting daily feeds on her website and in the Food & Grocery section of Annarbor.com. You may also e-mail her at peggy@dinnerfeed.com.