Posted on
Wed, Apr 28, 2010 : 7:37 a.m.
Kim Bayer matches you to the perfect CSA
By Corinna Borden
Matchmaker, Matchmaker; Make me a match; Find me a find; Catch me a catch
Kim Bayer | Contributor
Our very own food luminary,
Kim Bayer
of
Slow Food Huron Valley
and the
HomeGrown Festival
, has put together a comprehensive guide of the CSAs offered in and around Ann Arbor. It is posted for free on her Web site, thefarmersmarketer.com. Not only does the
guide
include detailed descriptions of the 17 different organizations that offer consumers CSAs, but Bayer offers a "CSA matchmaking service" to help those overwhelmed with the choices.
Let us let Bayer speak for herself. I started with: Why did you put this together?

There are so many great benefits to a CSA farm share subscription. On the personal side, you're getting a discount on fresh, local produce, supporting a family farm and eating healthy meals. On a larger scale, it's a step toward community food security. And there are so many fantastic CSA options out there now, even beyond produce, like meat, eggs, prepared meals, frozen fruits and vegetables and more. I thought there was a need to try to bring all the information together and make it comprehensible. I just wish I had the budget to distribute printed versions of this guide!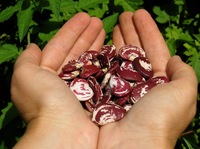 Kim Bayer | Contributor
You offer a private consultation for an hour (and a fee) to "help anyone quickly identify the most appropriate farm share options" for their needs as a "CSA matchmaking service." Why do you offer this consultation? Isn't all of the information included in your farm guide that you can download for free?
Yes, all of the information about the CSAs is included - how much it costs, what they specialize in, what kind of agriculture they practice, where and what days members pick up their shares, etc. But in the course of gathering the data and writing up interviews with each of the farmers, I've stored a huge amount of information in my head. So the consultation is a kind of "shortcut" for anyone who is looking for expert advice about which CSA options might be the most successful match for a particular set of needs.
And I also know quirky, fun things about many of the farms, like which are the newest and oldest CSAs, which are run by women farmers, which don't use e-mail, which offer additional things - like turkeys, or Thanksgiving shares, or prepared meals, and which have greens and produce through the winter. So, I'm basically a walking CSA encyclopedia right now. And people really seem to love the consultations, in part because they're saving hours of reading and comparisons for themselves, but also because it's an entry point for them into knowing more about the beautiful farms here. I'm starting to get invitations to speak to groups, and I'm very excited about that, too.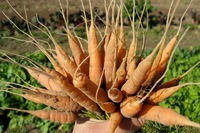 Kim Bayer | Contributor
So there we have it - if you have not yet committed to a CSA yet this season, it is not too late. The CSAs range from farming ballasts such as Frog Holler Organic Farm to newbies like Sunseed Farm and Inchworm Microgreens. Bayer's guide is a great resource for our community, and I am grateful for her expertise and passion.
Corinna volunteers with the Westside Farmers Market and writes about many things.