Posted on
Mon, Jan 9, 2012 : 10:38 a.m.
Kitchen Sink Baked Quesadillas with Chicken, Mango and Goat Cheese has all the flavor but less fat
By Peggy Lampman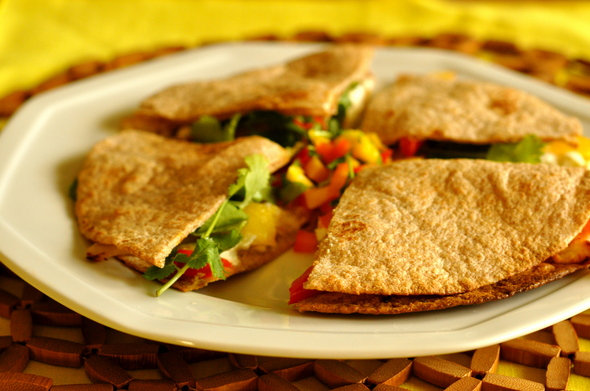 Peggy Lampman | Contributor

mean fighting machine!
Quesadillas
, like pasta, can be great vehicles for rounding up your leftovers and making a tasty dinner. I do prefer them fried, but I'm trying to cut fat so
baked
them instead.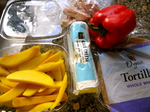 Check out the contents of your fridge. Random meats, horizontally-sliced shrimp, vegetables, hot peppers, cheeses, sour cream, citrus and salsa can be substituted for the ingredients below.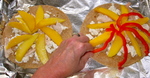 It's important to use a sharp knife when slicing the quesadilla into wedges. A dull knife could cause the cheese mixture to "splooge" out and the quesadilla to crumble.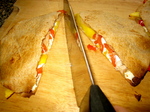 Yield: 10-12 wedges
Time: 25 minutes
Ingredients
1 ripe mango, skin removed, pitted and cut into 1/4 inch slices* (reserve 2 slices for garnish)
1 small red pepper, seeds and membranes removed and thinly sliced (reserve 2 slices for garnish)
Handful of washed cilantro, plus 2 teaspoons chopped cilantro for garnish
4 (6-8 inch) flour tortillas (I used whole wheat)
Cooking oil spray
4-5 ounces goat cheese
1 1/2 cups shredded chicken
*I purchased pre-packed sliced mangos at Whole Foods; the whole mangos were hard and would take a good week to ripen.
Directions
1. Preheat oven to 375 degrees.
2. Dice pepper and mango slices reserved for garnish; combine with chopped cilantro. Reserve.
3. Line a large cooking sheet with foil; lightly spray with cooking oil spray. Lay two tortillas on tray. Divide and crumble goat cheese and chicken over circumference of tortillas. Divide, fan and alternate sliced mangos and peppers over goat cheese and chicken. Top with another tortilla and lightly spray with cooking oil spray.
4. On medium rack of oven, bake 10 minutes. Let cool a couple of minutes, and cut into wedges. Tuck cilantro sprigs into quesadillas and serve with reserved garnish.
My new web site has recently been launched (www.dinnerFeed.com)! I'm a real-time food writer and photographer posting daily feeds on my website and in the Food & Drink section of Annarbor.com. You may also e-mail me at peggy@dinnerfeed.com.