Posted on
Mon, Oct 17, 2011 : 4:23 a.m.
Kitchen Sink Skillet Pasta Supper is easy to customize with ingredients you have on hand
By Peggy Lampman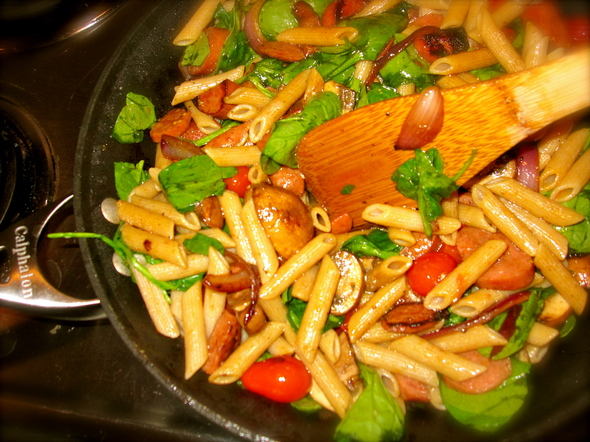 Peggy Lampman | Contributor

Peggy Lampman's Monday dinnerFeed
For anyone who likes good food, hates waste and has little time to cook, something similar to this dish is more than likely in your repertoire. It basically doesn't require a recipe; boil pasta in a pot, cook leftover proteins and vegetables in a skillet, toss together and serve.
The recipe below was pretty darn tasty, but let your refrigerator contents dictate your own customized dish.
Yield: 4 servings Time: 15 minutes
Ingredients
2-3 tablespoons extra virgin olive oil, divided
2 links chicken or turkey sausage, cut into coins
2 cups sliced mushrooms
1/2 red onion, sliced
1 teaspoon minced garlic
2 cups whole grape tomatoes
9 ounces baby arugula or spinach
12 ounce whole wheat penne pasta
Freshly grated Parmesan
Directions
1. Bring a large pot of salted water to a boil.
2. While water is coming to a boil, in your largest sauté pan, heat 1 tablespoon olive oil over medium high heat. Sear sausage until browned on both sides. about 4 minutes. Reduce heat and stir in mushrooms. Cook until mushrooms are just softened. Remove sausage and mushrooms and reserve.
3. Add an additional tablespoon of olive oil to pan and sauté onions and tomatoes over medium high heat. Cook until tomatoes are blistered and beginning to collapse. Lightly season with kosher salt and freshly ground pepper. Return sausage and mushrooms to pan.
4. Meanwhile, cook pasta according to package instructions. Toss hot pasta with arugula or spinach; the heat of the pasta will wilt the greens slightly. Toss pasta mixture with sausage mixture. Season with kosher salt, freshly ground pepper, additional oil, if desired, and Parmesan.
My new web site (packed with holiday recipes) is coming soon! But in the meantime, If you're looking for a specific recipe, click here for dinnerFeed's recipe search engine; type the recipe or ingredient into the search box. I am a real-time food writer and photographer posting daily feeds on my website and in the Food & Drink section of Annarbor.com. You may also e-mail me at peggy@dinnerfeed.com.